Aetna Heroin Addiction Rehab Insurance Coverage
Heroin addiction is a debilitating and progressive condition. Heroin is highly physically addictive, with the ability to render an "experimental" user into an addict in a disarmingly short period of time. According to the Substance Abuse and Mental Health Services Administration, the number of heroin users in the United States nearly doubled between 2007 and 2012. Heroin addiction is a growing problem, with the World Health Organization estimating that there are 9.2 million heroin users worldwide.
Does Aetna Cover Heroin Rehab Treatment?
Aetna covers heroin addiction treatment under its behavioral health plans, which include substance abuse treatment. Coverage varies from state to state and from plan to plan, so check your individual policy for specifics with regard to substance abuse treatment coverage.
Aetna covers a variety of heroin addiction treatment options. Traditional rehab centers, luxury treatment centers, outpatient therapy, and even medication maintenance therapies (such as methadone, buprenorphine and naltrexone maintenance) that are relatively unique to specifically treating heroin addiction. Insurance coverage may be full or partial depending on the plan you have subscribed to and where you live.
Check Your Aetna Rehab Coverage Levels for Heroin Addiction
Knowing exactly what your Aetna plan covers can give you peace of mind while you or your loved one is in rehab. You can do the work of getting and staying sober without worrying about unexpected costs or financial struggles. For more information on Aetna insurance plans and to check what your plan covers, call the number on the back of your insurance card. Or, you can call AAC at to speak to one of our admissions navigators, who can help you find out your coverage and answer any questions you have.

How Much of the Cost of Rehab Is Covered by Aetna?
Aetna will pay either in part or in full for a variety of rehab and addiction treatment types, from luxury treatment centers to outpatient therapy sessions. Options include inpatient hospitalization, residential treatment facilities, and outpatient treatment (either one-on-one therapy or group sessions).
The amount that Aetna covers for rehabilitation stays varies regionally and between plans. With some plans, the cost of rehab may be completely covered if you have already met your deductible and annual out-of-pocket maximum for the year. Check your policy to see what coverage you are eligible for.
Can I Pay Above What My Insurance Will Provide to Receive Treatment?
You have the option of paying above and beyond what your insurance will cover in order to receive the treatment you need. If your insurance only offers partial coverage due to high deductibles that haven't been met or for other reasons, you have the freedom to pay out-of-pocket for the treatment of your choice, and many treatment options offer payment plans for those who cannot pay a lump sum for their addiction treatment.
Inpatient Addiction Treatment vs. Outpatient Therapy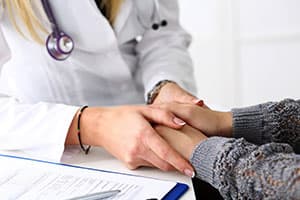 Aetna Inpatient Heroin Rehab
Aetna generally offers full coverage for inpatient hospitalization treatments, such as those used for initial detoxification from chemicals like heroin. Inpatient treatment is a good option for people who wish to detoxify under the care of experienced medical professionals.
Withdrawal symptoms can be more than just uncomfortable — they can also negatively impact your health. You may wish to go through withdrawals in an inpatient setting in order to ensure that you have access to the medical care you need during the detox process.
Aetna Inpatient Outpatient Rehab
Outpatient therapy is also available and is often covered in part through Aetna's behavioral health plan. You may wish to engage in outpatient therapy, which involves meeting regularly with addiction specialists, if you're unable to dedicate time to being in an inpatient setting due to job demands.
Should I Choose a Residential Rehab Center?
A residential rehab center may be perfect for you if you wish to have solidarity with others who are going struggling with the same addiction as you. Residential rehab is an excellent option for people who wish to be around others who understand them while being monitored and treated by drug addiction professionals around the clock.
Will Aetna Pay For Local Rehab and Out-of-State Treatment?
Several of Aetna's insurance coverage plans will cover out-of-state treatment as well as local treatment, provided that the treating facility is in network for the plan. If you need addiction treatment and you are currently outside you home state, you may wish to review the policy you are insured under to see if out-of-area coverage is provided to you. Another option is checking with the facility you intend to seek treatment at to see if they accept your insurance.
Does Aetna Pay For Private or Luxury Treatment?
Aetna does cover costs of private and luxury treatment centers in many cases. However, some luxury or private treatment centers don't accept any insurance at all and demand cash payment instead. Even in these cases, though, the facilities often offer payment plans so you can get the kind of treatment you want and need without having to pay an outrageous lump sum for services.
What Does Executive Treatment Offer Over Other Rehabs?
In traditional rehab settings, you are somewhat kept away from the outside world to discourage your ability to go out and relapse into addictive behavior. Traditional rehab means close monitoring and strict limitations on the types of interactions you can have with people outside the facility.
With centers that offer executive rehab as an option, there is far more flexibility for clients who need to stay on top of commitments in the outside world. Executive treatment was created for people whose careers demand that they be available for work projects, such as corporate leaders and managers. Executive treatment allows you to continue to uphold your work-related responsibilities while getting the addiction treatment you need.
What Treatment Lengths Will Aetna Pay For?
Aetna will cover various programs with varying lengths of treatment, such as:
28-30 Day Residential Programs
60 Day Residential Programs
90 Day Residential Programs
Depending on the plan, Aetna may also cover rehab stays of six months, nine months, or one year. This ensures that you can afford to get the level of care that is right for you, so that you can get back on track with living your life free from addiction.
What If I Have No Insurance?
If you are uninsured, you will not be turned away from the treatment you need. There are scholarships available at many treatment facilities, and hospitals and other treatment centers frequently offer payment plans for people that are uninsured and meet certain income guidelines. There are also options that cost no money at all in the community, such as 12-step groups and other addiction support groups.
Determine Your Options for Heroin Addiction Rehab with Aetna Insurance
If you find yourself in need of addiction treatment but feel confused about what your options are when it comes to what Aetna will pay for, help is available. Call your insurance company to determine what options you have for getting your life back on the sober track.
FAQs on Aetna Insurance for Addiction Treatment
---
Insurance Providers and Rehab Treatment Coverage Levels
---
(Please note: Rehabs.com strives to provide you with the most updated information on each carriers' addiction insurance coverage but policy changes and errors do occur. Please check with your insurance carrier directly to confirm coverage levels. Rehabs.com is an informational site only and is not affiliated or sponsored by Aetna.)
More resources about
Aetna Heroin Addiction Rehab Insurance Coverage

: