Luxury Drug and Alcohol Rehab Centers
Luxury rehab centers combine evidence-based treatment methods, such as psychotherapy, with upscale amenities and services. This can help create a comfortable and relaxing environment for you while in recovery for substance addiction. Those struggling with drug or alcohol addiction can turn to luxury rehab treatment centers to assist with the detoxification, recovery, and rehabilitation processes.
What Is a Luxury Drug and Alcohol Rehab Center?
A luxury rehabilitation facility is an upscale residential recovery program that offers drug and alcohol addiction treatment services. These luxury rehab centers may additionally offer vacation destinations, luxe settings, high-end amenities, posh settings, and holistic and luxury detox treatment options that go beyond those of standard addiction treatment services.
Luxury rehabs are not to be confused with celebrity rehabs. Although luxury rehabs are upscale and more expensive than standard rehabilitation, luxury recovery programs are not limited to treating people who are famous.
Why Choose a Luxury Addiction Treatment Center?
Luxury rehabilitation centers and programs throughout the country cater to those who expect a very high level of customer service and amenities found at high-end resorts. Services and amenities regularly found at more high-end rehab centers include:
Acupuncture.
Aromatherapy.
Equine therapy.
Golf.
Spa treatments.
Pools and hot tubs.
Massage therapy.
Nutritional counseling.
Yoga.
Gourmet meals.
Private rooms.
Large exercise facilities.
Luxury Inpatient Drug and Alcohol Rehab Programs
Inpatient addiction treatment programs at luxury rehab centers provide clients with the feeling of staying at a major resort or luxury hotel. These high-end treatment centers combine recreation with evidence-based treatment interventions designed to help those in recovery learn to develop a lifestyle independent of substances. Additionally, rehab programs help to decrease addictive behaviors that have previously taken over their lives. These evidence-based therapeutic approaches may include:1
Cognitive behavioral therapy (CBT): Focuses on the connection between behaviors, feelings, and thoughts. The therapist teaches you to recognize relapse triggers and how to cope with them.
Contingency management (CM): Uses positive reinforcement in the form of vouchers or rewards to promote abstinent behaviors.
Multidimensional family therapy: Aims to improve family functioning and heal damaged relationships.
Luxury inpatient rehab programs may integrate traditional treatment modalities with holistic or alternative treatment methods, such as:
Yoga.
Mindfulness and meditation.
Acupuncture.
Music therapy.
Expressive arts therapy.
Exercise therapy.
These programs provide a retreat experience, and clients can take a vacation from the difficulties of their daily lives and more rigorous schedules to begin focusing on their recovery and make a major change in their lives.
Inpatient vs. Outpatient Luxury Rehab Programs
Not all recovering individuals will need or wish to participate in inpatient services. Outpatient substance abuse treatment programs allow people to minimize the time spent away from their work and day-to-day responsibilities. Such programs hold regular treatment sessions that don't interfere with the patient's work, school, or home schedule. Another benefit of outpatient care is that the patients continue to live at home during treatment, whereas inpatient programming requires that all patients live at the facility for the duration of the program.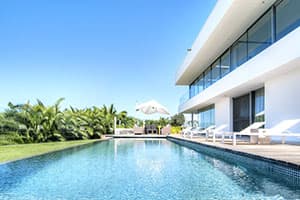 Before looking for a luxury rehab, you need to determine if residential programming is right for you. You may need these services if the temptation to return to addictive desires features prominently in your day-to-day life outside of the facility. Those regularly exposed to temptation in their daily lives may benefit greatly from residing in a luxury center that provides a drug-free environment until they exit treatment. Other people who may benefit from inpatient services include:
Those with co-occurring disorders.
Those with suicidal ideation or behaviors.
Those with a high risk of violence.
Those with significant medical issues.
Those at high risk of experiencing severe or complicated withdrawal.
Those with a history of treatment noncompliance.
What Do Luxury Addiction Treatment Centers Treat?
Most high-end treatment centers are experienced in treating a variety of specific substance use disorders. Top-rated facilities offer access to medical care and may provide medical detox at the start of the program, operated by doctors and healthcare professionals who specialize in detoxification, recovery, and rehabilitation. Beyond the detox process, experienced counselors and other addiction treatment professionals will provide therapy and support during your recovery.
A dual diagnosis program treats co-occurring mental health and substance use disorders. Patients with co-occurring disorders, such as depression and substance misuse, will generally experience better outcomes if both are treated at the same time.
How Long Is Inpatient Rehab at a Luxury Facility?
The length of time you spend at a luxury treatment facility will depend on various factors, including your specific needs and goals, as well as items such as previous and/or severe withdrawal symptoms, medical care needed, and prior relapse history. You may need to find a facility that will help you through different levels of care. Upon initial intake and assessment, your physician will help you determine what the right timeline and treatment plan is for you.
To start exploring treatment options, call American Addiction Centers today at to get connected with a center that's right for you.
30 Day Rehab Programs
High-end inpatient rehabilitation typically requires a commitment of four weeks or longer. Single-month programs may be offered for relatively mild addictions or serve as a start to longer-term treatment efforts.
Find out more: 30-Day Alcohol and Drug Rehab Programs Near Me
60 Day Rehab Programs
Sixty-day programs provide a solid treatment duration for patients to tackle many of their addiction issues and make headway in their recovery journey. The greater time commitment often means that patients will need to maintain communication with work or family, typically through phone calls, emails, or guest visits.
Find out more: 60-Day Alcohol and Drug Rehab Programs Near Me
90 Day Rehab Programs
During this time, patients live at the facility and interact with their peers and the treatment team. This allows for supervision and access to care at all times, which is perfect for those with relatively severe addictions and, potentially, other health or social issues. Ninety-day treatment programs are available for the most serious cases and typically work for professionals who must leave their duties behind in order to recover. Musicians, some politicians, and others who work schedules with long breaks between major events can often gain great benefit from longer courses of action.
Find out more: 90-Day Alcohol and Drug Rehab Programs Near Me
Other options are also available due to the flexibility of luxury, high-end centers. Many luxury treatment centers will assign a program manager to each patient. The program manager can help design a schedule that best suits the needs of the patient.
What to Expect in a Luxury Addiction Treatment Facility
Luxury rehab centers provide the latest in treatment options. Patients typically meet with their program manager upon entering the facility, then they will receive a comprehensive assessment that evaluates the individual's:2
Substance abuse patterns.
Mental status and health.
Physical condition.
General medical history.
Demographics, such as age, culture, ethnicity, language, etc.
Financial and living situation.
Level of family support.
Employment or other social needs.
Suicide and violence risk.
This information will be used to guide the creation of an individualized treatment plan tailored to meet your unique needs. Throughout your program, the treatment team will continue to re-evaluate your treatment plan as you progress through recovery, and will adjust it if necessary.
How Much Do Luxury Addiction Treatment Programs Cost?
Luxury rehabs typically have costs much greater than those of more traditional centers. These costs cover luxury facilities and additional amenities. Insurance companies often pay for at least some addiction treatment, but the treatment must be deemed medically necessary.
The upscale and luxurious amenities of these addiction recovery programs aren't typically necessary for someone to recover from a substance use disorder. For this reason, health insurance may not cover the full costs of luxury treatment, although they may pay for some of it. Program managers can also help determine financing and payment options for those unable to secure full funding prior to treatment.
How to Pay for a Luxury Addiction Treatment Program
It's a good idea to look for a luxury drug rehab that provides the treatment that you need at a price you can afford. Many luxury rehab facilities accept health insurance, so it may be beneficial to find one that your insurance policy will cover, either fully or partially.
If you can't afford the cost of treatment, consider a standard treatment program instead or ask if the facility accepts payment plans. Some rehab centers have sliding-fee options which take your gross income into consideration and offer services at a reduced price. Many offer financing options at reasonable interest rates. Don't let your financial situation stop you from getting the help you need.
Find out more: How to Get into Rehab Without Insurance
If you or someone you love is struggling with drug and alcohol addiction, a treatment program can provide the intensive therapy and tools you need to defeat alcohol and drug addiction so you can get back on the right path and live a successful, happy, and productive life. Call an American Addiction Centers (AAC) admissions navigator today at .
American Addiction Centers maintains a strong partnership with a large group of insurance companies at our addiction treatment facilities. Start the journey to recovery and find out instantly using the form below if your health insurance provider may be able to cover all or part of the cost of rehab and associated therapies.
Thank you for your feedback.
American Addiction Centers (AAC) is committed to delivering original, truthful, accurate, unbiased, and medically current information. We strive to create content that is clear, concise, and easy to understand.
While we are unable to respond to your feedback directly, we'll use this information to improve our online help.