How Does Rehab Work? Addiction Treatment & Programs FAQ
Acknowledging one's own addiction and then committing to seeking treatment help are crucial but often-difficult decisions made in early recovery. Many individuals worry about how the addiction rehab process will affect their lives—the unknown can be scary.
The more knowledge you have about addiction rehab—including what to expect when entering a treatment program, the length of time you might spend in the program, and costs associated with the program—the less overwhelming your journey to recovery can be. Here are answers to some of the questions you may have about the addiction rehab process.
How does rehab work?
Rehabs are structured treatment programs aimed at helping those struggling with addiction. Substance use disorders (SUDs) are complex problems and there are various types of treatment programs available to help.1 Rehab can help those with SUDs work toward a healthy, happy, and sober lifestyle.
If you'd like to know whether your insurance may cover the full or partial cost of rehabilitation at one of American Addiction Centers' various rehab centers across the states, simply fill in your information in the form below.
What happens in addiction rehab?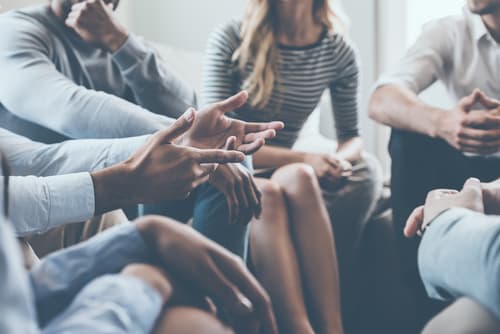 In many instances, addiction rehabs are somewhat flexible in their treatment offerings, which may be tailored to the needs of each individual. Rehab often involves some combination of detoxification (detox), group and individual substance use therapy, relapse prevention education, and aftercare planning prior to program completion in order to help people maintain long-term sobriety.1,2
What is detox?
An important early part of many addiction rehab efforts is detox. During detox, the body rids itself of the toxic influences of drugs or alcohol.1,2, While the detox experience will vary greatly based on the specific type and frequency of substance used, many substance withdrawal syndromes can be unpleasant, if not dangerous.1,2,4 Proper treatment in a medically supervised detox program can alleviate the discomfort and mitigate some of the risks associated with withdrawal.
What is substance abuse therapy?
Rehab continues with various behavioral therapeutic interventions after detox is complete. Individuals in rehab participate in group and/or individual therapy sessions to recognize and address the underlying causes of their addiction.2-4 Treatment programs also educate individuals on how to identify high-risk situations and triggers and develop relapse prevention skills to maintain sobriety.
What is aftercare?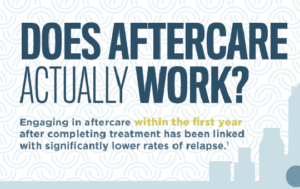 As a person progresses with recovery and nears the end of a rehab treatment program, staff will work with the patient to develop an appropriate aftercare plan. This may include some combination of support groups, ongoing therapy, and sober living arrangements, if needed.
How long are drug rehab programs?
There isn't always a set treatment duration that applies to everyone when it comes to rehabilitation. Many rehab facilities offer 30-day programs.
However, some individuals benefit from longer treatment programs, such as 60-day, 90-day, or even longer-term residential treatment to further develop and maintain a steady recovery path.3,5 When determining the appropriate length of treatment, treatment professionals will take into consideration the history and severity of the addiction; specific substances used; any co-occurring medical, mental, or behavioral health conditions; any previous treatment experiences; and the physical, mental, emotional, social, cultural, and spiritual needs of the individual.
When determining the appropriate length of treatment, treatment professionals will take into consideration the history and severity of the addiction; specific substances used; any co-occurring medical, mental, or behavioral health conditions; any previous treatment experiences; and the physical, mental, emotional, social, cultural, and spiritual needs of the individual.
Research shows that most people dealing with substance use need to be in treatment at least 3 months to considerably reduce or stop their drug use and that longer involvement in treatment often brings the best outcomes.8  For some, longer programs afford them the opportunity to focus on the root causes and behaviors behind the addiction and more time to practice sober living behaviors.
Does rehab cure addiction?
As with many chronic conditions, though there might not be an outright cure for addiction, it can be managed effectively.1,3 Regardless of any treatment duration, drug and alcohol addiction recovery doesn't conclude after the patient completes a rehabilitation program. For many, recovery from substance use is an ongoing, lifelong process. Managing an addiction requires hard work and dedication as a person learns how to navigate through daily life without drugs and alcohol.
Addiction Rehab vs. Recovery?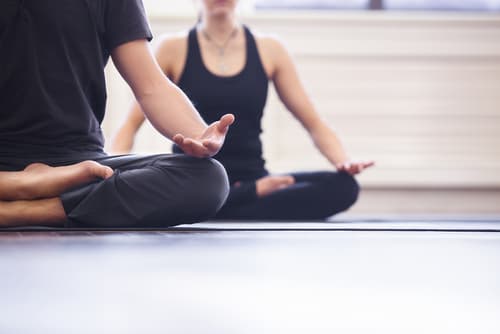 Rehab helps people learn how to cope with drug cravings and get through those tough times when the temptation to relapse is strong. It can also teach people skills to prepare for the day-to-day struggles of recovering from addiction and how to address the people or situations that may have contributed to or exacerbated the substance problem in the first place.
Long-term recovery, however, may involve ongoing counseling or therapy in individual and/or group form, along with the attendance of 12-step or other support group meetings.1,2 Some individuals find additional activities to be key for supporting their ongoing recovery. These activities may include meditation, yoga, exercise, or art.
Many good treatment programs offer their own types of aftercare programs or work with you to develop a solid aftercare plan prior to leaving treatment to help support successful long-term recovery.
What happens if I relapse?
Relapse should not be viewed as a failure but should instead be seen as an obstacle to overcome on one's lifelong journey to sobriety.6 It provides an opportunity to reassess one's path and get back into a program that offers the support and help needed to maintain sobriety.
Many people who are struggling with addiction undergo more than one course of professional treatment before they are able to find their footing in their recovery journey.6 Ultimately, the only person who can manage your addiction in the long term is you, and rehab will help you build the skills necessary to maintain sobriety.
How much does rehab cost?
Addiction rehabilitation programs can vary greatly in price. High-end luxury programs tend to charge more for extra services and special amenities and, in some cases, higher staff to patient ratios.
Several factors can affect the cost of rehab, including:
Amenities provided. These can include many factors that aid the recovery process, such as gourmet food, private rooms, animal-assisted therapy, acupuncture, massage, and yoga.
Length of program. The cost associated with a treatment program is primarily determined by the length of the stay. During your intake session, a counselor will discuss the amount of time recommended in treatment for your best shot at long-term recovery.
Location. Facilities in luxurious surroundings can cost more than traditional treatment centers. Travel to the facility can also be factored into the cost, especially if it is far from home.
Type of program. Inpatient programs will often cost more than outpatient programs since patients reside at the facility which, in many cases, is staffed with medical and treatment professionals at all times.
Inpatient treatment varies in cost between $200 and $900 per day, with longer programs generally costing less per day. Outpatient treatment ranges between $100 and $500 per treatment session, with longer treatment plans having lower cost per session. Detox alone can cost between $600 and $1,000 per day depending on the level of care needed, severity of the addiction, and length of time it takes to detox from the particular substance.7
All of these costs may seem daunting, but one must consider the cumulative costs that an ongoing addiction will potentially incur.
Is insurance accepted?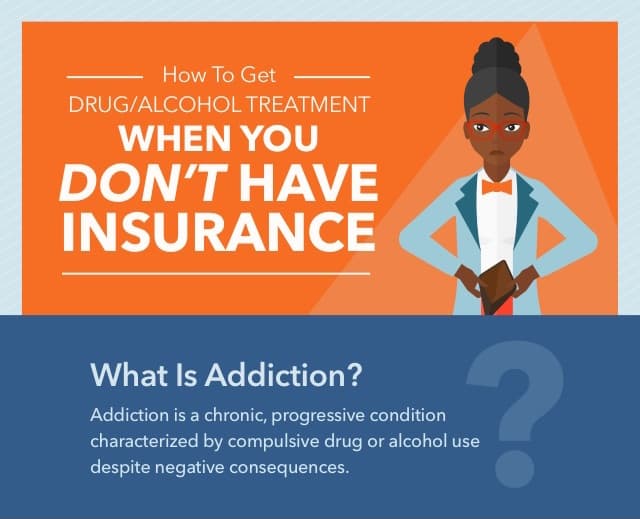 Insurance is often accepted at drug rehabilitation programs. However, the extent of coverage may vary according to the particular facility. Your insurance plan may cover only a portion of your rehabilitation stay, so it's important to check your insurance plan prior to enrolling in a drug rehab program.
If your insurance plan does not cover the cost of rehab, you can discuss other payment options with the facility you choose. The program may offer sliding scale payment options or financing plans to make the cost more manageable.
What should I know before calling a helpline?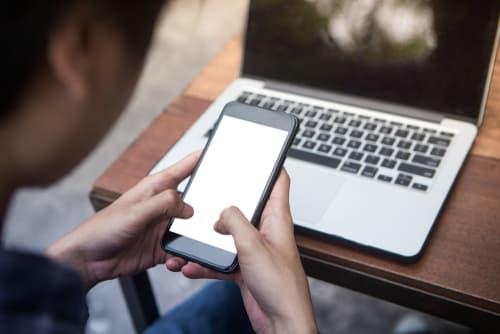 It's important to write down a list of information to provide to the admissions navigator. The more relevant details the admissions consultant has, the easier it may be for them to inform you of recovery options that may be suitable for you. Below is a list of details you may want to provide:
Addiction history, including length/severity of substance use/addiction
Substance(s) being used
The presence of a co-occurring psychiatric condition, such as depression or anxiety
The presence of a medical condition, such as diabetes
Whether you or the individual is pregnant
Special population considerations, such as desiring a men-only or women-only rehab
Your insurance plan and policy number
Should I get addiction treatment near me or away?
Many individuals seeking treatment travel to a rehab facility away from their homes. This is beneficial in some cases because it removes users from a home environment where they previously used drugs or alcohol.
With physical distance placed between themselves and a potentially-triggering and/or otherwise stressful environment, those attending rehab may be more able to fully focus on their addiction issues, free of outside distractions or temptations from work, family, and friends.
If outpatient treatment is sought and a remote treatment location isn't necessary, you may wish to opt for a program closer to home so you don't have to travel far each day. Additionally, if you have family obligations, nearby outpatient services can alleviate stress as you balance home responsibilities with your recovery efforts.
Recovery Program Considerations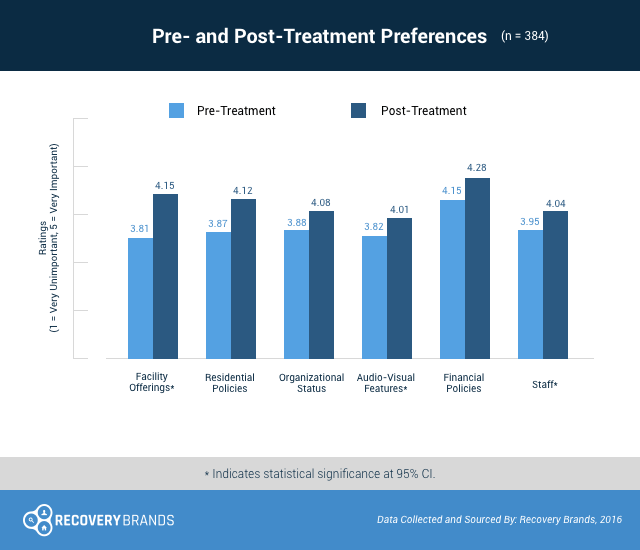 A survey was conducted in 2016 by Recovery Brands asking people leaving a recovery program what center features they believed to be as high priority things to consider when examining a treatment program. The highest-rated consideration was the facility's financial policies, such as payment options, financial support, and insurance accepted.
They also valued the facility's offerings (quality of housing, comforts, room quality, etc.) much more upon completing treatment. Individuals looking for treatment should look at a clinic's monetary policies as well as program offerings to inform their program choice.
Read More
Should I choose inpatient or outpatient treatment?
Inpatient and outpatient programs differ from each other in a number of ways—from costs involved and intensity of treatment to the overall environment and support structure present throughout the recovery process.
How does inpatient rehab work?
Inpatient facilities are rehab centers that offer 24-hour care from staff personnel.1 Hospital-based inpatient services have medical staff members present at all times and, though many residential rehabs have on-staff medical professionals present throughout the day, they can make arrangements for additional medical attention, when needed. Both types of inpatient rehab centers require patients to live at the facility.
Inpatient treatment settings provide the most intensive of treatment services. Inpatient programs provide an immersive treatment environment that allows patients to fully focus on their addiction and recovery with 24-hour care and supervision.4 Since patients are somewhat removed from the stress of their daily lives, they may be in a better position to work through their addiction issues.
Rehab programs can include group therapy, individual therapy, medication-assisted treatment, and even complementary therapies such as meditation, animal therapy, or outdoor activities.
Those with long-standing or severe addictions, addictions to multiple substances, or with coexisting medical and mental health conditions often seek an inpatient rehab facility for treatment. It may also be a good option for those who have made previous rehab efforts (either inpatient or outpatient) and have since relapsed.
How does outpatient rehab work?
Outpatient programs allow patients to come for treatment, therapy, and other services and then return to their homes at the end of the treatment sessions. This structure lets a person continue a relatively unimpeded work, school, or home life while seeking treatment.
These facilities tend to be a good fit for those with stronger support systems, relatively less severe or shorter-term addictions, limited time, or responsibilities at work or home that cannot be neglected.
Outpatient treatment designs can vary. Some programs involve all-day sessions, whereas others may only treat patients for an hour or two a day.4 Costs of outpatient care are often lower than those of inpatient care because there is no need for residential accommodations; additionally, there may be fewer amenities and complimentary services available, as well as relatively smaller treatment teams involved in direct care.
Because patients can leave, patients do not have to pay for around-the-clock care. Many insurance plans may cover some or all of the cost.
Can I lose my job for attending rehab?
While you may experience some fear of losing your job if you attend rehab, you may, in fact, be more likely to lose your job if you don't get help. If you are struggling with a substance use problem, it could already be affecting your productivity at work.
By avoiding addiction help, your struggle may eventually become apparent since continued substance use could result in noticeable deficits in your work performance.

Using substances while on the job is legal grounds for termination, but there are several federal laws protecting your right to obtain treatment. Under these laws, it is illegal to terminate employment as a consequence of an employee seeking treatment.
How do I get time off of work to attend rehab?
Many inpatient programs require taking some time off from work. However, there are several options that can help ease this process. These include:
What is Employee Assistance Programs?
An Employee Assistance Program (EAP) is a voluntary program through your employer, which provides confidential assessments, limited counseling, and referrals to treatment at no cost to the employee.
What is the Family and Medical Leave Act?
Many employers offer up to 12 weeks of leave under the Family and Medical Leave Act (FMLA), which allows you to take unpaid time off without affecting your health insurance, in order to seek treatment for a medical condition that interferes with your ability to complete work-related tasks. Substance use disorders fall under this category, so it could be beneficial to understand what your company offers.
What is Paid Time Off?
Another option for taking time away from work to get help with substance abuse is to simply use accrued vacation, sick, or personal time to seek treatment.
Executive Rehab Centers?
In the event that you have heavy work demands and need to maintain an active involvement at your place of employment, executive rehab centers may facilitate you maintaining a presence or ongoing involvement at work while undergoing residential treatment in a luxurious, 24-hour care setting.
What are Outpatient Programs?
Finally, outpatient programs provide another treatment possibility for anyone who is unable take time away from home or work and who may need a more affordable option than executive rehab. Those struggling with severe addiction or relapse problems, however, would be well served in searching for residential treatment options that can offer more intensive 24-hour care.
Overall, there are many different ways to get help as an employee and seeking treatment for addiction will be better for you, your job, your health, and your life in general in the long run.
What is Luxury Treatment?
Luxury rehabilitation offers far more amenities and posh surroundings than standard rehab facilities. They are often located in secluded areas, so patients are afforded maximum privacy during their stays. Compared to more standard rehab programs, luxury rehab centers may be more likely to offer certain complementary services and innovative recovery therapies in addition to wellness activities and upscale offerings like gourmet meals prepared by professional chefs.
High-level executives, celebrities, and other public figures often choose luxury rehab for the exclusive amenities and added privacy, but anyone may attend these types of programs if the costs can be covered through insurance, out-of-pocket payments, or a combination thereof.
Recommended Articles
Popular Rehab Center Locations
Sources
Substance Abuse and Mental Health Services Administration. (2014). What is Substance Abuse Treatment? A Booklet for Families.
National Institute on Drug Abuse. (2018). Principles of Drug Addiction Treatment: A Research-Based Guide (Third Edition): Types of Treatment Programs.
Substance Abuse and Mental Health Services Administration. (2015). TIP 45: Detoxification and Substance Abuse Treatment.
National Institute on Drug Abuse. (2019). DrugFacts: Treatment Approaches for Drug Addiction.
Polcin, Douglas L., Korcha, Rachael., Bond, Jason., Galloway, Gantt. (2010). What Did We Learn from Our Study on Sober Living Houses and Where Do We Go from Here? J Psychoactive Drugs, 42(4), 425-433.
National Institute on Drug Abuse. (2018). Drugs, Brains, and Behavior: The Science of Addiction: Treatment and Recovery.
American Addiction Centers. (2017).
National Institute on Drug Abuse. (2018). Principles of Drug Addiction Treatment: A Research-Based Guide (Third Edition): Principles of Effective Treatment.
More resources about
How Does Rehab Work? Addiction Treatment & Programs FAQ

: