Does Aetna Cover Addiction Treatment?
You may be wondering "does Aetna cover addiction treatment?" The short answer is yes, your Aetna health insurance plan covers substance abuse rehabilitation. Aetna will cover at least some of your addiction recovery treatment. Based on the plan you have, your treatment may be partially or fully covered.
The Affordable Care Act (ACA) requires all insurance companies to provide some type of coverage for alcohol and drug rehab treatment. The ACA requires all health insurance plans to cover behavioral health treatment (e.g., psychotherapy and counseling), mental health inpatient services, and substance use disorder (SUD) treatment.3
The financial responsibility you have for your addiction treatment will depend on the state you live in, the healthcare plan you have, the treatment coverage you need, and if you choose an in-network or out-of-network facility. No matter what drug and alcohol treatment facility you choose and what insurance policy you have, you will likely be responsible for paying some out-of-pocket costs.
The amount of health coverage you have can vary widely based on your state of residence, whether the facility is in- or out-of-network, the length of your stay, and your insurance plan level. The cost of drug and alcohol rehab, when you have Aetna insurance, will vary from person to person and will also depend on the addiction rehab center, the type of program attended, and specific services received.
What Rehab Centers Take Aetna Insurance?
American Addiction Centers (AAC) has various rehab facilities around the country that provide drug and alcohol addiction treatment. If you have an Aetna insurance plan, the following AAC facilities accept Aetna for drug and alcohol addiction rehab.
There are various rehab treatment programs for individuals struggling with drug or alcohol addiction, so don't give up if the first program you check out doesn't meet your individual needs. There are rehabs near me that can provide the treatment you need. Check out the directory to find a list of facilities and programs. You can search by location and filter by Aetna insurance.
Different Types of Aetna Substance Abuse Treatment
With most Aetna insurance plans covering at least some of the costs of recovery treatment for drug and alcohol addiction, the types of treatment can vary in intensity and frequency. Types of treatment may include:7,8
Medical Detox Programs
Medical detox programs help you withdraw safely from drugs and alcohol. Under 24/7 medical supervision, staff will work closely with you—and may prescribe medications to help ensure that you withdraw safely and that your symptoms are addressed as needed. Read more: Medical Detox Centers Near Me.
Inpatient or Residential Rehab Treatment
With inpatient treatment, you receive treatment and live at the facility. Inpatient or residential rehab treatment typically involves group and/or individual therapy. It is often recommended for individuals with co-occurring or dual diagnosis mental health issues, limited outside support, home environments that don't cater to sobriety, and poor treatment outcomes in the past. Read more: Inpatient/Residential Drug and Alcohol Rehab Centers.
Partial Hospitalization Program (PHP)
These programs allow you to live at home throughout treatment and spend your days at the treatment facility. This is sometimes referred to as day treatment. Read more: Partial Hospitalization Program.
Intensive Outpatient Programs (IOP)
These programs typically involve attending substance abuse treatment programs approximately 3 evenings a week. People in these programs can live at home and go to work during the day. Read more: Intensive Outpatient Programs and Rehabs.
Outpatient Treatment
An outpatient facility lets you meet with doctors and therapists, and you can even attend group sessions and recovery meetings before heading back home at the end of the day. With a residential program, you get the chance to focus solely on your recovery without any daily tasks getting in your way or slowing down your progress.
When you decide to get treatment for a drug or alcohol addiction, you will need to decide what type of treatment is best for you.
How to Check Your Aetna Rehab Coverage
Before choosing the right rehab treatment center for you, check your Aetna policy benefits to determine which costs will be covered by your insurance company and which will be out-of-pocket for you. Call the number on the back of your insurance card or log in to your account on Aetna's website to learn more about what your specific policy plan covers.
Knowing exactly what your Aetna insurance plan covers can give you peace of mind while you or your loved one is in rehab for substance abuse. You can do the work of getting and staying sober without worrying about unexpected costs or financial struggles.
What Are Aetna's Coverage Levels and Plans?
Aetna offers open-access plans, copay only plans, and high-deductible plans.4
Open-access plans allow you to choose your doctors; they don't require a referral, and they don't require a primary care physician.
Copay-only plans will guarantee that your costs after paying your deductible are only copays, with primary care physician visits and generic drugs covered before you hit your deductible.
High-deductible plans offer preventative care services before the deductible is met, sometimes coverage through a primary care physician before the deductible is met (with copay), and the option of a health savings account. To view your plan's details, you can log into the member website.
Aetna offers many local plans supported by the national network of providers to better support patients at the community level. For example, at AAC, our facilities frequently provide care for patients of Schaller Anderson Aetna Better Health networks of New York and Ohio.5,6
Aetna, Medicare & Medicaid
Aetna works with federal insurance programs like Medicare and Medicaid to supplement addiction rehab expenses just as they do other healthcare costs.
Aetna Medicare Advantage plans supplement your Medicare Part A and B with additional coverage and, many times, lower deductibles and copayments.9 Medicare Advantage plans are HMOs, HMO-POS plans, or PPOs which can be used for drug and alcohol rehab coverage.
Aetna provides Medicaid plans in 17 states.10 From California to New York, you might be able to access low-cost coverage through this insurer. The specific coverage you'll receive will vary depending on which state you live in.
What Length of Substance Abuse Treatment Will Aetna Cover?
If you're not ready to seek addiction recovery treatment because you're worried about what others might think, you'll be glad that you have Aetna insurance. Aetna offers members 24/7 support, and it can help you find a doctor or rehab center quickly.
Anything that you say to your representative is kept confidential, and the company will be discreet when it comes to handling your needs. The company's new plan calls for a combination of private therapy and 12-step programs to treat prescription drug addiction, and the duration of your stay depends on your Aetna insurance coverage. Regardless of the length of your stay, you'll feel safe and protected.
When you call your insurance company, you'll want to ask the representative some questions about your coverage. Some questions include:
Do you cover substance abuse assessment?
Do you cover detox services? How many days?
Do you cover outpatient rehab?
Do you cover inpatient rehab?
How many days of rehab do you cover?
Which programs in my area accept Aetna?
Do Treatment Facilities Need to Be In-Network?
In most cases, you will need to seek treatment at a rehab center that is in-network with Aetna to receive your full benefits. Even if you choose a substance abuse facility that is in-network, you may still be responsible for some of the treatment costs.
If you choose a center that is out-of-network, you may be responsible for all the costs of your drug and alcohol treatment. You may be able to discuss financing options such as a payment plan or scholarships offered by the facility.
How to Verify the Coverage of Your Aetna Plan?
The cost of rehab for drug and alcohol addiction will vary from person to person. It will depend on the treatment center, the type of program attended, and specific services received.
Before deciding on a rehab center, check your Aetna policy benefits to determine which costs will be covered by your insurance plan and which will be out-of-pocket for you. Call the number on your insurance card or log in to your account on Aetna's website to determine how much you may need to cover in terms of copays and any deductible that must be reached before coverage kicks in for the services you need.
American Addiction Centers can also verify your insurance coverage for you. Visit our insurance verification page, enter your information, and you will immediately be able to see if the treatment facility you are considering is in-network with Aetna. Or, call to speak to one of our admissions navigators to have them check your benefits and help you understand what is covered.
What Should I Do if Aetna Won't Cover the Total Cost of Rehab?
If your Aetna insurance policy does not cover all your drug and alcohol rehab expenses, it's important not to let that stop you from getting treatment for addiction. You don't have to use the insurance when you decide to check into rehab. There are many other ways to finance your treatment and get the help you need. Some ways to pay for rehab include:
Payment plans: You pay off rehab in affordable installments.
Sliding scale: The rehab decreases your cost to something you can reasonably afford—typically based on your income level.
Grants or scholarships: The Substance Abuse and Mental Health Services Administration (SAMHSA), as well as individual rehabs, offer grants and scholarships to pay for people who can't afford treatment.
Purchase affordable insurance on the Healthcare Marketplace.
Open a healthcare credit card or take out a specialized healthcare loan.
Use your savings or a credit card.
Make sure to do thorough research when looking for rehab so that you can find one that meets your financial needs.
Here are additional resources that provide more information about other ways to pay for drug and alcohol rehab with or beyond what Aetna covers:
We know that finding a rehab center for addiction is a confusing task, but we're ready to help you navigate through the world of treatment facilities. Call one of our admissions navigators if you're worried about a loved one or you're ready to take action to begin the process toward recovery.
Have More Questions About Rehab Insurance?
Get personalized support and have your questions answered via text message.
How to read your insurance card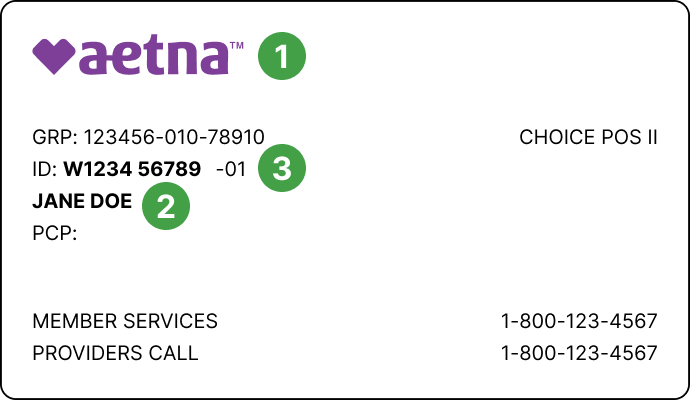 Insurance Provider Name

Policy Member's Full Name

Policy Membership/Subscriber ID