Does Blue Cross Blue Shield Cover Drug and Alcohol Addiction Treatment?
Almost all of Blue Cross Blue Shield plans include coverage for drug and alcohol addiction as well as mental health conditions. The amount of coverage for addiction treatment depends on your policy. The Mental Health Parity and Addiction Equity Act requires that health insurance companies and group health plans to provide equal coverage for mental health services, such as drug and alcohol abuse treatment, as they do medical coverage.1
This act was created to expand mental health and substance abuse coverage for people across the country. As a result, many BCBS companies may provide you with affordable coverage, and that is reflected in the pricing. For example, an unlimited stay at an approved inpatient treatment center may cost $250 out of pocket. For an out-of-network treatment center, you might pay $350 plus a set fee based on your plan allowance.
The amount of coverage you have can vary widely based on your state of residence, whether the facility is in- or out-of-network, the length of your stay, and your insurance plan level. The cost of drug and alcohol addiction treatment will vary from person to person and will also depend on the rehab center, the type of program attended, and specific services received.
What Rehab Centers Take Blue Cross Blue Shield Insurance?
American Addiction Centers (AAC) has various rehab facilities around the country that provide drug and alcohol addiction treatment. If you have a Blue Cross Blue Shield insurance plan, the following AAC facilities accept Blue Cross Blue Shield for drug and alcohol addiction rehab.
There are various treatment programs for individuals struggling with drug or alcohol addiction, so don't give up if the first program you check out doesn't meet your individual needs. There are rehabs near me that can provide the treatment you need. Check out the directory to find a list of facilities and programs. You can search by location and filter by Blue Cross Blue Shield insurance.
Choosing an In-Network Treatment Facility?
In-network providers have a contract with the insurance carrier to offer services at a set price. This means that your out-of-pocket expenses will typically be lower than if you choose an out-of-network facility. In some cases, you may even be responsible for the full cost of rehab if you choose an out-of-network facility.
Whenever possible, try to choose a facility that is in-network with BCBS. If you are unable to find an in-network provider or prefer a facility that is out-of-network, you may be able to work out a payment plan with the facility so you can pay back the cost of treatment over time.
Different Types of Blue Cross Blue Shield Addiction Treatment
Your BCBS insurance plan may cover the following addiction treatment services:4,5
Detox Programs: In some cases, you may need assistance when detoxing from drugs and alcohol, which can potentially be uncomfortable, painful, or even life threatening. Medical detox helps you safely withdrawal from drugs and alcohol, as you'll receive around-the-clock medical supervision. You might also be given medications to help minimize withdrawal symptoms. Read more: Detox Centers.
Inpatient or Residential Care: Inpatient/residential live-in treatment centers provide substance abuse rehab while you live onsite at the facility. Most inpatient programs last anywhere from 15–90 days, depending on the program you're in and your individual needs. Read more: Residential Inpatient Rehab Centers.
Partial Hospitalization (PHP): Partial hospitalization programs give you the opportunity to live at home while attending drug and alcohol treatment during the day. Read more: Partial Hospitalization Programs.
Intensive Outpatient Program (IOP): Intensive outpatient programs involve attending substance abuse treatment programs a few evenings a week. In an intensive outpatient program, you can live at home and even go to work during the day. Read more: Intensive Outpatient Program.
Outpatient Treatment: Individuals who have completed inpatient treatment often attend outpatient treatment for ongoing support on their journey to sobriety. You live at home and spend 10–12 hours a week at the treatment facility for therapy and support. Read more: Outpatient Treatment Programs. 
Your total out-of-pocket costs for drug and alcohol rehab treatment depend on the specific BCBS plan you have. Monthly premiums, copays, deductibles, and other potential costs all vary depending on the plan. But, with BCBS insurance, at least a portion of your costs should be covered under your plan.
BCBS Insurance Plans and Covering Levels
The Blue Cross Blue Shield Association is made up of 36 health insurance companies that are independently owned and operated. The Blue Cross Blue Shield (BCBS) Service Benefit Plan, also known as the Federal Employee Program (FEP), provides coverage for more than 5.5 million federal employees, retirees, and their families.2
BCBS has individual and family plans that include the bronze, silver, gold, and platinum plans (categories are dependent on your state). Bronze plans have the lowest cost, and the price of plans goes up from there.3
Bronze plans cover close to 60% of medical costs and have low monthly payments and high deductibles.
Silver plans cover close to 70% of medical costs, with a somewhat higher monthly payment and lower deductible.
Gold plans cover close to 80% of medical costs and have higher monthly payments and low deductibles.
Platinum plans (which aren't offered in all states) cover close to 90% of medical costs and have the highest monthly payment with the lowest deductible.
All Blue Cross Blue Shield insurance plans include mental health benefits, and most plans cover at least some portion of drug and alcohol addiction treatment. Specifics regarding your coverage are based on your policy. As with most medical issues, only a portion of detox or substance abuse treatment are covered by insurance.
How to Verify the Coverage of Your BCBS Plan?
According to the Substance Abuse and Mental Health Services Administration, 20.4 million people aged 12 or older had a substance use disorder (SUD) in 2019, but only 4.2 million people received any type of treatment—only 1.5% of the people who needed rehab.6 This figure shows that there are millions of people in the same situation as you.
There are many barriers to drug and alcohol addiction treatment, including cost, but you don't have to let the price keep you from ending the cycle of abuse and living a happier and healthier life. You can find out what rehab facilities accept your Blue Cross Blue Shield drug rehab insurance by contacting your plan administrator, or you can work with the treatment center directly to answer all your payment questions.
Before deciding on a rehab center, check your BCBS policy benefits to determine which costs will be covered by your insurance plan and which will be out-of-pocket for you. Call the number on your insurance card or log in to your account on Blue Cross Blue Shield's website to determine how much you may need to cover in terms of copays and any deductible that must be reached before coverage kicks in for the services you need.
What Should I Do if BCBS Won't Cover the Total Cost of Rehab?
BCBS may cover some, if not all, of your rehab costs, depending on the policy you have. In some cases, your policy may not cover all the expenses related to treatment at drug and alcohol rehab facilities and treatment centers. Speaking with an admissions specialist at the rehab center you are considering will help you get a deeper understanding of what is covered by your policy and what your financial commitment will be.
Still, not everyone has access to insurance that will cover the full cost of treatment, but everyone deserves treatment from a great rehabilitation center. Despite the cost, it's important not to let financial concerns hold you back from getting treatment.
Many programs also offer sliding scale options, in which the treatment cost is adjusted according to your salary and what you can realistically pay. Other options include grants and scholarships.
For more information on other ways to pay, visit these web pages:
Recommended Rehab Treatment Articles
For more information on other ways to pay, visit these web pages:
Knowing what costs your BCBS health insurance plan covers for drug and alcohol addiction services can help you plan for any costs that you will be responsible for while you or your loved one are getting substance abuse addiction treatment.
Knowing what costs you may be responsible for provides peace of mind, allowing you to focus on what truly matters—getting and staying sober.
More Questions About Blue Cross Blue Shield Rehab Coverage?
Get personalized support and have your questions answered via text message.

How to read your insurance card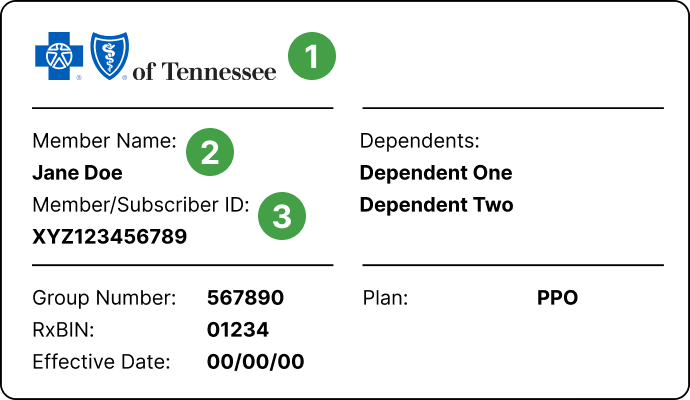 Insurance Provider Name

Policy Member's Full Name

Policy Membership/Subscriber ID