How Much Does Rehab Cost? The Cost of Different Addiction Treatment Programs
People considering help for their addiction often want to know how much drug and alcohol rehab treatment at a facility will cost.
Price of Rehabilitation Generally Depends on the Following
Type of facility: for example, inpatient facilities tend to cost more than outpatient treatment programs because they provide meals and lodging in addition to therapeutic interventions and wellness activities.
Location of the facility: such as near home or not, or in the mountains or on a beach.
Size of the program: whether it's a large program with more participants or a smaller, more intimate rehab.
Treatments provided: which may or may not include detoxification (detox), medication-assisted treatment, various therapy options, and comprehensive aftercare.
Length of the program: which can vary from 30-90 days depending on a person's needs.
Amenities offered: such as a swimming pool, an on-site gym, massage therapy, nutrition counseling, and more.
But whatever the monetary cost of  rehab treatment, the price of not treating addiction—in terms of future health expenses, lost productivity, and other social costs—could ultimately prove much greater.1
Whether you choose to participate in a more standard addiction rehab program that is fully staffed with qualified medical and mental health treatment professionals or you opt for more upscale, luxury treatment, you can find an addiction rehab that fits your personal needs and budget.
Participants in any alcohol and drug addiction treatment program can expect certain basic components. Inpatient participants—those who live at the facility during treatment—can expect to undergo an intake, assessment, and evaluation process; have access to qualified counselors; and have round-the-clock supervision from professionals. Outpatient participants can expect access to group therapy, individual therapy, family counseling, or a combination of these options when they are at the facility and live outside the facility when treatment sessions are completed for the day.
Average Cost of  Drug and Alcohol Rehab Treatment
Addiction treatment program costs will be variable, but they often depend largely on the level of care.
The cost of residential treatment programs is generally between $14,000 and $27,000 for a 30-day program
The cost of outpatient treatment can range from free to $500 per session.2
Detoxification (detox) costs about $600 to $1,000 a day.2
Some or all of the cost of rehab may be covered by health insurance or paid in part or in full (subsidized) by government programs. These costs are estimates based on the experience of Rehabs.com in working with hundreds of treatment centers throughout the United States.
The rooms at most standard drug and alcohol addiction rehab facilities are relatively basic. They generally include a comfortable bed, bathroom, and space for personal items. Costs may be slightly higher for those who opt for a non-shared room. In some locations, participants may have access to a swimming pool or an on-site gym, and some standard facilities accommodate children and pets.
Standard treatment offerings can be set in either inpatient residential facilities or outpatient treatment centers, and they cater to individuals who need short-term or long-term treatment. Length of inpatient treatment programs depend on a person's needs, however generally lasts for the following time frames:
Even standard facilities may offer a variety of substance abuse treatment approaches and additional services to participants. Although standard rehab facilities may have fewer luxury amenities, many still offer some of the best addiction treatment programs in the world.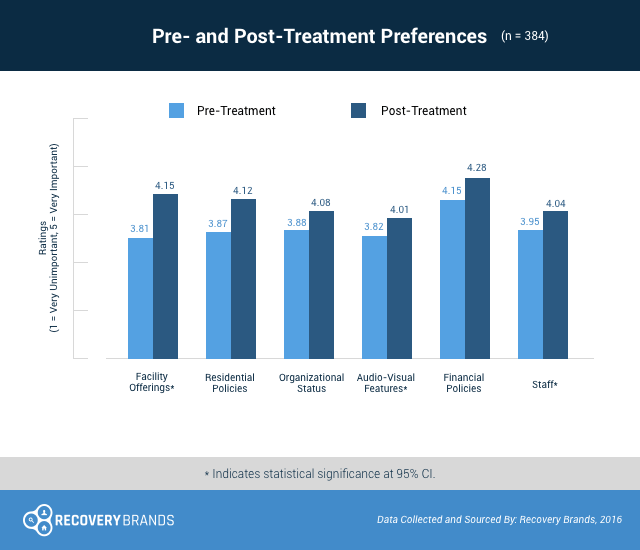 In 2016, data were collected by Recovery Brands that asked patients leaving an addiction rehabilitation center what facility aspects they saw as the most valuable aspects to take into account when considering a program. At the top of the list was the facility's financial practices, such as insurance accepted, payment options, and financial support. They also prioritized facility offerings (recreational activities, food quality, room quality, etc.) a lot more after experiencing treatment. People new to treatment will want to look at a clinic's financial options as well as the clinic's offerings to help them make their final facility choice.
Covering the Cost of Rehab
Even if you have financial constraints, you can still get treatment for a substance use disorder (SUD). Many addiction rehab programs are willing to help you find a way to afford rehab so you can achieve recovery and live a safer, healthier life. Both low-cost and free rehab programs are available. Government-funded drug and alcohol treatment centers may also be an option.
To keep out-of-pocket rehab costs as low as possible, find an addiction treatment facility that offers comprehensive services that are largely covered by any private insurance you might have. The number of drug and alcohol rehab facilities accepting insurance has started to increase, and many insurance plans cover addiction treatment.
Your insurance plan might not cover the entire cost of substance abuse treatment, but certain treatment types are covered under many insurance plans. Many people who have private insurance opt for outpatient care to save on housing and food costs, which can be expensive. People who choose this option can work, attend school, and manage responsibilities at home during the rehab process. Consultation with a treatment professional prior to choosing a rehab can help you determine if your addiction issues will be adequately addressed with outpatient approaches.
You can also ask the coordinator of a treatment facility to put you on a payment plan. Some facilities offer financing options for rehab such as allowing you to make a single down payment and small monthly payments during your treatment, or they might provide services on a sliding-scale fee based on your income.
No-Cost Rehab Options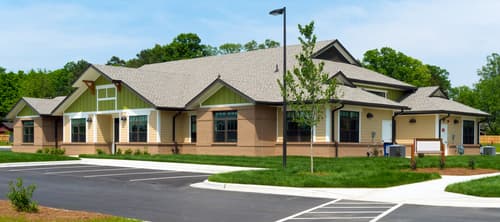 If you don't have insurance and have little or no money, you still have options for quality addiction treatment. Some neighborhood health clinics offer free treatment or sliding-scale fees for healthcare to people who don't have health insurance. Also, some rehab facilities may offer scholarships for people looking to attend rehab. These scholarships provide financial assistance for those who would otherwise be unable to afford addiction treatment.
While some facilities offer addiction treatment services for free, others may provide government-subsidized services based on your income. If you qualify for Medicaid or Medicare, you may be able to receive detox and withdrawal treatment at no cost to you, and the facility staff can help you apply for insurance.3
There are also free support groups for people in any stage of recovery, and these can be found in most local areas. Church groups, charities, and nonprofit organizations may provide free services to individuals who struggle with SUDs. These programs cater to individuals with limited financial resources who desperately need help. Some churches and nonprofits also offer sober-living housing to individuals who are committed to getting sober and changing their lives.
Luxury Options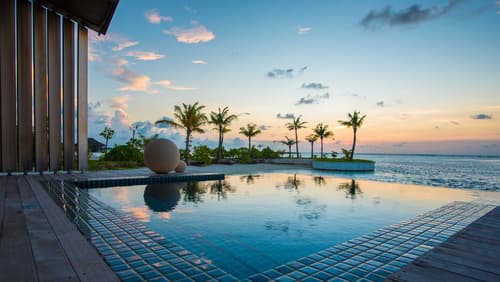 While some addiction rehabs may be relatively low-cost, other addiction treatment centers cost tens of thousands of dollars. More expensive rehabs are designed for clients who want to live in a high-end, luxurious setting during treatment while receiving top-notch and highly individualized therapeutic techniques.
Luxury inpatient rehab centers provide exclusive, advanced treatment to clients in a private, upscale setting, and are the most expensive type of addiction rehab. Luxury rehabs cost an average of $25,000 and up as estimated by Rehabs.com.2 Most participants who desire these services can afford to pay for treatment and amenities of this quality, but some insurance plans cover at least a portion of the cost of luxury addiction treatment.
Finding an Affordable Addiction Rehab
Anyone with an SUD can get help regardless of insurance coverage or financial status. If you need help recovering from addiction and want to find an addiction rehab program you can afford, take action to find the right treatment program for both your health needs and your budget.
More Questions About Rehab Insurance Costs?
Get personalized support and have your questions answered via text message.

Alternatively, you can visit our 
Frequently Asked Questions
 page.
Recommended Rehab Treatment Articles
More resources about
How Much Does Rehab Cost? The Cost of Different Addiction Treatment Programs

: