Humana Heroin Addiction Rehab Insurance Coverage
If you're addicted to heroin, you're ready to get help, and you have health insurance through Humana, get in touch with your contact at the company and discuss your treatment options.
Does Humana Cover Heroin Rehab Treatment?
Yes, there are many different Humana insurance plans covering many different types of heroin addiction rehab treatment however, the type of rehabilitation program will vary determined by what type of coverage level you have. Humana Insurance for heroin addiction rehab should be an option available to you, but you should check with whoever you know that has connections to the company; this could be through your employer or a direct contact at Humana.
Humana Rehab Coverage Levels for Heroin Addiction
Humana Insurance for heroin addiction treatment is covered under many plans, so check with your provider to see what programs are specifically covered. Depending on your insurance, Humana will cover a variety of different rehabilitation options for your treatment. If you have decided to check yourself into a rehab facility, consider where you want to go: inpatient or outpatient. Outpatient facilities cost comparatively less than inpatient rehab, and having insurance can help pay for the cost.
How Much of the Cost of Rehab Is Covered by Humana?
Heroin addiction, along with many other types of substance abuse, cost Americans more than $700 billion a year from factors like health care costs, crime and less productivity. The exact number for the amount of money your insurance provider will pay for your heroin addiction treatment will vary, so it is important to talk to a representative at Humana and understand your own policy. Your Humana coverage for heroin addiction rehab/treatment is specific to you and your policy, so getting a better idea of exactly what is covered is crucial.
Can I Pay Above What My Insurance Will Provide to Receive Treatment?
According to your insurance policy, your coverage through Humana may provide some help with paying for a rehabilitation center. If your entire stay at the facility is not covered, you can pay whatever you own yourself after leaving the center. This is beneficial if you want to receive treatment at a luxury or private center. Luxury and private centers cost a great deal more than normal facilities, and the costs of which may not be fully covered through your Humana insurance policy. If you choose to attend one of these treatment facilities, you may pay above what your insurance will provide for treatment.
Inpatient Heroin Rehab vs. Outpatient Heroin Rehab
"Humana Insurance for heroin addiction treatment is covered under many plans, so check with your provider to see what programs are specifically covered."
Now that you've decided to get help for your heroin addiction and seek treatment, you need to check in to a rehabilitation center. There are two types of centers: inpatient and outpatient. Inpatient facilities are very intense, requiring you to stay overnight for sometimes several weeks at a facility. They take care of laundry, food and housing for your stay. Outpatient centers are much more relaxed, requiring you to only check in with an addiction specialist daily and attend group therapy meetings.
Should I Choose a Residential Rehab Center?
If you think you need intensive care for your addiction, consider a residential rehab center. Residential centers are very strict, keeping a close eye on the activities on the grounds during the patient's detox procedure. This ensures no illicit drugs, including narcotics and alcohol, make their way into the patients' hands.
Finding Heroin Rehabs That Take Humana Insurance
Depending on where you live and your transportation situation, you may choose a rehabilitation facility that is out of state. This could be beneficial to your recovery, as the traveling itself could be therapeutic, and the new scenery could symbolize turning a new leaf in your life. Of course, staying local and close to home is also a valid option when seeking treatment. Get in touch with your contact at Humana and discuss your options. Depending on your policy, there may be restrictions, or even benefits, to staying in-state or traveling to your inpatient or outpatient rehab center of choice.
Does Humana Pay for Private or Luxury Treatment?
Humana insurance for heroin addiction rehab centers can extend far beyond just your normal facility. There are many options available to you, if you are so inclined, including private or luxury treatment. Luxury rehabilitation centers offer private rooms, gourmet dining and other luxuries such as massage time or alternative therapy. Private and luxury treatment may be covered under your Humana insurance plan, so it is important that you understand your policy. Talk to someone in the HR department at your company, or your contact at Humana, to get a better idea of what kind of treatment center you are covered for.
What Does Executive Treatment Offer Over Other Rehabs?
Executive treatment is important for anyone who is present in the fast-paced business world. Things can change in an instant, and it's important that you stay on top of everything. Executive treatment is a service offered by many inpatient rehab facilities that allows you to stay connected with your work team through a laptop or internet enabled tablet. Normally, upon admission to an inpatient facility, your phone and any other device will be confiscated, essentially putting you out of direct contact with the outside world.
What Treatment Lengths Will Humana Pay For?
When you check in to a residential inpatient rehabilitation facility, you will be required to stay there overnight for several weeks, or even months. The normal length of time you can spend at one of these centers is either 28-30, 60 or 90 days. There are many different options when it comes to Humana insurance policies, so you will have to check with your HR department or contact at Humana to see what your policy will cover. The Centers for Disease Control (CDC) recommend staying a full 90 days to get the maximum benefits from detoxification and other therapy options.
What If I Have No Insurance?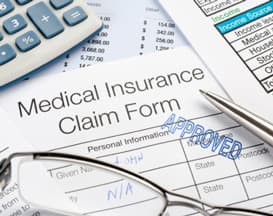 If you don't have insurance, this should not deter you from seeking treatment for your heroin addiction. Many different rehab facilities offer financing and will allow you to make payments on what you owe after you leave the facility. It is also important to find a center that is in your price range, and opt out for luxury centers.
Rehabs.com is an American Addiction Centers (AAC) resource, and a leading provider in heroin addiction treatment. AAC is in network with many of the top insurance providers in the U.S. including Humana. See if your Humana insurance covers heroin addiction treatment using our online insurance checker.
Recommended Rehab Treatment Articles
More resources about
Humana Heroin Addiction Rehab Insurance Coverage

: