Insurance Coverage for Alcohol Rehab and Detox Treatment
"Recovery from alcohol abuse can be a long and difficult process that sometimes requires the aid of an alcohol rehab center."
Alcohol abuse can have devastating effects on the abuser, effects that range from issues with family members to loss of work and medical and legal problems. Recovery from alcohol abuse can be a long and difficult process that sometimes requires the aid of an alcohol rehab center. Whether the center offers inpatient or outpatient programs, treatment can be costly. Fortunately, many insurers offer some level of alcohol rehab insurance coverage, paying for treatment intended to help the alcoholic return to a clean and sober lifestyle.
Health Insurance for Addiction Treatment
According to the Centers for Disease Control and Prevention, excessive alcohol consumption cost the U.S. $224 billion in 2006. While the cost included health care and criminal justice expenses, the largest chunk, at 72 percent, was due to loss of worker productivity. Because of this productivity loss, most insurance plans that provide some form of insurance coverage for rehab programs are provided through the workplace itself. While the cost of rehab may be high, many employers feel that providing rehab for employees remains less expensive than replacing that employee. Unfortunately, the level of coverage provided can differ significantly according to the individual insurance plan that you have.
Before seeking rehab for an alcohol addiction, it's important to ask a few questions of your insurance provider to gain a better understanding of precisely what services are available under your particular plan. These questions should include:
Does the plan cover alcohol rehab?
What is the deductible amount that I will be expected to pay for treatment?
What copay will I be charged for treatment?
What treatment programs are available and where are the treatment facilities located?
Once you receive answers to these basic questions, you can begin looking for a rehab treatment facility that meets your insurance requirements to begin your recovery. Many insurers will provide you with a list of treatment facilities that you can use. Choosing the best treatment facility from the list can take a great deal of time, but it's important to find a program that suits you personally as this will give you the highest chances of success. For help with finding the appropriate treatment facility, you can call to speak to a knowledgeable operator who can provide you with details on facilities and programs offered.
Majority of Recovery Patients Seek Alcohol Treatment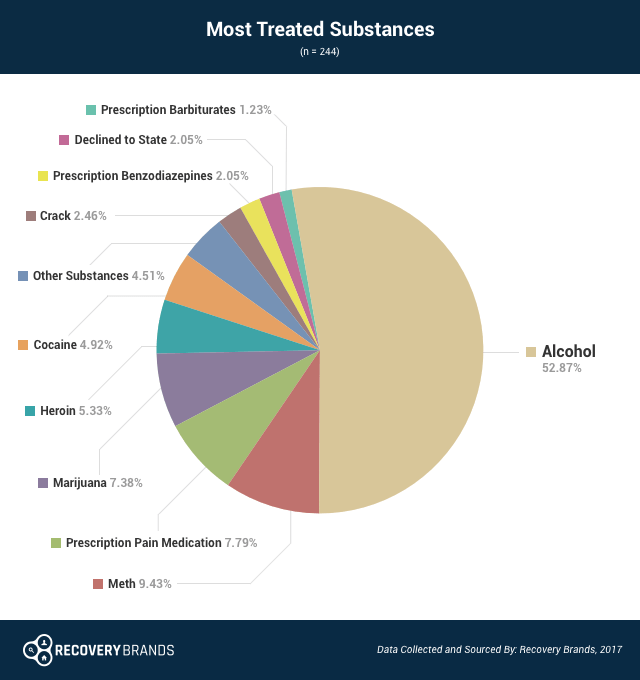 Alcohol is the most abused drug among people in recovery, as Recovery Brands revealed with a 2017 survey. The survey found that nearly 70% of people in recovery got help with a drinking problem, and a shocking 52.87% of respondents sought the most treatment for alcohol abuse. Despite the wide variety of abused substances individuals seek treatment for, alcohol seems to cause the most widespread harm.
View Large Graph
Paying for Rehab
Even when your treatment is covered by insurance, there is likely to be some out-of-pocket cost to you for participating in the rehabilitation program. Those seeking rehabilitation should be prepared to pay the normal copay related to their medical treatments. This is the payment required by your insurer for each visit with a health care professional, and it is often inexpensive.
"Those seeking rehabilitation should be prepared to pay the normal copay related to their medical treatments. "
Where the high cost of treatment is likely to occur is in the deductible payment that you will have to make for your treatment. The deductible is a yearly amount that you have to pay for all medical treatment that you receive before the insurance company will begin to pay its share. The amount of the deductible will depend on the plan, but it may be as high as several thousand dollars. Costs of the treatment above the deductible will be covered by the insurer as long as the treatment is a covered by your particular plan.
Covered Programs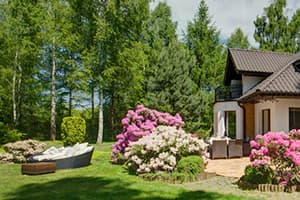 Alcohol rehab can be a long-term process with several different treatment programs successfully addressing the problem. Your choice of programs is often restricted by what the insurer will actually cover. Some insurers will offer inpatient coverage in a treatment facility, while others only pay for outpatient treatment. Still other insurers will cover everything from detoxification to rehabilitation and even a sober-living facility to aid in the transition back to a sober lifestyle.
If your particular insurer doesn't cover the treatment type that you feel you need for successful recovery, you may be able to expand on the insurance policy through extra payments to extend the coverage. This expansion may require a waiting period to come into effect though, as your alcoholism may be treated as a pre-existing condition. For more information on the full range of alcohol rehabilitation programs available in your area, you can call at any time, 24 hours a day.
More resources about
Insurance Coverage for Alcohol Rehab and Detox Treatment

: