What is the 27 club and Who Coined the Term?
Who Coined the Term "27 Club"?
The 27 Club is a name commonly used in the media and popular culture for a group of musicians who all died at the age of 27. While not all of them died directly from drug use, all heavily used drugs throughout their careers. Their lives and deaths speak to the dangers of drug and alcohol abuse. The name for the club is linked to a comment made by Kurt Cobain's mother after the Nirvana frontman killed himself in 1994: "Now he's gone and joined that stupid club. I told him not to join that stupid club."1
Musicians and Drug Use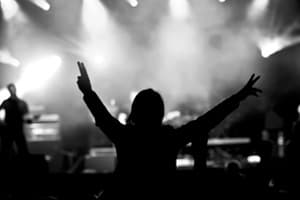 Musicians are often associated with alcohol and drug use for several reasons.
Perhaps the most obvious reason is that musicians reference drugs in many songs. Sometimes, the song appears to be an endorsement of drug use. Other times, the songwriter appears to condemn drugs. Examples span many different musical genres and decades, including:
"Cocaine" by Eric Clapton
"Because I Got High" by Afroman
"Mary Jane" by Rick James
"Lucy in the Sky With Diamonds" by The Beatles
"Heroin" by The Velvet Underground
"We Can't Stop" by Miley Cyrus
"Drug Dealer" by Macklemore
"Can't Feel My Face" by The Weeknd
"Semi-Charmed Life" by Third Eye Blind
"Crack Music" by Kanye West
Another reason for the perceived association between music and drug use is that media outlets frequently document the addiction struggles and wild exploits of musicians and celebrities. Even people who are not necessarily fans of their music have heard stories of musicians such as Britney Spears, Anthony Kiedis, Keith Urban, and Eminem entering rehab to deal with their addictions.
Once musicians become famous, it can be easier for them to get access to drugs—not only because of their fame but because of the money that comes along with it. Rock band Aerosmith hired a dedicated roadie to periodically give guitarist Joe Perry a small blast of cocaine just offstage during performances, and Led Zeppelin hired doctors to travel with them and write prescriptions.2,3 Drug dealers may even offer celebrities a "freebie" or give them discounts in return for being able to hang out with them.4
When musicians develop a drug or alcohol problem, it can be difficult for them to seek treatment. The stigma surrounding addiction and the perceived weakness of asking for help could be why.
Another reason, according to Paul Earley, an addiction medicine specialist and medical director of Georgia Professionals Health Program, is that the people around them are afraid to tell them they have a problem.5
"Everyone is star-struck; they have problems confronting and pushing a celebrity to get proper treatment… physicians and friends feed their substance use to be close to the celebrity aura," says Earley.5
Do Drugs Make You More Creative?
Public drug use among popular musicians has led to a stereotype that all famous musicians use drugs or that drugs are necessary to become creative and successful. However, even though many popular musicians use drugs, there are many who have embraced sobriety. Some examples include Frank Zappa, Angus Young, Ian MacKaye, Gene Simmons, Henry Rollins, Kendrick Lamar, and Zack de la Rocha.
Making a living as a working artist—whether you're famous or not—requires discipline, focus, and determination, all of which can be harmed by substance use.Further, making a living as a working artist—whether you're famous or not—requires discipline, focus, and determination, all of which can be harmed by substance use.
A study that looked at 61 working writers, artists, and musicians found that most had negative opinions about how substances affected their creativity. The vast majority said they did not use drugs while working on a project and said that substances hindered the creative process, interfered with creativity, and made them unproductive. Many initially used substances but found them to be problematic in the long run.6
Who's in the Club?
Though some dispute which musicians are in the 27 Club—and some sources even include actors, such as Jonathan Brandis—6 people are consistently listed in this group.
Amy Winehouse (1983–2011)
Amy Winehouse was a British singer-songwriter known for hits such as "Back to Black," "Valerie," and "Rehab." She won 5 Grammy awards in 2008 but struggled with drug and alcohol use. She said she had "an addictive personality" and would "go from one poison to another."7,8
Winehouse completed a short stint in rehab in 2008 after a U.K. tabloid published a video of her smoking crack, but she later said that she used drugs while she was in the treatment program. She later entered rehab again, but weeks before her death she appeared drunk at a show in Serbia and was booed offstage.7
On July 23, 2011, her live-in bodyguard found her not breathing in her bed in north London. Her cause of death was ruled alcohol poisoning. Authorities found 3 empty vodka bottles in her flat, and her blood alcohol level was 5 times the legal limit for driving.8
Jimi Hendrix (1942–1970)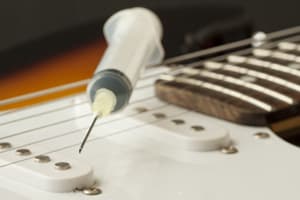 Jimi Hendrix is widely considered one of the greatest guitarists who ever lived. In only 4 years, he developed a distinctive, highly influential style that involved the incorporation of distortion and a blend of rock, blues, and jazz. He is perhaps best known for his rendition of "The Star-Spangled Banner" performed during the Woodstock festival in 1969.
Hendrix was known to use drugs, and some of his songs, including "Purple Haze," reference drug use. In 1969, he was arrested at Toronto International Airport for possession of hashish and heroin, though he denied that the drugs were his.1
On September 18, 1970, he died in London of asphyxiation after inhaling his vomit while intoxicated. He had taken an unknown number of sleeping pills after drinking alcohol.1
Janis Joplin (1943–1970)
According to the Rock and Roll Hall of Fame website, Janis Joplin was called "the greatest white urban blues and soul singer of her generation."9 She achieved initial success with the band Big Brother and the Holding Company, performing at the Monterey Pop Festival as well as Woodstock. Some of her solo hits include "Piece of My Heart" and "Me and Bobby McGee."
Like other members of the 27 Club, Joplin was a drug user and drinker. She had several friends who died of overdoses and she even survived heroin overdoses herself. As her career progressed, she began to drink heavily, reportedly lining up cups of tequila on stage each night. She began injecting heroin and eventually became a full-blown addict.1
On October 4, 1970, Joplin died of a heroin overdose in Hollywood, California. Alcohol was also present in her blood.10,11
Jim Morrison (1943–1971)
Jim Morrison was the lead singer of The Doors, one of the most popular rock bands of the 1960s. A poet and former film student, he wrote and sang most of the The Doors' hits, including "Break On Through," "The End," and "Light My Fire."
Morrison was a heavy drinker and drug user. After Janis Joplin died, he supposedly told friends that they were "drinking with number three," perhaps his suggestion that he was the next to die after Joplin and Hendrix. He is said to have taken LSD over 250 times and also experimented with marijuana, barbiturates, amphetamines, narcotics, and cocaine.1,12
Morrison's substance abuse began to take its toll in the last years of his life. He said that he felt like a 47-year-old man. He moved to Paris to start a quieter life but died on July 3, 1971. The official cause of death was heart failure, but it is suspected that he died of an overdose, most likely heroin.1,12,13
Kurt Cobain (1967–1994)
Kurt Cobain was one of the leaders of the grunge rock movement in Seattle in the early 1990s. His band Nirvana released one of the defining albums of the era, "Nevermind," which included the song "Smells Like Teen Spirit."
Despite his success, Cobain struggled with drugs and depression throughout his career. He began to experiment with drugs in his mid-teens after his parents divorced, and he continued to use them later when he married Courtney Love, the lead singer of the band Hole. The 2 were investigated by social services after Love admitted to using heroin while pregnant.14
Cobain attempted to kill himself on March 4, 1994, while he was in Italy with his family. He was rushed to the hospital and survived but had left a suicide note. When he came back to the United States, he became increasingly withdrawn and kept using drugs. He checked into a rehab center but left after a few days. He successfully committed suicide on April 5, 1994, after using heroin and shooting himself in the head with a shotgun.14,15
Brian Jones (1942–1969)
Brian Jones founded The Rolling Stones, one of the most well-known rock and roll bands of all time. In the early days, he was the leader and manager of the band. He was primarily a guitarist but also played a number of other instruments, including sitar, keyboards, harmonica, and marimba.16
After a few years, Jones became dependent on drugs and alcohol and was arrested in May 1967 for drug use. In June 1969, he was asked to leave the band.16
A month later, in July 1969, Jones was found dead at the bottom of his swimming pool at his home in Hartfield, East Sussex, England. An inquest found that he had been under the influence of alcohol and drugs.1,16
How Drugs & Alcohol Affect the Body
Long-term use of drugs can lead to a host of health problems. Though several members of the 27 Club died before many of these effects became apparent, some of the effects of protracted substance abuse were revealed after they died.
Brian Jones' liver, for example, had "severe dysfunction due to fatty degeneration and the ingestion of alcohol and drugs." Autopsy reports indicate that his liver was twice the normal size, and his heart was also enlarged. Janis Joplin's liver also showed effects of heavy drinking.1,11
According to the National Institute on Drug Abuse, other effects of substance abuse on the body include:17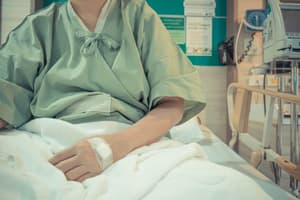 Heart disease.
Abnormal heart rate.
Heart attack.
Pulmonary disease, including lung cancer.
HIV/AIDS.
Hepatitis.
Collapsed veins.
Bacterial infections.
Severe constipation.
Kidney damage or failure.
Liver damage.
Seizures.
Stroke.
How Drugs & Alcohol Affect the Mind
Anecdotes from friends suggest that several, if not all, members of the 27 Club suffered from depression, including Winehouse, Joplin, Jones, Morrison, and Cobain.1,11 Cobain's prior suicide attempt strongly suggests that he was severely depressed.
The effects of drugs, and the withdrawal that occurs when someone stops using drugs, can cause or worsen many mental health problems, including:18
Anxiety.

Depression.

Hallucinations.

Delusions.

Insomnia.
Anecdotes from friends suggest that several, if not all, members of the 27 Club suffered from depression.Although it can be difficult to tell whether someone begins using drugs to cope with mental health symptoms or develops them from repeated substance use, drug abuse and mental health disorders are frequently seen together—a phenomenon known as comorbidity. In many cases, both conditions need to be treated at the same time for the person to fully recover.19
Regardless of whether these musicians started using because they were depressed or anxious, or developed these conditions from drug use or the pressures of fame, they needed help and did not receive it. In the case of Winehouse and Cobain, help was offered and available, but they refused it.
Overdose
The deaths of Winehouse and Joplin were confirmed as heroin and alcohol overdoses, respectively, while Morrison's is speculated to be caused by heroin overdose.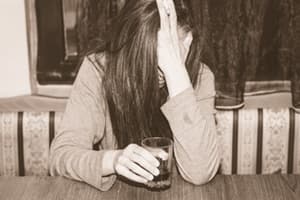 Overdose is a risk with heavy substance abuse, and it's particularly a threat with certain drugs, such as heroin and other opioids. A heroin user can never be sure of the strength of a batch they buy off the street, which can also be adulterated with even stronger drugs such as fentanyl.20
In addition, people who go through withdrawal and then relapse back to using heroin lose their tolerance and be more susceptible to an overdose if they take an amount they could previously handle.21
Ingesting large amounts of any drug can lead to overdose. An overdose can also occur gradually as a substance builds up in the body over time, as appears to be the case with Amy Winehouse's alcohol poisoning.8,22
Some general signs of various substance overdoses may include:22
Abnormal pupil size.

Agitation.

Trouble with breathing.

Paranoia.

Delusions.

Extreme drowsiness.

Sweating.

Aggression.

Nausea.

Vomiting.

Incoordination.
What to Do for an Overdose
If you suspect an overdose in yourself or a friend or loved one, call 911. Find out what drug the person took, if possible. Collect any pill bottles or containers and give them to emergency medical personnel.22
Keep the person calm, and try to prevent them from taking any more drugs.
While you wait for help to arrive, you can take the following steps:22
Check the person's airway, breathing, and pulse.
If needed, administer CPR.
If the person is unconscious but breathing, roll them toward you on their side. Bend their top leg so both their hip and their knee are at right angles. Tilt their head back to keep their airway open.
Monitor the person's vital signs (pulse, breathing, heart rate) until emergency medical help arrives.
When Is It Time to Get Help?
People who are addicted to drugs or alcohol may show different signs that indicate that they have a problem. They may consistently act intoxicated or start to exhibit certain behaviors or changes in their habits. Here are a few things you can look for if you think you or someone you know might be struggling with drug abuse:23
Behaviors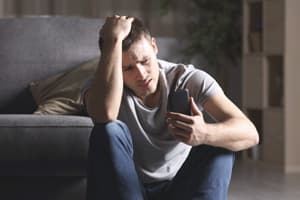 Stops going to school or misses work, or has poor performance at school or work
Gets into fights or legal trouble
Is secretive or isolates from others
Shows a change in appetite or sleep patterns
Suddenly becomes angry or sad
Goes through periods of increased activity or energy
Becomes fearful or paranoid for no apparent reason
Physical Appearance
Bloodshot eyes
Pupils that are larger or smaller than normal
Weight loss or weight gain
Smells on body, breath, or clothes
Shaking
Slurred speech
Difficulty walking
Social Changes
Hangs out with new friends
Repeatedly asks for money or steals
Uses substances despite problems with relationships
Seeking Help
Rehab programs help people who are addicted to drugs regain control of their lives. They combine therapy with other treatments, such as medication, in an environment where people can remove themselves from day-to-day temptations and triggers and focus on their recovery.
If you or someone you know is abusing substances, explore the different types of rehab options available and find one that works for you. Programs vary and can take place on a full-time or part-time basis, depending on addiction severity and personal needs. Many programs accept insurance or will work with you on a payment plan.
You don't need to wait to hit "rock bottom" to reach out for help. If you feel like your drug use is controlling your life, take that first step toward change.
---
References
Sounes, H. (2013). 27: A History of the 27 Club through the Lives of Brian Jones, Jimi Hendrix, Janis Joplin, Jim Morrison, Kurt Cobain, and Amy Winehouse. De Capo Press.
Beaumont, M. (2017). Aerosmith: The best war stories. NME.
Robinson, L. (2003). Stairway to Excess. Vanity Fair.
McKay, H. (2010). Inside the Hollywood Drug Scene: How Celebrities Get Their Fix. Fox News Entertainment.
Puente, M. (2016). The sad intersection of fame, drugs and death. USA Today.
Kerr, B., Skaffer, J., Chambers, C., and Hallowell, K. (1991). Substance Use of Creatively Talented Adults. Journal of Creative Behavior, 25(2), 145-153.
Eliscu, J. (2011). Amy Winehouse: 1983 – 2011. Rolling Stone.
McLaughlin, E., and Smith-Spark, L. (2011). Inquest: Singer Amy Winehouse died of alcohol poisoning. CNN.
Rock & Roll Hall of Fame. Janis Joplin.
The New York Times. (1970). Janis Joplin Dies; Rock Star Was 27.
Friedman, M. (2011). Buried Alive: The Biography of Janis Joplin. Crown/Archetype.
Ludwig, A. (1995). The Price of Greatness: Resolving the Creativity and Madness Controversy. Guilford Press.
Walters, G. (2006). Lifestyle Theory: Past, Present, and Future. Nova Publishers.
Biography. (2017). Kurt Cobain.
Lathan, S.R. (2009). Celebrities and substance abuse. Baylor University Medical Center Proceedings, 22(4), 339-341.
Biography. (2014). Brian Jones.
National Institute on Drug Abuse. (2017). Health Consequences of Drug Misuse.
Substance Abuse and Mental Health Services Administration. (2005). Substance Abuse Treatment for Persons With Co-Occurring Disorders.
National Institute on Drug Abuse. (2010). Comorbidity: Addiction and Other Mental Illnesses.
National Institute on Drug Abuse. (2016). Fentanyl.
U.S. National Library of Medicine: Medline Plus. (2017). Opiate and opioid withdrawal.
U.S. National Library of Medicine: Medline Plus. (2017). Drug use first aid.
MentalHealth.gov. Mental Health and Substance Use Disorders.
More resources about
What is the 27 club and Who Coined the Term?

: