Analysis of the Top Drug Movies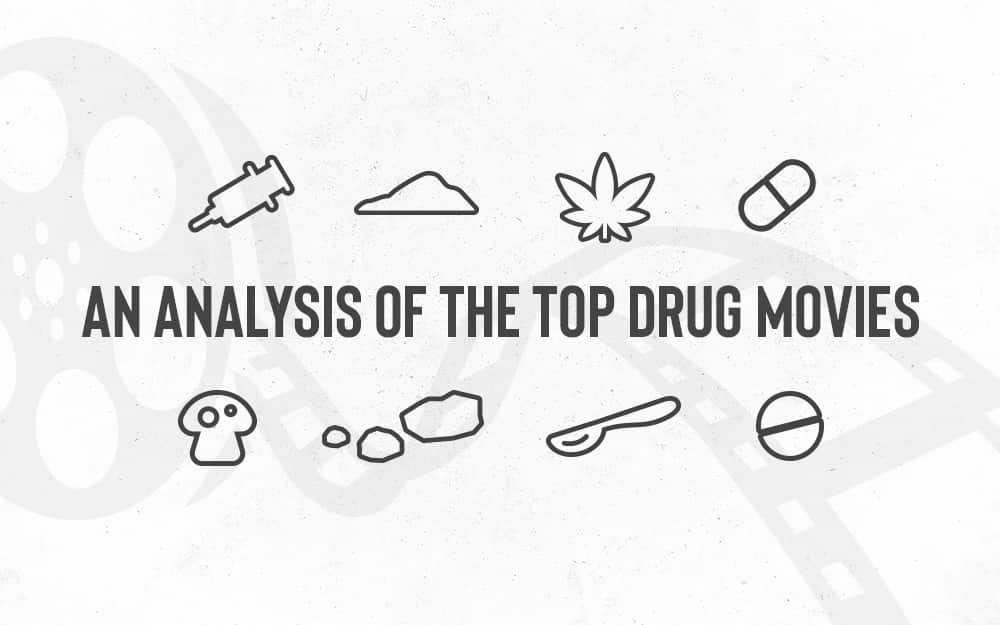 Hollywood has had a long relationship with illicit drugs, both in front of and behind the camera. Narcotic substances have been the driving force behind many a film, sometimes even taking a starring role in the action happening on the screen.
At Rehabs.com, we obviously know a thing or two about drugs in the real world, but we wanted to take a look at how they are presented in the movies. From movies where drugs are treated as lighthearted and fun to more dramatic fare where the harsh realities of addiction are explored, we wanted to see what kinds of themes and tidbits we could find by evaluating more than 200 of the top movies to feature drug use, as voted on by film fans on Ranker.com.
One of the primary pieces of information we wanted to mine from this analysis was to see which drugs have been given the most screen time. To find this, we scoured plot information for every movie on the list and tracked how often characters are shown using different drugs in the movie.
Unsurprisingly, marijuana was the drug shown on film the most, with almost 55% of the top 200 drug movies featuring characters using the substance. Rounding out the top three were cocaine and heroin, with those drugs being shown in 38.76% and 26.32% of drug movies, respectively. A final interesting point in our analysis was that 7.66% of movies featured a fictional drug that exists only as a part of the world of the film it appears in, the same percentage as meth.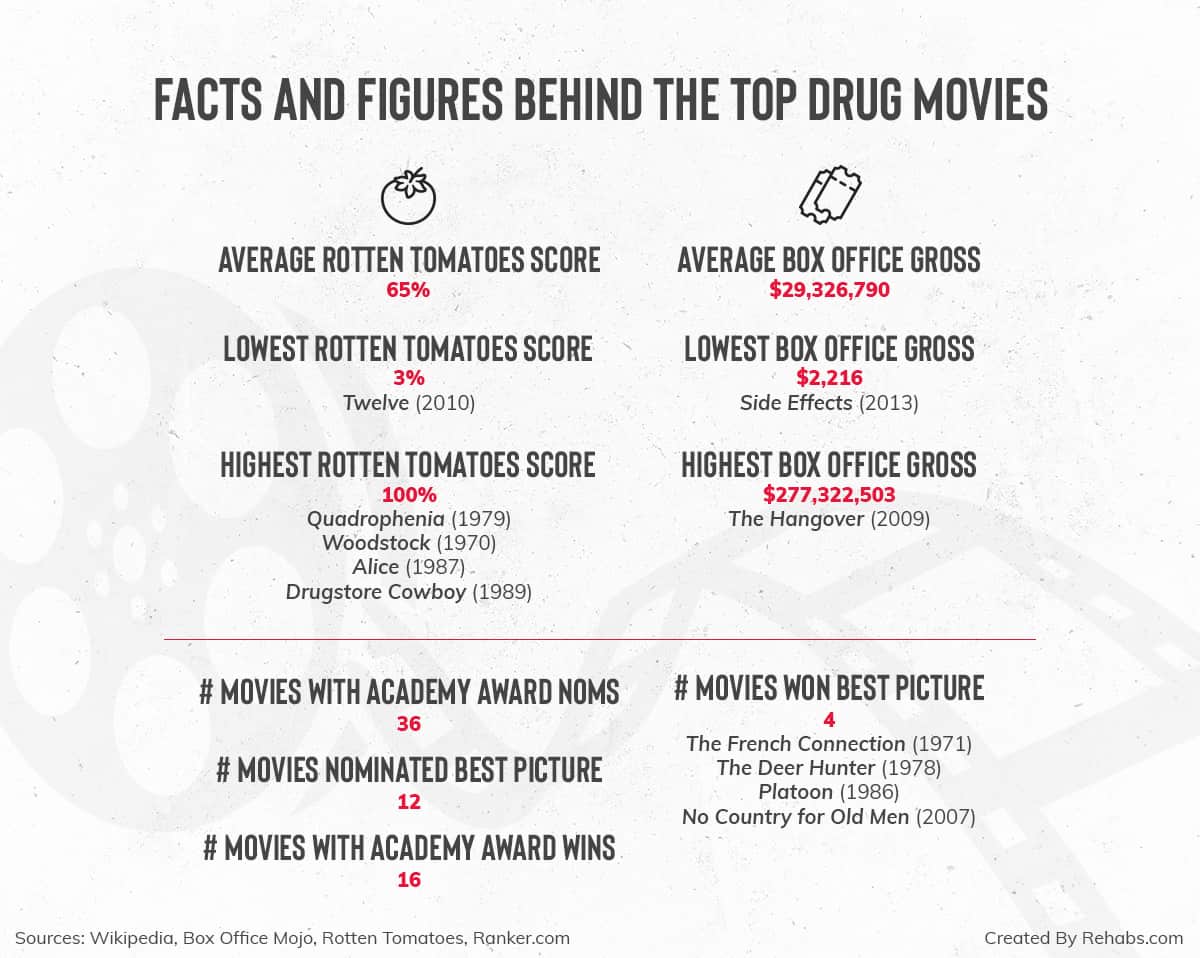 When hearing the words "drug movie," most people probably think of lowbrow stoner films in the vein of Cheech and Chong or Harold and Kumar. While that style of film has certainly carved out a niche in the world of drug movies, we actually found that films exploring these substances tend to be of a higher quality, and in many cases, they strike a more serious tone similar to films like Trainspotting or Requiem For A Dream.
In fact, the average Rotten Tomatoes score for all of these movies taken together is a respectable 65%, with four different films earning perfect scores from the critics. Beyond the critical praise, 36 different drug movies earned Academy Award nominations, with 16 taking home at least one Oscar on the big night. Even more impressively, 12 drug movies have been nominated for best picture, with one-fourth of them actually winning Hollywood's ultimate prize. All in all, the critical and awards success of films that portray drug use make it clear that this is a genre with plenty of room for prestige pictures to co-exist with stereotypical stoner fare.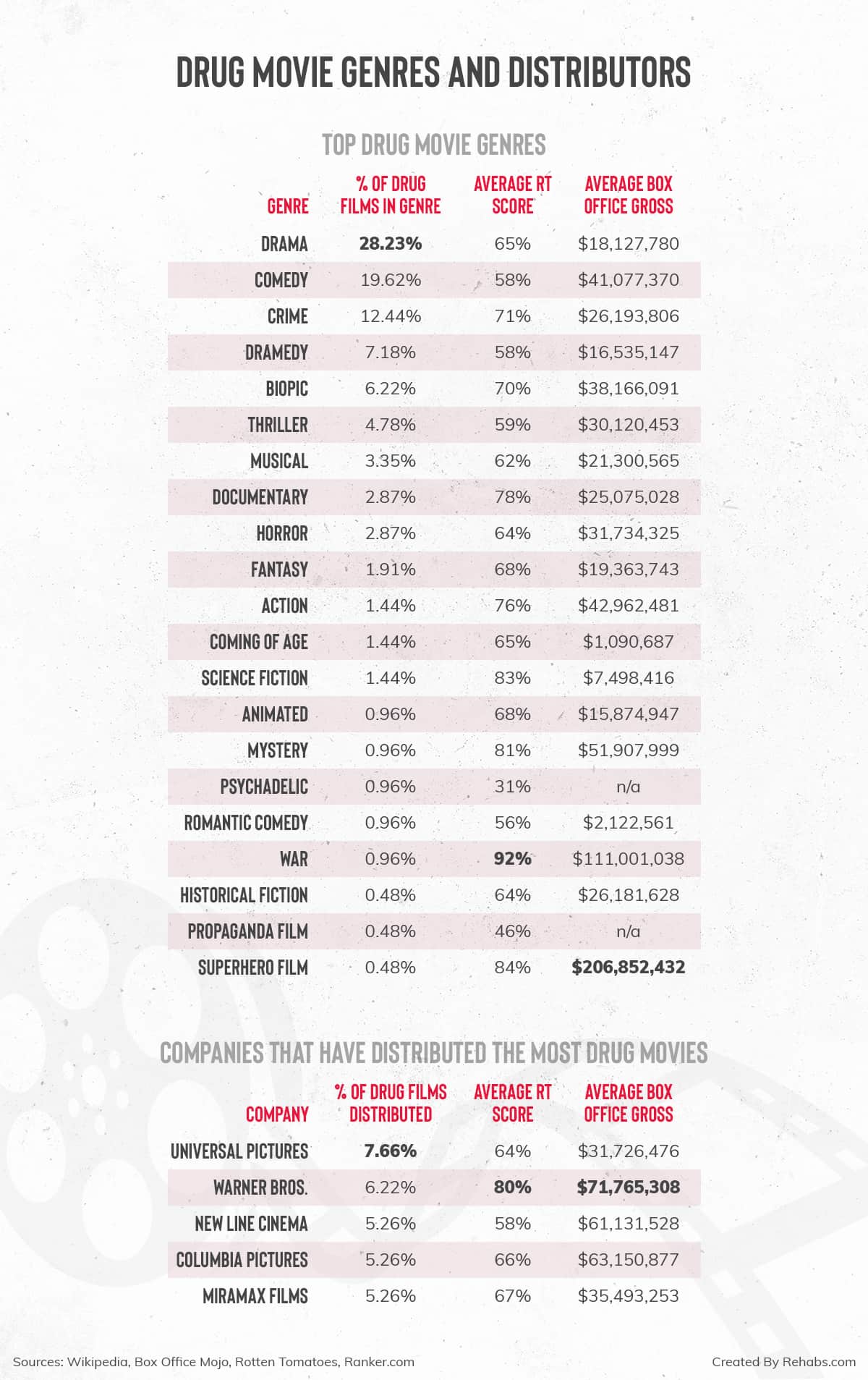 Driving home the idea that drug movies can frequently take a serious tone, our examination of the genres these drug movies fall under found that dramas make up the single largest drug movie genre, with more than 28% of the movies on the top 200 list falling under that category. Comedy and crime films are the only other categories that encompass more than 10% of the total, just under 20%, and just over 12%, respectively.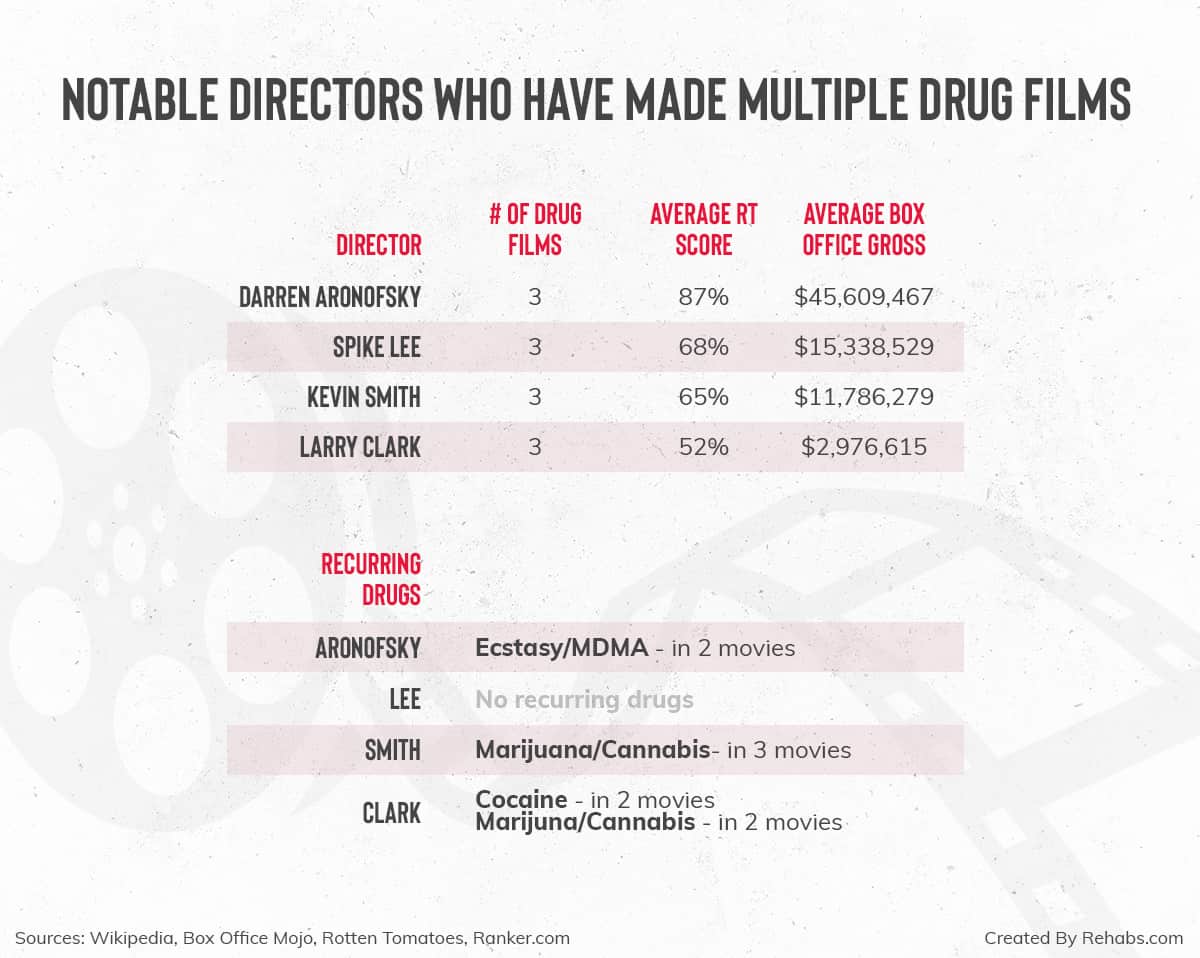 As we were looking at the creative teams behind these films, we noticed that certain prominent actors and directors have returned to the subject matter in this realm multiple times over the course of their careers.
In terms of on-screen talent, Johnny Depp leads the way among male actors, having appeared in five different movies featured on the top 200 list, including leading roles in films near the top of the list such as Blow and Fear and Loathing in Las Vegas. In terms of critical success, Matthew McConaughey's drug films have performed the best with an average Rotten Tomatoes score of 81%, and include the film that earned him an Oscar for Best Actor in Dallas Buyers Club.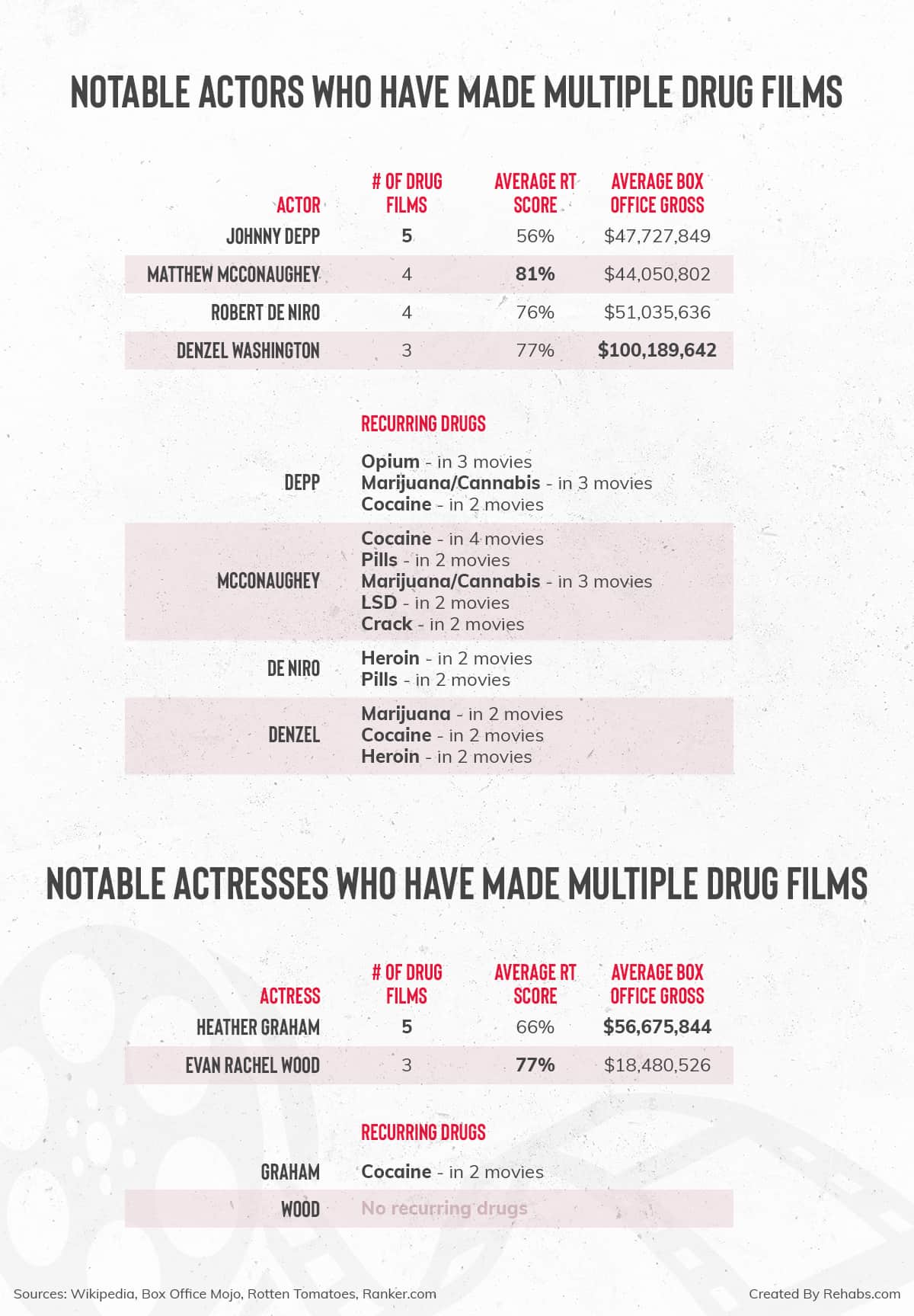 On the other side of the camera, there is one auteur that clearly leads the way among his fellow directors. Darren Aronofsky has only made seven feature films in his career, and three of those are among the top 200 films featuring drug use, including one of the top overall in Requiem For A Dream. While he is tied with several other directors in terms of who has made the most movies on the list, Aronofsky's have unquestionably been the most beloved, as they have the highest average Rotten Tomatoes score and the highest average box office gross according to Box Office Mojo.
Drugs have long had a prominent place in the fictional worlds created on screen and will continue to do so for as long as Hollywood is making movies. While those drugs are treated with varying degrees of seriousness on film, in the real world they can be a very serious problem for people around the country and around the world, and for anyone seeking help for an addiction Rehabs.com is here ready to help find the right facility to turn things around.
Can I use this information?
Can I use this information? The information and graphics in this blog post can be used and displayed by all commercial and noncommercial websites without charge. However, use is only permitted with proper attribution to rehabs.com  When using this information or any of these graphics, please include a link back to this page.