Cutting and Self-Harm Rehab Centers
How to Get Help for Cutting or Self-Harm
If you or someone you know struggles with cutting or self-harming, there are outpatient and residential inpatient rehab centers available. These rehabilitation treatment programs can help treat your co-occurring depression, anxiety, or mood disorder, rectify your negative beliefs, and improve coping skills so that you can live a healthy, happy life.
What Is "Cutting"?
Cutting is one form of self-harm and has, in fact, been cited as the most common type of self-injurious behavior.1
Self-harm has been described as a "deliberate act to destroy one's body tissue without a conscious intent to die."
Cutting is further distinguished by the use of cutting instruments. But it excludes body modification techniques such as tattooing and body piercing.2
Cutting is often referred to as non-suicidal self injury (NSSI). And unlike drug and alcohol addictions – which often have very public consequences, with friends and family intervening to recommend rehab – self-harm is often done in isolation.
Depression and Self-harm
One of the common motivators for cutting and other forms of self-harm includes feeling depressed – or being in a state of depression. If you find yourself engaging in cutting or other forms of self-harm, you may be likely trying to3:
Regain a sense of control and calm in stressful situations that evoke feelings of powerlessness.
Act on feelings of low self-esteem.
Punish yourself from feelings of shame.
Divert your attention from your own emotional pain.
Develop feelings amidst feeling numbness.
Express negative energy.
Cutters typically self-injure to relieve painful emotional states. For those with emotional pain caused by current or past trauma who have difficulty working through these issues – unhealthy coping mechanisms such as cutting can seem to provide momentary relief.
---
How Do I Know If I Need Cutting Rehab Treatment?
If you engage in self-harming behavior, such as cutting, you may have been flying under the radar screen for quite some time. But it's important for you to get help as soon as possible.
As with the treatment of all severe and persistent mental health issues, a key indicator that a specialized self-harm hospital program is recommended – in addition to support from family and friends – is the point at which cutting interferes with normal daily activities.
In order to get help for your cutting behavior, you will need to:
Believe that you're valuable enough to quit cutting yourself.
Acknowledge that you need help to stop cutting yourself.
Reach out for help to friends, family and professionals who can help you get professional treatment.
Going It Alone vs. Getting Professional Treatment
Attempting to quit cutting and other types of self-harm without treatment is indeed possible. But often times, getting professional treatment for these self-harming behaviors can provide you with better outcomes.
Your potential for long-term recovery may be greatly increased by engaging in treatment that teaches healthy coping skills and helps identify root issues that are creating distress and pain in the first place.
If you are concerned that you or a loved one is suffering under the weight of having to use cutting as a coping mechanism, call to speak with someone about the different types of rehabs available and your cutting addiction treatment options.
Risk Factors for Self-mutilation
Many of the risk factors for cutting oneself are the same as the risk factors for committing suicide. These shared risk factors include4:
Coexisting mental health issues such as: ADHD, anxiety, depression, and personality disorder.
Low socioeconomic status.
LGBT (lesbian, gay, bisexual, and transgender).
Family violence or adversity.
History of physical or sexual abuse – or other childhood trauma.
Single parent household.
History of bullying.
Underdeveloped social skills and emotional IQ.
Family history of mental health issues.
Alcohol and/or drug dependence.
Mental health traits such as: hopelessness, low self-esteem, and perfectionism.
Females – especially between the ages of 12-24 – are at much greater risk than males for engaging in cutting, while males are at greater risk for committing suicide.
There are tools available to help you determine whether you have a cutting addiction and need treatment. If you engage in cutting or have a loved one in your life who harms his or herself, call to speak with one of our recovery advisors. We would love to help answer any questions you have and help explain what your best next treatment options might be.
---
How Long Do Treatment Programs Take?
Typically, rehab treatment for self-mutilation often occurs in periods of 30-90 days.
30-day rehab provides a critical launch point for recovery. While many people participate in 30-day programs because of limited time and financial resources – if a longer treatment term is available, 90-day rehab is preferable.
Given that much of the focus of treatment for cutting and other self-harm is therapy, a short program of 30 days will only just begin to address underlying issues that have developed your need to cut yourself. Certain components of recovery offer the most powerful and longest lasting benefits when continued for more than one month.
These recovery components include:
Outpatient counseling – both individual and family counseling.
Participation in support groups such as Self Mutilators Anonymous.
Since many self-mutilators are adolescents, these individuals may be more available to modify their schedules to participate in extended rehabilitation.
---
What to Expect From Cutting Rehabilitation
Rehabilitation for cutting helps remove long-ingrained, negative beliefs and barriers to successfully transition back into healthy living. Cutting rehabilitation provides the expert physical, mental, and emotional support you need to succeed in your recovery. Rehabilitation for cutting helps remove long-ingrained, negative beliefs and barriers to successfully transition back into healthy living.
The idea of going into rehab for cutting addiction can seem overwhelming if you do not know what to expect. You deserve to give yourself the best possible care and services available to reduce your risk of relapse.
Rehabilitation Facility Types
The rehabilitation facility type you choose can look one of a few different ways, depending on your unique needs and circumstances:
Outpatient treatment lets you live at home while making regular visits to a clinic or treatment center for treatment.
Inpatient treatment provides overnight residential treatment with 24/7 care from staff personnel. Some inpatient centers are situated in hospitals where you have around-the-clock access to medical resources and healthcare professionals. Inpatient centers located outside of hospitals often provide intermittent access to healthcare professionals to monitor your treatment progress.
Assessment at Program Entry
When you enter a rehab program for cutting, you can expect to undergo a thorough physical and psychological assessment. Staff personnel usually use this assessment to gauge your current mental and physical health – and to devise a treatment plan that will be adequately tailored to your individual needs.
Mental Health Therapy Treatment Approaches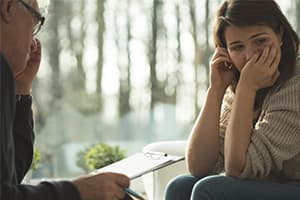 While exercise has been identified as one key component of recovery from cutting, the primary focus in a cutting rehab program will be your mental health. Cutting is often one's attempt to solve deeply rooted mental health challenges using poor coping skills that ultimately manifests externally as self-mutilation. Coexisting mental health issues are common with those who engage in self-harm.
What works best for you depends upon the recommendations of mental health counselors and treatment providers – based on their assessments of what causes and motivates your cutting addiction. The primary types of therapy used to help you overcome your cutting addiction can include:
Cognitive Behavioral Therapy (CBT) helps you cultivate healthy and positive beliefs to replace negative behaviors and beliefs that led to using cutting as a coping mechanism in the first place.
Mindfulness-Based Cognitive Therapy (MBCT) combines cognitive therapy with meditative practices that are predicated on creating mindfulness to help treat underlying mental health issues such as anxiety and depression.
Psychodynamic Psychotherapy is similar to psychoanalysis and focuses on the identification of hidden memories and/or unconscious emotional issues that need to be brought to light, acknowledged, and processed. It is often used as an adjunct treatment for individuals with both PTSD and cutting issues.
Dialectical Behavior Therapy (DBT) is another version of CBT that helps strengthen behaviors so that an individual can better manage emotions and interpersonal relationships without having to cut or self-harm as a coping mechanism. According to the American Psychiatric Association's Diagnostic and Statistical Manual of Mental Disorders (DSM IV), cutting is often associated with borderline personality disorder, and DBT is an effective treatment option for this kind of dual diagnosis.5
In addition to active participation in an extended therapeutic relationship – either one-on-one or through group therapy – medications may also be recommended to address underlying mental health issues.
---
Types of Rehabs for Cutting
There are four primary types of rehabilitation treatment for cutting:
Standard Private Facility
Standard private rehab centers offer both residential ("inpatient") and nonresidential treatment services. Residential rehab provides 24/7 supervision from staff personnel and has the advantage of providing a safe space free from your particular cutting addiction triggers. Standard rehab programs typically offer the most affordable treatment options.
Luxury Facility
Luxury rehab centers are residential treatment centers that also come with many additional features designed to promote comfort, wellness, and overall well-being. These special features may include:
Secluded, beautiful settings.
Private rooms.
Yoga.
Spa treatments.
Horseback riding.
Fine dining.

Executive Facility
An executive rehab centers is even one more step up from luxury rehab because it allows people to continue working throughout the treatment process. Often individuals in similar places in life are placed together to encourage recovery among like-minded people.
Other Specialized Rehab Programs
There are a wide variety of specialized cutting rehab programs that focus on specific populations – similar to executive rehab. These specific populations may be:
Single-sex (all-male or all-female).
LGBT (lesbian, gay, bisexual, transgender).
Gender-holistic.
Substance-specific.
Dual diagnosis populations (those who struggle with both substance abuse and a coexisting mental health disorder).
Since the majority of self-mutilators who cut to cope are adolescent women, programs that focus on age and gender can provide the most targeted treatment available for these individuals.
---
What Happens After Cutting Rehab?
Rehabilitation is only one piece of the cutting addiction treatment puzzle. Creating an optimum aftercare plan and obtaining personalized wellness recommendations has been shown to be a key component of sustained recovery.
Individuals who are consciously connected and actively committed to their treatment – and who pursue new self-management skills according to detailed and extended aftercare plans – achieve higher rates of cutting abstinence over a longer period of time.
---
Paying for Cutting Rehab
Finding adequate financial resources for cutting rehab can be a challenge. A few payment options worth considering may include:
Insurance. Insurance should cover much of the costs of rehab for cutting and self-harm. But as with any medical procedure or treatment, it is very important to review your policy closely. Contact your insurance company prior to entering treatment. Review policy terms, deductions, exclusions, and reimbursement. Ask about the number of days that will be covered and whether you are required to enter outpatient treatment first.
Public or private loans. If you are uninsured, one option is to obtain loans from the public sector or else from friends and family.
Employer benefits. If you are a full-time employee, check with your employer's human resources department to determine if your benefits include participation in an employee assistance program.
Related Guides on Paying for Rehab Treatment
---
How to Pick a Top Self-Harm Treatment Center
Trying to find the best cutting rehab for your particular needs is not always easy, but your choices will be better if you work with trained professionals to identify the most effective treatment option for you.
Key factors to consider when identifying a cutting rehab include:
Proof of positive outcomes and success rates.
Caliber of trained practitioners.
Treatment philosophy (abstinence versus medication management).
Cost.
Accreditation by the Commission on Accreditation of Rehabilitation Facilities (CARF), the Council on Accreditation (COA), and/or the Joint Commission on Accreditation of Healthcare Organizations (JCAHO).
Location and ease of incorporating treatment schedule into your daily life.
Finding a Rehab Center for Cutting Near Me
Call to speak with one of our treatment support team members about your cutting addiction treatment options. We are available 24 hours a day, would love to help you sort through your next possible steps towards recovery and help you find a suitable treatment center either near you or away from home. We have facilities and treatment programs nationwide and may be able to help you find treatment near you or at a different State if it fits your needs better.
---
Articles Related to Cutting and Self-Harm Rehab Centers
More resources about
Cutting and Self-Harm Rehab Centers

: