Young Women: 5 Dangers of Mixing Sex and Alcohol
Our young adult years are defined by some hard-learned lessons, making life-long friends and preparing to embark on the great adventure of adulthood. In between those times, we are met with peer pressure – most of which we buckle to in the name of "fitting in."
Pressures of Drinking and Sexual Experimentation
Two of the most common peer pressures we face in early adulthood involve underage drinking and sexual experimentation.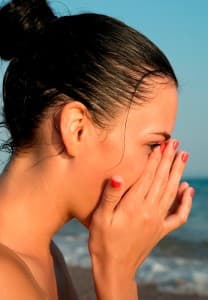 Let's be honest; imagining your first sexual experience likely conjured up images that looked more like a Hollywood movie instead of real life. But once you add in a mixture of sex and alcohol, those movie-like images are quickly traded in for what can be a dangerous and vulnerable situation. At the very least, it can create memories that you ultimately end up regretting for years to come.
Drinking to the point of intoxication puts people, particularly young women, at risk in a number of ways that can result in long-term physical and emotional consequences.
With that in mind, let's take a look at 5 common risks facing women whose first sexual experience involves alcohol.
A "hook up" is a term used to describe casual sex or a sexual experience occurring between two people that only briefly met. Among young women, a first sexual experience involving alcohol (in the context of a "hook up") is usually remembered as negative, unwanted and unplanned.
In contrast, first sexual experiences that are planned within the context of a romantic relationship tend to be remembered as positive, healthy and consensual.
Most party-going college students are looking to hang out, meet other classmates and escape from stressful deadlines like midterms or finals.
Campus social gatherings, especially college parties, usually attract people of varying ages…and intentions. Young women, especially those who are not yet of legal drinking age, are often approached by significantly older male party guests. With a steady flow of alcohol, the intoxicated young ladies become extremely vulnerable to things like being roofied, aggressively approached, talked into performing a sexual act or engaging in a sexual act with a person who has an STD.
For young women, when it comes to sex, protecting your body must be a priority. Practicing safe sex not only protects you from sexually transmitted diseases; it also helps to prevent unplanned pregnancies. However, the presence of alcohol results in uninhibited behaviors or blackouts, putting them at risk for both.
Bacterial STD's, like Chlamydia and gonorrhea, can be treated with antibiotics. However, STD's like HIV or herpes, are not treatable and can change one's health and social outlook for the rest of their lives.
The most devastating result of these alcohol-related sexual experiences are those that result in sexual abuse. A University at Buffalo study revealed that 20 percent of young women that participated revealed that their first intercourse experiences were without consent, or rape.
Traumatic sexual experiences can lead to ongoing psychological and emotional issues such as PTSD, depression, anxiety and self harm.
Feeling embarrassed or ashamed about drunken sexual escapades, many young women refuse to seek counseling or tell trusted peers about their horrifying experience.
Living with unresolved trauma and emotion can lead to the development of dangerous sexual patterns. For example, some young women will continue to use alcohol in conjunction with sex. This continually puts them at risk for encountering partners that are abusive, have STDs or have untreated substance abuse issues.
Additional Reading: 7 Ways Life Gets Better When You Give Up Booze
Image Source: iStock