When Parents and Children Share an Addiction
Judy had always blamed herself for her son's painkiller addiction. Or more accurately, she blamed her drinking.
Over the last few years, she'd gotten her drinking under control with help of professional therapy, but Judy was still wracked with guilt for the years her son saw her out of control. With the help of a family therapist, they found their way out of a cycle of blame into mutual-understanding and healing.
There Will Be Pain
You might expect to hear that Judy got sober and suddenly became the upstanding citizen that she hadn't been when she was drinking. But that wasn't what happened. What happened was…Judy became real.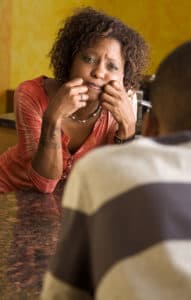 She told her son Scott that, no matter what, she would be there for him. That was the beginning of the breakthrough. As they sat in the kitchen drinking cup after cup of coffee, the truth started to flow. Judy started to cry. Scott reached out his hand. She asked him the question she'd been wanting to ask for a long time: "Will you go with me to therapy?"
It seemed like a miracle, but he said yes. They made an appointment. There was a feeling around the house – a feeling that they were going to get through this. It was a Wednesday afternoon when they went to their therapy session.
Yes, Scott was hurt by his mother's drinking. Judy was going to live with that for the rest of her life. But there was so much more. Thanks to all those years soaked in an alcohol haze, she never even knew about some of the impactful things that had happened to him.
Healing the Wounds and Moving Forward
During their first family therapy session, the floodgates opened. Judy was dealing with severe depression after her divorce. Scott was trying to kick his opioid habit, but nothing else seemed to make him feel better.
Their therapist, Jennifer, just let them talk it out. They talked openly and honestly…like they'd never done before. By the end of their session, Scott decided he was ready to get treatment. They weren't sure what the plan would be – that would take some time to work out.
The tears were flowing and Judy was scared, but much less scared than she'd been in years. Their therapist had the resources…they could do this! Scott was ready. She was ready to be a major part of his support system.
"You were the reason that I stayed alive," Judy said.
Scott put his head down. When he finally raised it, tears were burning his eyes. "Mom…" and his voice broke off. "Mom, we're going to make it."
Additional Reading:   The Talk – It's Time to Come Clean With Your Family
Image Source: iStock