When Attachment Issues Lead to Sex Addiction
Once thought to be a cop-out for celebrities and adulterers looking to dodge the "adultery" bullet, we now know that sex addiction is a very real disorder that progresses over time.
While it remains a taboo subject, studies like the one conducted in 2014 by Brigham Young University illustrate why sex addiction should be seriously investigated and treated as a psychological disorder.
Four Self-Sabotaging Signs of Intimacy Disorder
With crippling psychological and physical turmoil, sex addiction evolves over a series of stages. Often, sex addicts show the four self-sabotaging signs of having an intimacy disorder. Let's take a look at each stage in detail:
Sign #1 Fear of Abandonment

Sometimes considered a personality disorder, the fear of abandonment is the fear of either being abandoned by a loved or or the fear of finding themselves completely alone. It is a psychological phenomenon that can be triggered by past events. From an absent parent, a friend moving away, a loved one's passing, or being left by a romantic partner, an individual with a fear of abandonment is someone who is not able to move past their grieving. These fears have an intense effect on relationships, both platonic and romantic.
Sign #2 Fear of Rejection

When an individual has the irrational fear that society will not accept them for who they are, this is known as the fear of rejection. The fear that people, even close family and friends, will not accept one's religion, beliefs, behavior, or opinions dictates one's actions on a daily basis, affecting relationships, career aspirations and social interactions.
Sign #3 Fear of Engulfment

From an outsider's viewpoint, this type of fear makes it seem as if someone is running away from love, but the motivation to "run" is much more complex. In truth, the fear of engulfment is caused by a belief that being in a relationship is tantamount to losing one's self; the threat of losing one's individuality or identity is just too overwhelming.
Sign #4 Fear of Conflict

Most people have a natural resistance to conflict. However, those who absolutely fear conflict conduct themselves in a manner where they can absolutely avoid conflict. This avoidance is often achieved by being overly accommodating or nice, even to the detriment of one's self-esteem.
Progression to Sex Addiction
Sex addiction is marked by engaging in life-impairing sexual activities or having an overwhelming preoccupation with sex-related fantasies. Examples of this behavioral addiction include an addiction to pornography, engaging in prostitution, exhibiting masochistic behavior, engaging in exhibition or voyeurism and compulsive masturbation. After engaging in these acts, sex addicts often feel a sense of shame and distress.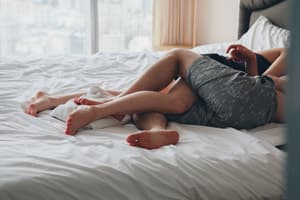 Although sex addiction arises from a number for variables, the Brigham Young University study conducted on 136 men revealed that prior attachment issues played a "prominent but non-universal role that attachment problems in relationships can play in men affected by sex addiction."
For those who are addicted to sex, the dependency is not driven by the need for intercourse. In fact, research has shown that sex addiction stems from underlying issues of stress, depression and shame.
As with more commonly known dependencies, like drug or alcohol addiction, there are a number of treatment outlets available to those seeking help. Some of the 12-step programs available include Sexaholics Anonymous, Sexual Recovery Anonymous and Sex Addicts Anonymous.
Additional Reading: Just the Facts: Psychological vs Physical Addiction

Image Source: Pixabay