Warning: Marijuana Allergies a Growing Problem
As the seasons begin to change and spring creeps even closer, thousands of people struggle with allergies. Though you're no doubt familiar with pollen or ragweed allergies, a new – and very odd –allergy is becoming more prevalent.
Believe it or not, people are developing allergies to marijuana.
Meet the Newest Allergy
A new study published this month in the journal Annals of Allergy, Asthma and Immunology cited numerous examples of medical evidence that clearly document allergic reactions to marijuana plants. Though marijuana allergies are "still relatively uncommon," researchers went on to warn these allergic reactions are being "reported with increased frequency."
The symptoms of a marijuana allergy are similar to most traditional plant allergies. Those include:
Sneezing
Congestion
Runny nose
In extreme cases, marijuana allergies can cause:
Asthma
Eye inflammations
Immediate skin reactions like hives and itching
Amplified symptoms when exposed to marijuana smoke
Additional Allergy Concerns
…one patient in the study suffered a life-threatening allergic reaction after eating hemp-seed encrusted seafood. Eating cannabis products also poses serious allergy risks – effects that can be much worse than those caused by sniffing or touching the plant. In fact, one patient in the study suffered a life-threatening allergic reaction after eating hemp-seed encrusted seafood. He ultimately needed a large dose of antihistamine and a shot of epinephrine.
Later tests confirmed that the patient was not allergic to seafood, making pot the sole culprit of this allergic reaction.
Innocent Bystanders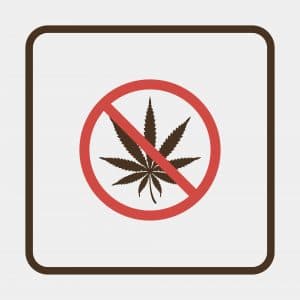 For those who don't use pot, it's still possible to suffer from marijuana allergies. This is especially true if you're near a location where the plants are being cultivated. Cannabis pollen typically sheds in the late summer and early autumn and can spread "across many miles."
While the study confirmed that marijuana allergies do exist, they are still poorly understood. The scientists noted that "a single unifying allergen among reported cases has not been discovered" and that there are "no reliable standardized diagnostic testing options."
Since marijuana is still illegal in most states, very few allergists and medical researchers have the ability to legally obtain pot and test it for human allergies.
As with most allergies, treatments are available to help decrease mild to moderate pot-induced allergic reactions. A regiment of antihistamines, nasal decongestants or intranasal steroids should help to alleviate the symptoms.
For those with severe allergic reactions such as restricted breathing and swallowing, medical experts suggest carrying an EpiPen (epinephrine) at all times.
Additional Reading: 7 Myths About Marijuana and Your Health
Image Source: Terry Schmitt/thedailychronic.net, pixabay.com