Medical Detox Centers Near Me for Drug & Alcohol Addiction
What is a Detox Center?
Many seek the help of professional detox programs prior to or at the start of longer-term substance use treatment programs. Detox centers are a good option for those with significant physical dependence in association with various substance use disorders (SUDs) and/or alcohol use disorder (AUD). When a person with substance use disorder stops drinking or using certain drugs, they may experience unpleasant or even dangerous withdrawal symptoms.1 Drug detox center professionals can help ease these symptoms and get patients through detoxification as safely and comfortably as possible to minimize the risk of relapse and facilitate the transition into ongoing addiction treatment.
The National Institute on Drug Abuse (NIDA) characterizes addiction as a complex but treatable condition that affects the brain and behavior.2,3 While addiction is treatable, no single treatment works for everyone. 3 
What is a Medical Detox Program?
Medical detox programs provide drug and alcohol addiction patients with medical care, detox medications, and other symptomatic/supportive medications. These programs are well equipped to ensure someone's safety and comfort during the distressing withdrawal experience. Since withdrawal from alcohol, drugs and sedatives can be potentially fatal, due to grand mal seizures, people addicted to either of these substances would highly benefit from medical detox.
Detox patients will receive medications that reduce or minimize withdrawal symptoms and prevent complications. In the event that a complication arises, medical staff can intervene immediately. Although opioid withdrawal is not typically life-threatening, it can be so painful and uncomfortable that many patients choose medical detox to reduce withdrawal symptoms and achieve stability.
---
Types of Alcohol and Drug Detox Treatment
There are several different types of alcohol and drug detox programs available and people should consult with a health professional or otherwise conduct considerable research to determine which program is the most appropriate option for their unique needs.
Because withdrawal symptoms may be uncomfortable, severe, and sometimes even life-threatening. Also, people may not know their risk of a complicated withdrawal, it is often not advisable that those attempting to quit drugs or alcohol do so alone.1 Withdrawal symptoms vary in duration and intensity based on the substance(s) used, the duration and amount of use, and the user's overall health.6 The acute withdrawal syndromes associated with some substances (e.g., alcohol, opioids, and sedatives) may be significantly severe, while others (e.g., marijuana and stimulants) mainly consist of emotional and mental withdrawal symptoms.6
In some instances of substance dependence, people may be able to detox by meeting with their physician regularly to slowly taper their dose over time in order to avoid noticeably unpleasant withdrawal symptoms, as a tapering strategy allows the patient's system the time to adjust to decreasing doses of the drug.4 However, as is often the case with more severe addictions, patients may need to attend a more structured detox facility for full monitoring and care. Medically supervised detox provides patients with medical monitoring and care throughout the detox process. In some cases, severe withdrawal may necessitate emergency treatment or a brief stay in a hospital prior to moving on with addiction treatment.1 Each treatment plan should be continually assessed and revised to meet the patient's changing needs.3
---
Inpatient and Outpatient Drug Detox Programs
There are different types of detox rehabilitation programs; inpatient and outpatient drug and alcohol programs. The specific types of substances having been abused as well as the spectrum of withdrawal symptoms experienced by the patient will influence which type of detox is appropriate. Some choices include:
Inpatient Detox Programs
Inpatient detox programs may be somewhat similar to those found in an outpatient setting, but care takes place with the additional supervision afforded by the inpatient environment. In contrast to their outpatient counterparts, inpatient facilities have patients reside at the treatment center rather than going home in the evenings. An inpatient or residential detox stay may cost $200 to $900 per day depending on the length of the program and amenities offered at the facility.5
One of the main advantages to this type of treatment program is that patients are removed from the temptations and old habits of prior drug and alcohol use. This can help decrease the likelihood of relapse prior to treatment completion. Another benefit is the enhanced access to medical services, should they be needed. Those at risk of severe and/or dangerous withdrawal symptoms and drug cravings may benefit most from an drug and alcohol inpatient detox center.

Outpatient Detox Programs
Some outpatient programs provide detox treatment services at a medical facility during the day and allow patients to return home each night. Such detox services may cost between $100 and $500 per treatment session, though this price can vary by the length and frequency of treatment.5 Outpatient detox may be most suitable for people with relatively recent or less severe addictions, those with good support systems at home, and individuals with no other complicating medical or psychological issues.4
Outpatient treatment may be most useful for those patients with little risk of experiencing severe withdrawal so they will not need intensive 24-hour care. Additional advantages may include great social support outside of treatment by maintaining contact with friends and family; maintaining employment, school, or other personal and professional duties; and more flexibility during treatment.
Alcohol is Most-Treated Substance in Addiction Detox Programs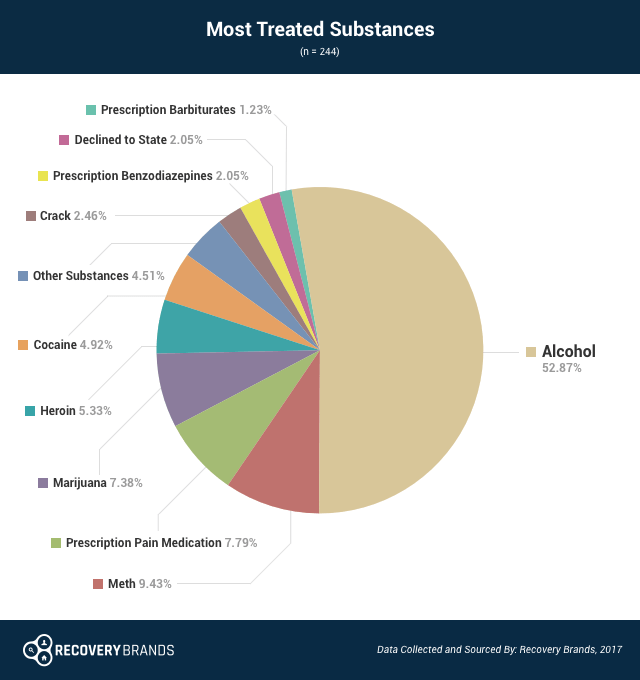 Alcohol, or ethanol, is one of the most abused drugs among people in addiction treatment, as reported by a 2017 survey from Recovery Brands. The survey found that nearly 70% of people in recovery underwent treatment for a drinking problem, and a surprising 52.87% of those who responded sought treatment for alcohol abuse more than for any other substance. Regardless of how many abused substances exist, alcohol is the most pervasive.
View Large Graph
---
Can I Detox from Alcohol or Drugs at Home?
Some common questions among those who want to find the quickest, easiest way to recovery are: "Is it possible to go through drug detox at home?" or "how to detox from drugs at home".
The short answer is "yes," it's possible. But there are three reasons it's not always the wisest choice:
It may not be safe.
It doesn't always work.
Professional detox, in many cases, is safer, more comfortable and effective.
When a person builds up a physical dependence upon a drug or alcohol, their body comes to expect that they'll continually maintain a certain supply of the substance in their bloodstream. Their body adjusts its production of certain chemicals accordingly. Should the person abruptly stop supplying that substance, withdrawal symptoms will begin. Depending upon the drug, the existence of underlying medical conditions (of which the person might not even be aware), the dose they're taking when they discontinue the drug, and other drugs the person uses regularly, the detox experience can be medically dangerous, even deadly.
At-home drug detox kits claim to help you through the process on your own, but they are not an advisable option for many reasons, not the least of which is, they are often ineffective and would leave you unsupervised if something were to go wrong.
The better choice is to talk to medical and mental health professionals about your detox and withdrawal program options.
---
Social and Inpatient Medical Detox Centers
At somewhat distinct ends of the detox program spectrum are two general models of detox—social detox and inpatient medical detox centers. Social, or clinically managed residential detox programs generally offer short-term, non-medical treatment services.1 They may provide patients with emotional and psychological support while they withdraw from a substance or substances, but they don't usually provide medication or medical care. Patients are typically transferred to a medical facility in the event of complications. This type of detox is often reserved for those who aren't at risk of experiencing complicated withdrawal (i.e., those without significant physiological dependence in association with opioid, alcohol, or sedative addictions).1
On the other hand, medical detox protocols provide patients with medical care, detox medications, and other symptomatic/supportive medications. These programs are well equipped to ensure someone's safety and comfort during the distressing withdrawal experience.7 Since withdrawal from alcohol and sedatives can be potentially fatal, due to grand mal seizures, people addicted to either of these substances would highly benefit from medical detox.1 They will receive medications that reduce or minimize withdrawal symptoms and prevent complications.1,7 In the event that a complication arises, medical staff can intervene immediately. Although opioid withdrawal is not typically life-threatening, it can be so painful and uncomfortable that many patients choose medical detox to reduce withdrawal symptoms and achieve stability.1
Professional detox helps many people navigate the early recovery period. Regardless of whether a more social or medical model is recommended—you don't have to face withdrawal alone.
---
Finding a Drug Detox Center Near Me
Choosing a substance abuse detox center near you or out of state is not always a quick and easy decision. Your goal in finding a drug detox treatment center should not necessarily be based on proximity, location or near you, because you should consider the best fit for your medical and psychological needs based on your experience with drug addiction and substance abuse as well as co-occurring disorders and trauma. This should help guide you in choosing a program the best detox program suited for you.
There are several factors to consider when selecting the right alcohol or drug detox program to best meet your needs and give you the greatest chance of long-term recovery. Some important questions to ask yourself and to inquire about directly with a detox program include:
What amenities would I like the facility to have?
Will I be allowed to see my family and friends?
Does the facility accommodate dietary requirements?
Will I be allowed to use my cell phone or computer?
Does the facility accept my insurance, or will I need to pay out of pocket to cover some of the costs?
How far away is the detox treatment center?
How long will my detox treatment last?
If you're set on using a detox treatment facility near you, you can use our rehab directory to search through treatment providers throughout the United States. Some popular states include California, New Jersey, Florida, and Texas.
---
What Happens During the Detoxification Process?
When you first arrive at the treatment facility, you will go through a rehab intake process. You will be assigned a therapist who will work with you on your recovery. During this process you will be asked questions on your drug history and prior use. It is important to answer all questions as honestly and completely as possible in order to receive the best care. Your therapist will help devise a treatment plan that is specific to your individual needs. Detoxification programs on their own may cost as much as $1,000 per day, depending on the level of care needed, severity of addiction, and length of time it takes to detox.5
Detoxing from alcohol, opioids, and other drugs can take anywhere from a few days to several weeks, depending on your general level of health, addiction severity, level of physical dependence, and other factors such as whether or not you have been using multiple substances. In some instances—such as with alcohol and opioid addictions—you may be given medications to help you deal with the withdrawal symptoms and to help lessen your cravings.
---
Prescribed Medication to Help With Detoxing from Alcohol and Opioids
The method of treatment—including specific treatment medical assistance—received during detox will depend on the specific substance(s) being abused.3 Prior to detox, you will be assessed by professional medical personnel to determine certain withdrawal risks and the likelihood of a complicated withdrawal, as well as the specific types of medical intervention(s) that may be needed to decrease these risks during detox.3
The precise pharmacotherapeutic regimen needed during detox may differ according to the type of substance dependence as well as the potential severity of the associated withdrawal syndrome. However, some detox medications that are commonly used to manage potentially serious withdrawal syndromes—such as acute alcohol or opioid withdrawal—include:3,9
Benzodiazepines
Benzodiazpines are sedative drugs that are often used during alcohol detox to decrease the intensity of withdrawal symptoms and minimize the risk of serious complications such as agitation and seizures.
Methadone
Methadone is a full opioid agonist medication used for stabilization and maintenance therapy. When used during heroin or other opioid detox, once an effective stabilizing dose of methadone is achieved, continued dosing may be slowly reduced over time. Some of those recovering, however, continue to take methadone for years—or even for the rest of their lives.
Buprenorphine
Buprenophine is a partial opioid agonist drug and is also used during heroin and prescription opioid detoxification process. As with methadone, though at some point after being stabilized on buprenorphine (or Suboxone—a treatment formulation that combines buprenorphine with naloxone) some may eventually taper off the medication, many people benefit from maintenance therapy in the longer term.
Individuals given medications during detox are closely monitored to help prevent any adverse reactions.
---
Alcohol and Drug Withdrawal Symptoms
In many cases, withdrawal symptoms emerge within 12 hours after you have last used alcohol or drugs and are fully resolved within about two weeks. In rare instances, some individuals report experiencing more persistent withdrawal effects that may last in the range of months. Some of the general symptoms of withdrawal common to many types of substances may include:1,6
Irritability.
Anxiety.
Mood swings.
Depression.
Panic attacks.
Fatigue.
Muscle aches.
Headache.
Back and joint pain.
Trembling or shaking.
Insomnia.
Nausea.
Vomiting.
Difficulty breathing.
Clammy skin.
Fever.
Hallucinations.
---
Addiction Therapy After Detox
It is important to understand that medical detox and successful withdrawal management, while important, do not constitute comprehensive addiction treatment.7,8 In order to maximize chances of long-term sobriety, most detox programs will facilitate a transition into longer-term treatment and therapy when the withdrawal period has eased off.
Once a patient is physically able, they should begin attending group and individual therapy sessions. These sessions offer support during and after rehab.
Cognitive-behavioral therapy can help addicted people identify and cope with triggers that contribute to their drug and alcohol use.7
Group therapy is also an important component of the treatment process. It allows other individuals in treatment to meet in a small group setting that is facilitated by a professional.
Family therapy is often used to help family members deal with the destructive behavior of the addicted person. Family therapy identifies common warning signs and gives families a plan of action on what to do should a relapse occur. It also helps families learn how to be supportive during rehab and recovery.
---
How To Get Into Alcohol or Drug Addiction Detox Center

Quitting alcohol or drugs is incredibly difficult to do alone. For many people who struggle with drug addiction or alcoholism, professional treatment and therapy provide them with the best chance of success. to find out more about getting into a rehab center for detoxing, call .
---
Article Related to Detox Centers
---
More resources about
Medical Detox Centers Near Me for Drug & Alcohol Addiction

: