Walmart is the Latest Pharmacy Chain to Limit Opioid RX's
What happens when over 100 Americans a day die from opioid-related substance abuse? Policies change. The outcry becomes so loud it can't be ignored, and everyone – including retailers – is forced to stand up and take notice of the opioid epidemic.
The latest addition to nation-wide policy changes is taking place at the Walmart pharmacy counter. The influential retailer announced that store pharmacies will now impose a limit on opioid prescriptions. Their policy will cap new opioid prescriptions for acute pain at a seven-day supply, with dosages limited to 50 MME per day (morphine milligram equivalents).
This change isn't taking place out of the blue. The policy complies with state laws that enforce the same limits. CVS pharmacy recently made a similar decision, limiting their opioid prescriptions to seven-day supplies as of February of this year. Medicare is changing its coverage to limit opioid acute-pain prescriptions as well.
New Limits Hit Hot Button
While the policy change won't affect everyone, many are concerned it will affect the wrong ones.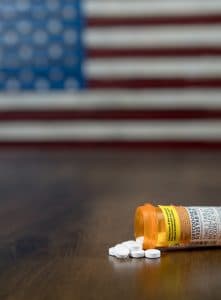 The goal of these limits is to prevent abuse and addiction. The logic follows that patients who have access to fewer pills will take them for shorter time periods and will be less likely to become hooked. Additionally, fewer leftover pills will be in circulation. These leftovers have proven to be a direct source of addiction and overdose. Roughly two-thirds of teens who abuse drugs report that home medicine cabinets act as their convenient drug supply. By reducing the number of pills initially provided to patients, the hope is to cure this epidemic from the front end.
Despite major retailers jumping on-board this plan, many have reservations. The concern is that these policies will only hurt patients who truly need the medication. Some claim that those who rely on opioids for daily functioning and use them as prescribed will be the ones who suffer. They point to studies that show only 25% of people who abuse opioids begin with opioids prescribed by their doctor.
Still, if the policy saves those 25% from addiction, wouldn't it be worth the change? For most, the jury is still out.
Future Trends
Walmart plans to follow up this policy with another in 2020 that requires e-prescriptions for controlled substances. Why? Electronic prescriptions are harder to alter, more difficult to copy and less prone to mistakes.
In January, the retailer also announced a new effort to help with safe disposal of leftover opioids. They will provide free packets of a powder that make disposal easy. Patients can simply pour the powder, DisposeRX, into their prescription bottles and add warm water, and the substance turns into a biodegradable gel that patients can throw away.
These changes are part of Walmart's ongoing efforts to "be part of the solution to our nation's opioid epidemic."
Image Source: iStock