Trading My Mantra for a Life of Sobriety
"Anywhere but here" became my mantra as I shivered through dark, dreary Midwest winters looking for fast solace in wine…every single weeknight and weekend.
In the morning, I'd work out for an hour to sweat out the hangover, then I'd manage to be fairly productive during the work day until "cocktail hour" rolled around.
It was during the first nightly 8 ounces of wine (while riding the euphoria of the buzz) that I'd jump on my computer and look for get-away weekends and/or week-long vacations that would take me away. From Wisconsin? Maybe. But looking back on those days, it was probably to escape from myself.
A Sobering Adventure
Because I was "high functioning alcoholic" (meaning I had a high tolerance, but was still able to rebound for work), I made a very good living. Not knowing that my life was about to make a huge shift, I booked and paid for a trip each month: New York to party with my boozy aunt, a beach trip to Mexico with girlfriends for a "yoga retreat" and a ten-day cruise with my husband through France's wine country in the spring.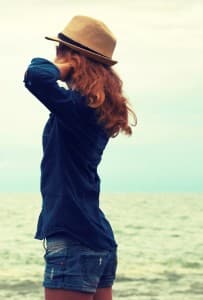 But late that fall, before I was to embark on my adventurous winter of vacations, the shit hit the fan…and my nightly escapes into "the land of the numb" had to stop. My husband, petrified and worried sick about my blackouts, threatened me with a divorce.
I was petrified and worried sick about my marriage. I vowed to change. By Thanksgiving, with help from sober friends and a serious revamping of my days and nights, I had strung together enough days of no booze that I started to refer to myself as being on a "sober journey." But the journey was a fragile one, held together "one day at a time" by familiar routines that were grounded in self care and familiarity: same foods, same walking route, same couch, same bedtime, same bed…same everything.
Getting through an entire day and night completely sober was terrifying. Everything was so loud and vibrant. Knowing that I could retreat into familiar, cozy spaces was comforting. I worried that the vacations – which were bought, paid for and required navigating airport bars, hotel lobbies, swim up pool bars and various other unpredictable drinking triggers – would be too much. When I was drinking, not only did booze provide a nightly escape, it was my travel companion and social lubricant. Nothing said "VACATION" more than a giant drink (or five) at the airport lounge before a flight.
Step by Step
My first step was to get totally honest about staying sober. I admitted it. I was powerless over booze. Once I got clear about what would happen after those first glorious sips – I'd lose control, drink 100 drinks and then ruin the next day – I knew that sobriety was my only path.
My next step was to get really honest about how important it was to travel. Losing money from the prepaid vacation aside (I can make more money, but it's really hard to get sobriety back), if I was serious about sobriety, could I risk facing triggers?
Answer: YES!
I was not going to let wine be the boss of me. I could travel, show wine that it was over between us and maybe even have some fun.
And Now, the Good News
Here's the good news: All three of my vacations were successful. I did not drink. So what were the exact tools I used to stay sober all over the world, even though the world celebrates booze? Glad you asked:
My nest became mobile. I packed my pillow, computer, journal, teas, meditation apps (favorites are BudDify and Simply Being) and a few big ol' chocolate bars as rewards for getting through the day.
I told everyone in my online sobriety group that I was traveling and I checked in daily for support and accountability.
I became a photographer (using my iPhone) and focused on capturing images that would illustrate the trip in real time on Instagram.
Finally, I gave myself permission to say "no thank you." If a certain smell, or sight or sound made me feel even a little uncomfortable, I excused myself to avoid a full on trigger.
As a result, I found myself sitting under a shade tree with a cup of coffee or walking down the street with an ice cream cone all alone. And what I discovered was the surprising, soothing company of myself…which was a fantastic souvenir to bring back home.
Learn more about alcohol abuse treatment options.
Image Source: iStock