The World's First Drug Test Printed on Paper
While drug testing may be a controversial issue, there's no denying the fact that the tests themselves are expensive.
Breaking the Bank for Sobriety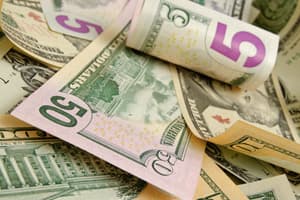 Data from the American Civil Liberties Union shows that the average drug test costs about $42. If it's done by an employer, the cost is far greater because personnel need to be hired to administer the tests and ensure confidentiality.
Despite the high price, many organizations believe it's a worthwhile expense.
According to a report from the US Navy, when compared to non-abusing employees, workers who abuse drugs end up costing their employers an extra $6,600 per year. Naturally, employers are eager to decrease those costs and, more importantly, ensure their workers are alert and operating in a safe manner.
Paper Testing?
A new method developed by VTT Technical Research Centre of Finland could soon change the face of employer drug testing.
VTT successfully developed a drug test – specifically designed to test for morphine – that is printed on paper. The test uses antibodies, produced by methods of molecular biology, as morphine sensing molecules. The paper-based test allows for a rapid analysis, letting administrators immediately determine if morphine is present in the sample.
The paper-based test allows for a rapid analysis, letting administrators immediately determine if morphine is present in the sample.Though VTT had initially introduced this paper method back in 2010, they have made some serious improvements over the last five years. They now believe the test is ready for mass production and use, particularly in settings outside the research lab.
"Through our continued development efforts, we wanted to confirm that the method also works in mass-production of more demanding tests," said Tomi Erho, Principal Scientist at VTT. "In the future, the new method will also present an opportunity to simultaneously analyze other drugs of abuse and residues of pharmaceuticals and their metabolites from one and the same sample."
Advantages of Paper Drug Testing
Paper testing provides several obvious advantages to traditional methods of drug testing. Some of those include high production volumes, lower material costs and easier disposability.
VTT developers also believe the rapid analysis of paper testing could eventually produce faster results than current testing methods.
Believe it or not, the 2011 Society for Human Management (SHRM) Drug Testing Efficacy Poll found
that 64 percent of employers don't drug test their current employees and another 40 percent don't conduct pre-employment testing. Among those who do not test, the cost of testing was the most common issue. About 16 percent said it was too expensive and another 16 percent felt there wasn't a return on their investment.
By removing high costs from the equation and making it more convenient, we would likely see more employers implementing mandatory drug testing policies in the future. Considering that the number of positive employee drug tests continue rising, paper drug testing has the potential to affect employment numbers across the country.
Additional Reading: Has Workplace Drug Testing Made a Positive Impact?
Image Source: en.wikipedia.org, commons.wikimedia.org