The State of Drugs in Electronic Music
There's a school of thought that states that to listen to electronic music, you must be on drugs. This is a little harsh. Although your kid/partner/dog might love the mutant sounds of Skrillex or Deadmau5, it doesn't mean he or she is suddenly taking large quantities of meth or ecstasy.
So why does electronic music get so much stick for drugs?
Electronic Music and Drugs
Well, electronic music really took off in the mid-1990s. You had Madonna thrusting and gyrating to the sweet synthesized sound of music. You had Bjork doing, well, her usual crazy stuff, to be honest. Electronica became cool, and so the youthful crowd that traditionally had more spending money and a desire to rebel followed it. Drugs became part of the scene—so much so that it was expected that if you went to an electronic music concert, you'd be consuming something illicit. Even now, electronica is associated with drugs.
The trouble with that assumption is that it conveniently ignores that those following the Beatles would take drugs. Those following David Bowie also faced similar accusations in the 1970s. As did those following metal bands in the '80s and those following grunge bands in the early '90s.
Whenever you have a new sound, it's normally the teenagers and twenty-somethings who follow it—or the musicians themselves—that are believed to be using. People in this age range are simply more likely to try illicit substances and have fewer responsibilities. When you have a dark club and the people inside it want to stay awake longer, they might use ecstasy or amphetamines to do so.
Electronic Music and the Club Scene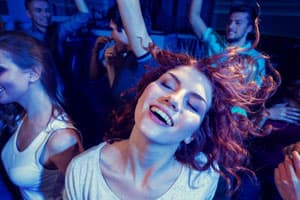 That said, electronic music is associated with the club scene, which is well known, often unfairly, for its drug culture. If you party into the wee hours and then have to get up at 7 a.m. for school or work, you might need something to pick you up: an upper for the morning and the evening and a downer for the night.
Those leading such a lifestyle frequently realize it's not for them and settle down eventually. They meet the right person and realize that going out every night and relying on drugs to help them is simply exhausting, or something ridiculously saccharin like that. You know—violins and bluebirds and the works.
It's a cliché, but that's what usually happens.
"There's ways of dealing with hardships that are healthier than going out."-Lindsay Lohan
There are some who take a long time to reach this stage, however. Look at Lindsay Lohan.
This formerly fresh-faced star used to be known as much for her hard partying as for her acting. Before she was arrested repeatedly, she said: "I'm 20 years old. I like to party as much as anyone my age. Going clubbing is my way of relaxing or releasing a lot of stress. I don't feel that I should have to justify that part of my life. I don't know that I'm necessarily an addict."
Now that she's in her mid-twenties, she's starting to realize that her former wild ways cannot carry on. She recently said: "There's ways of dealing with hardships that are healthier than going out."
Like many people, her experience with the club scene, and to a certain extent electronic music, left her feeling burned out at a relatively young age. Fortunately, most people do not have every one of their failings pointed out in the tabloid press.
Electronic Music Not Worse than Any Other Music Style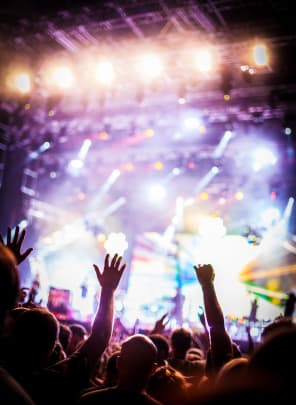 Currently, though, electronic music is not really worse than any other style of music—at least, not in terms of drug taking. While it's unlikely that people will take drugs before seeing One Direction (unless it's a sleeping pill so they don't have to listen to the music), the electronic, metal, rock, and pop scenes see a wide variety of people, from those who live on drugs and need help to those who abstain from even alcohol.
Ultimately, those who take drugs for a short time can usually wean themselves off, depending on the drug. However, if you notice signs of addiction or long-term drug abuse, you'll need to persuade them to seek help as soon as possible. It's important to have a frank conversation with a loved one and let him or her know that you're there if needed.
Oh, and you pronounce Deadmau5 as "dead mouse." Nope, we don't understand him either.