The Pros and Cons of Harm Reduction Treatment
Harm reduction treatment is a controversial method of rehabilitation usually in regards to drug addiction and sex education. Examples of harm minimization public health policies could be the safe sex programs in schools, or the legalization of prostitution and sex work. And for drug therapy, examples include methadone clinics, needle exchange programs, supervised injection facilities and leniency towards patients who experience accidental overdose and are seeking medical treatment.
A Brief History of Harm Reduction
Opiate abuse has been a problem in Western society since doctors started overprescribing the medication in the 19th century. However, harm reduction treatments did not come into focus in the US until the AIDs epidemic of the late Eighties.
The Health Omnibus Program Extension Act of 1988 made it illegal to distribute syringes. Harm reduction advocates and AIDs activists fought back citing evidence that needle exchanges reduced the spread of HIV and did not increase the overall rate of drug use.
Main Arguments and Concerns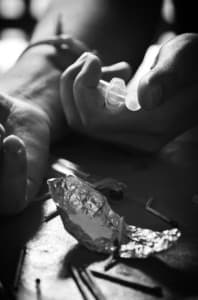 The main argument for drug harm reduction is that it dramatically reduces the spread of HIV and Hepatitis C. In communities where needle exchanges are illegal, addicts tend to share needles due to a lack of supplies and education. Canadian Press reported the findings of a 15-year study conducted in Vancouver from 1996 to 2011. Co-director of the Urban Health Research Initiative, Dr. Thomas Kerr, explained that Vancouver declared a public health emergency during the Nineties due to a record high spread of HIV infection. By 2011, the number of users who said they shared needles dropped from 40% to 1.7%.
Harm reduction centers are common in Canada, Europe and the UK. In the US most of the red and blue states remain divided over the effectiveness of such programs. Opponents argue that giving junkies clean syringes encourages negative behavior. Some elucidate that in cities where they give away hypodermic needles, there has been a surge in demand that must point to higher rates of drug use.
How Harm Reduction Centers Work
Harm reduction therapy may vary depending on geographical location. In some situations it may be as simple as a handful of condoms and a pamphlet on safe sex. Or a cup full of methadone meant to take the edge off withdrawal.
Most major cities have some type of needle exchange program in which an addict may exchange used syringes for fresh ones. Users are educated how to avoid associated maladies such as overdose, cotton fever, infection, abscesses and the transmission of Hepatitis C and HIV.
Other forms of harm reduction such as supervised injection facilities and drug replacement therapy have yet to make it into the United States. The idea is that by giving opiate addicts clean doses in a controlled environment, they reduce the negative consequences associated with street drugs. There are supervised injection facilities in Holland, Germany and Canada.
Syringe distribution has had success with reducing the spread of deadly viruses. But consequently, when you get a junkie high, it affects the lives of everyone close to them. The truth is that some people will continue to use drugs, no matter what, until they decide they are ready to seek addiction treatment.