The Opioid Crisis Cost Our Nation $115B in 2017
The CDC estimates more than 62,000 Americans lost their lives to drug overdose in 2017. The emotional cost to individuals and families across the nation is impossible to quantify.
The financial toll, however, can be estimated. The current opioid crisis is taking enormous amounts of money away from individuals, local governments, healthcare providers, and federal programs.
A recent report from Altarum, a nonprofit health research institute, reveals some alarming numbers. Totaling the costs since 2001, Altarum reports the opioid epidemic has a current price tag of one trillion dollars. The total from 2017 alone is over $115 billion.
In recent years, this sum has grown exponentially and if things don't change, Altarum estimates our country will lose another $500 billion over the next three years to this epidemic.
Who's Paying This Bill?
In short – we all foot the bill. From Steve the construction worker to good ole' Uncle Sam, the opioid crisis is snatching money out of everyone's pocket. If we break down the total, this cost is borne in three main tiers: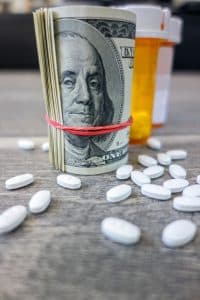 Individuals: Lost wages due to substance abuse and overdose make up a significant portion of the cost.
Private sector: Businesses suffer from lost productivity and health care costs.
Governments: Agencies at local, state and federal levels miss out on tax revenue and spend funds for social services, education, health care and criminal justice.
Major Contributors
Multiple sources contribute to this expanding sum. However, lost earnings potential and health care costs make up a significant portion of this staggering amount.
Lost earnings: The average age of an overdose victim is 41. Using this figure as a base, Altarum estimates each overdose victim costs the nation $800,000 in lost wages and productivity. This loss affects business operations as well as tax revenues. The private sector misses out on the contributions each individual would've made, and the government misses out on the taxes.
Health care costs: The opioid crisis has racked up a total of $215.7 billion in health care related costs from 2001 to 2017. This total is largely made up of emergency room visits, Naloxone administration, and treatment of other complications related to overdose. Recently, a large portion of this cost has fallen to Medicaid.
Take Our "Am I a Drug Addict?" Self-Assessment
Take our free, 5-minute "Am I A Drug Addict?" self-assessment below if you think you or someone you love might be struggling with drug addiction. The evaluation consists of 11 yes or no questions that are intended to be used as an informational tool to assess the severity and probability of a substance use disorder. The test is free, confidential, and no personal information is needed to receive the result.
What Can We Learn?
Are these statistics helpful? Hopefully, yes. Knowing the details about the financial burden of the opioid epidemic could help identify solutions. Once we know the overall scope of the problem and the areas of people it's affecting most, we can target these sectors with appropriate interventions.
Additional Reading:   7 Ways the Gov't Could Help the Nation's Drug Crisis
Image Source: iStock