The Danger of Holding Onto a Victim Mentality
Contrary to what people think, prisoners (for the most part) are decent people. Although they've broken the law, I discovered that many are victims themselves. Some are victims of abuse or rape, while others are simply victims of poor parenting – the list goes on and on.
Interestingly enough, some use a traumatic past as motivation to become successful post-prison. They see how their old way of thinking landed them behind bars, and they're willing to do whatever it takes to lead a different life.
And then there are the others who wallow in self-pity and nurse their feelings of victimization. In their minds, life continues to shit on them, and they assume that their lives will continue to be miserable.
Don't Blame Me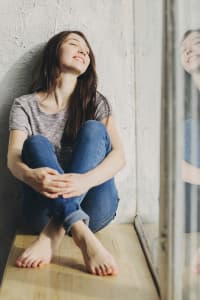 These "victims" believe their feelings and circumstances are all someone or something else's fault. They see themselves as helpless with little to no control over their lives, when in fact they're 100 percent responsible for how they feel.
Holding onto a victim mentality damages so many vital parts of your life, like relationships and ambitions, but especially your recovery. When you're too busy blaming others for the hardships in your life, you're certainly not focusing on maintaining your sobriety.
Don't Be a Victim
I found myself playing the "victim" card a couple of times while I was in prison. To break my own self destructive pattern I took the following steps:
Things Could Always Be Worse: During my time in prison, I never met another first-time offender in for a DUI bodily injury charge. This was hard for me to accept and in the beginning I'd get lost in my own thoughts of feeling victimized by what I considered to be a harsh sentence.Over time, I learned to counteract these negative thoughts by imagining what could have happened that night I drove while intoxicated: I could have killed someone. I could have gotten a much longer prison sentence. I could have been paralyzed by the crash. I used this new perspective and changed my "poor me" attitude pretty quickly.
Letting Go of Perceived Wrongs: When I received my sentence, I was furious and, in all honesty, spent months plotting revenge against my lawyer, prosecutor and judge. But as time went on, I realized my bitterness wasn't hurting anyone but me. After all, they weren't affected by my wrath – they went on with their lives while my hatred for them made me miserable.As long as you hold onto bitterness, your thoughts return to the person who "wronged" you and the futile cycle of resentment goes on. But by practicing forgiveness, you free yourself from the unnecessary inner turmoil and emotional distress that goes hand-in-hand with the victim mentality.
Additional Reading:   Self-Sabotage – Stop Standing in Your Own Way
Image Source: iStock