The 10 Most Widely Abused Prescription Drugs
Prescription drugs are commonly prescribed in good faith, but they're quite easy to abuse. The main reason for that is that many of them are addictive, and some produce euphoria. Consequently, a large number are abused every year by, quite literally, millions of people. Indeed, the number of people addicted to prescription drugs far outweighs those who are addicted to illicit drugs, and the number may indeed be higher than even the more generous estimates. Here's a quick rundown of the top ten commonly abused prescription drugs.
Quetiapine is a common antipsychotic that's often found in prisons. The trade name is Seroquel, and it's prescribed for a wide range of issues, including insomnia and bipolar disorder. It's pretty good at reducing anxiety, but people find it helps when coming off stimulants—we don't mean addiction recovery, here. Instead we mean that they numb the edge off the inevitable crash that accompanies the high of a stimulant.
Oxycodone is an opiate, and it's perhaps been one of the most overhyped drugs in recent years. It's great for pain management, but it has the usual issues of any opiate. Its brand name is very well-know: OxyContin. Of course, the drug used to be easy to crush up and inject, but Purdue has prevented that now.
"Prescription drugs are commonly prescribed in good faith, but they're quite easy to abuse. The main reason for that is that many of them are addictive, and some produce euphoria."Hydrocodone is more popularly known as Vicodin, and it's another opiate. It's normally sold as an acetaminophen-hydrocodone mix, which means it's supposed to be harder to abuse, but a lot of addicts stop caring after a while. Trouble is that the addicts end up overdosing on acetaminophen, which is lethal. Cue liver failure and all that.
Morphine is the granddaddy of all opiates, so it's unsurprising that it's on this list. Civil War soldiers became addicted to this drug in the thousands, and even with extended release versions available today, there are plenty of people who become addicted to the stuff. It's generally recommended for severe pain and only in a clinical setting. The only exception may be for end-stage pain, where it doesn't really matter what the patient takes as long as the pain is sorted.
Diazepam is definitely better known as Valium. The original antianxiety drug, diazepam is also prescribed to relax muscles and help with alcohol withdrawal. It stops the shaking symptoms (i.e., delirium tremens) and helps speed recovery. Of course, there's a real risk that those on this medication may end up addicted to diazepam instead.
Of course, if diazepam doesn't work, there's alprazolam, better known as Xanax. Unfortunately, it's a very easy drug to abuse and notoriously difficult to come off. It's easy to rapidly build up a tolerance to the medication, which means you have to take more to feel the same effects. Once that happens, you've got an addiction.
Zolpidem is one of those rare sleep aids that is not a benzo. Ambien, its brand name, has pretty much the same issues as a benzo. It's good as an extended release product to maintain sleep, so it can become addictive. Reliance on any sort of sleep aid for more than two weeks is not recommended, so if you've been taking it for a while, you might need to take action.
Amphetamine sounds like a bizarre one, but Adderall, a popular ADHD medication, contains the stuff. If you want to study late or counteract the effects of a late night, it's great for this purpose, and it can help most people focus. Unfortunately, these effects come at a cost, as Stephen King found out, and it can ruin your budding career.
Dextromethorphan cough syrup is one of the odder ones, but it's easily accessible to teenagers. After all, all you need is a bad-sounding cough, and you can grab some strong DMX. The problem is that milder doses are also available over the counter, so it's very easy for those who want to abuse this particular stuff to get it.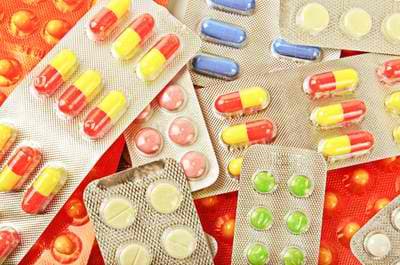 Methamphetamine is a really bizarre one, but it is available for prescription in the US; you have to have severe ADHD, obesity, or narcolepsy. Many pharmacies don't stock Desoxyn as it's too tempting a target for many simply because of its high street value. After all, most meth labs create drugs that are full of absolute crap, but a nice pill in a blister pack is fantastic, as it does exactly what it's supposed to do.
Basically, most commonly prescribed medications are in some way addictive, so it's up to you to ensure that you know what the risks are of the products your taking. Ask your doctor and get informed, as you need to safeguard your health. If you or a loved one has already developed an addiction to painkillers or other prescription drugs, take action by calling our toll-free line at and speaking with our treatment help line specialists.