Taking on Addiction: Are Cities Helping or Hurting the Homeless Population?
Recently, I traveled to Portland for a conference; an Oregon city I hadn't visited in several years. As I walked the streets during breaks in my work schedule, I was surprised at the number of homeless people camped out on every corner.
Tents adorned the sidewalks, campers panhandled pedestrians who walked by, and garbage was everywhere. I even spotted a couple of used needles sitting atop a public trashcan.
The Increasing Homeless Population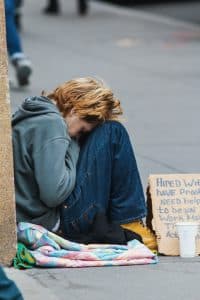 As it turns out, Portland's homeless population has been on a steady increase the past several years, rising 10% from 2015 to 2017. In fact, it's become so prevalent that the city was forced to declare a homeless emergency several years ago, an issue that has not only impacted those on the streets, but local Portlanders as well.
In a recent KGW poll, the majority of Portlanders polled said they saw the symptoms of homelessness every day – tent camping, human feces and homeless people in their neighborhood. In fact, 34 percent said that these symptoms were enough to consider moving to another city. Local businesses have been affected, too, with owners shutting their doors due to the mix of panhandling and crime this vulnerable population has brought with them.
So How Did Portland Get to This Point?
Many factors come into play, but officials believe it's due to rising housing costs, lack of affordable housing and a decline in the total number of shelter beds. In an effort to combat the homelessness issue, however, the city launched the "Safe Sleep Policy" in early 2016, which allowed homeless individuals or groups to lay down sleeping bags and tarps in secure, lighted areas at night, with less risk of being robbed or hurt by attackers, or roused by police.
Ultimately, though, the policy led to mass confusion about where people could set up tent camps and when. Officers didn't know what they were allowed to do, and as a result, stopped enforcing camping rules entirely. Though the policy was rescinded six months later, a proliferation of tents remain.
What Are They Doing About it?
To date, city officials have launched other initiatives, but inadequate funding and infrastructure have played a large part in their failure. Yet Portland isn't the only city grappling with how to successfully deal with the increasing homeless population. Certain West Coast cities, such as San Francisco, Los Angeles and Seattle, are also trying to find solutions for this incredibly complex problem.
Many believe that we must first address the underlying issue of homelessness, which often times is addiction or mental illness. Simply moving these populations around and providing them camp space does nothing to provide these with them with a base or safety net. With a foundation and the accompanying life stability, they can get counseling, try and gain employment, and, ultimately, save enough money to get a place to call their own.
Additional Reading: Do You Drink Or Use to Repress Your Rage?

Image Source: iStock