Should We Give Naloxone With Every Opiate Prescription?
Frozen at the pharmacy counter, Michelle couldn't find the words she needed. She was there to pick up a prescription for OxyContin. She knows the powerful painkiller can be dangerous and she has a tendency to take more than she's prescribed, so she wants to ask for the naloxone that's legally available to her. But she doesn't want the pharmacist to think she's "just another addict" looking for an overdose antidote.
Meanwhile…
The pharmacist was unsure what to do. This was the third month in a row her customer, Michelle, filled a prescription for high-dose painkillers. And last month, she'd received approval from Michelle's doctor to fill the prescription three days early. Since OxyContin can be a dangerous if not taken properly, she thought it might be good to offer her customer naloxone, just in case. But she didn't want to offend her. Would Michelle think she was accusing her of substance abuse? Should she risk upsetting a good customer and losing her business?
She encountered a similar situation the other day when someone picked up Suboxone – a medication used to manage opioid dependence. As a local pharmacist who cares about her customers, she isn't sure what kind of approach to use. It'd be a lot easier if there was a system in place to make the process easier.
Something Has to Change
Here's the glaring problem: Patients who need naloxone don't always get it.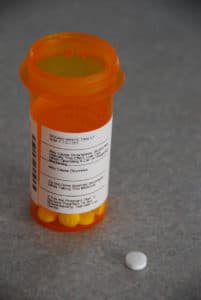 Why?
Patients are either reluctant to ask for it or they aren't aware it's available, while pharmacists are reluctant to offer the medication without being asked for it for fear of the implications. So, researchers conducted a study to provide some answers for people like Michelle and her pharmacist, specifically looking at current pharmacy practices in Massachusetts and Rhode Island regarding opioid prescriptions and naloxone. (In these states, pharmacists can provide naloxone without a prescription.)
We already know that educating people about naloxone and providing it to those at risk of overdose decreases opioid death rates by 30 to 50 percent. The US Department of Health and Human Services even placed the expansion of naloxone access in the top three strategies to fight the opioid epidemic.
With these facts in mind, researchers combed over the results of their study and came to one conclusion: the current model has to change.
The Opt-Out Model
Rather than forcing patients to ask for naloxone or allowing pharmacists to offer it at the counter, researchers support an "opt-out" model. This would universally offer naloxone to anyone obtaining opioid prescriptions, or at least those who are identified as "at-risk" for an overdose (those taking high doses of opioids, those taking medication for opioid addiction disorder, or those who are also taking sleep aids or anxiety medication). The option would also be available for anyone picking up opiate prescriptions for family members.
Traci Green, PhD, MSc, who led the study, explains, "Most overdoses occur at home or with a loved one close by. With expanded naloxone access in the pharmacy setting, we have the opportunity to give people the choice to keep themselves and their family safe, and reduce the stigma of getting naloxone and of chemical dependency. Our study suggests that by giving pharmacists the model and language to do so, they have the power to save a life with naloxone."
What do you think? Will this naloxone model have a positive impact? Sound off with your comments below.
Additional Reading:   Big Pharma Jacks up the Price of Naloxone…Again
Image Source: iStock