Secular Sobriety: Combining Religion and Rehab
In many aspects, religious rehab centers are much like non-religious facilities. They follow many of the same general patterns of treatment; the big difference is the focus on spiritual matters.
While secular facilities don't address spiritual concerns during treatment, spiritual matters are integrated as a major part of the process in religious rehab centers.
What's the Same?
As with non-faith-based centers, the treatment process at a religious rehab facility typically begins with a thorough assessment. Your history, current situation, health and goals are reviewed to establish the best plan of care.
As with non-faith-based centers, the treatment process at a religious rehab facility typically begins with a thorough assessment.Before entering a generalized treatment program, your body must be medically stable and free of drugs. If needed, you'll undergo a medically supervised detox program.
Following detox, intensive education, counseling and support sessions will provide you with the basic tools and guidance you'll need on the road to recovery.
Upon completion of the program, support services and a detailed aftercare plan are set in motion, providing you with the things you'll need to thrive in sobriety.
What's Different?
Where the recovery path diverges in religious rehab centers is that third step. In religious facilities, the education, counseling and support provided have a largely spiritual focus, with an emphasis placed on spiritual healing and religious practices.
Christian rehab centers offer training based on the Bible, counseling based on Christ and support based in the church. A relationship with God, through Jesus Christ, is the foundational basis of recovery. All teaching and counseling methods incorporate Christian beliefs and encourage you to turn to God when struggling on the road to recovery.
One example of a faith-based program is Teen Challenge, a Christian-based organization with more than 200 programs throughout the U.S.
The Teen Challenge affirmation is as follows:
"We are confident that a restored relationship with God, through Jesus Christ, can transform those who are broken into vibrant, free, and sober people."

As with most Christian programs, treatment includes classes, individual study, mentoring, training and involvement in the Christian community. The goal is to replace old patterns of behavior and thinking with a new life in Christ, which incorporates Biblical principles for living.
A second difference with faith-based recovery is seen in the after-care programs. Christian centers tend offer stronger support services after graduating inpatient treatment. Involvement with the church is heavily encouraged; here you'll receive continued accountability, support, prayer and other practical services for day-to-day living in recovery.
What's the Controversy?
Not everyone is comfortable with the religious aspect of faith-based treatment programs. Some may feel certain belief systems are being "forced" upon them.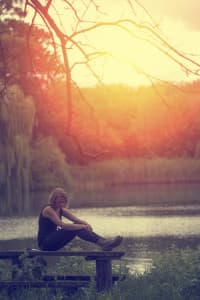 Because faith is integrated into the treatment, participation in religious activities – such as prayer and Bible study – are expected. You may not want to take part in these aspects of treatment, but they are a major component of Christian programs.
In order to complete the treatment program, you must listen to the religious teachings and attend the required spiritual meetings. Some people feel that mixing faith and rehab doesn't "feel" right; others find it to be a valuable foundation to the recovery process. In truth; it comes down to personal preference.
Religious treatment centers are typically up-front with their beliefs and make expectations clear to anyone considering entry to the program.
What's the Right Choice for You?
Is a religious rehab center right for you? Well, to be honest, the answer to that question depends on your personal belief system.
If you're looking for a treatment program that addresses all aspects of recovery – including the religious or spiritual aspects – you'll likely find those qualities in a faith-based program. All the standard treatment processes are typically present, just with the added faith factor.
Findings from a study by the National Center on Addiction and Substance Abuse at Columbia University showed that the combination of spiritual faith and recovery is effective. However, for those who have no interest in the incorporation of religion in recovery, non-faith based programs are obviously a much better option.
In the end, when you're looking for the right rehab center, it's essential to choose a facility that meets your needs.
Additional Reading: 7 Questions to Ask When Choosing a Rehab Facility
Image Source: Unsplash/Stephan Kunze, iStock