Report: Doctors Paid to Pedal Addictive Opiates
91 Americans die every day from an opioid overdose – a sobering statistic which led President Trump to recently declare the opioid epidemic a national emergency.
It's no secret that drug companies are a contributing factor in this deadly problem, but should doctors share some of the blame? A new report sheds light on their involvement, suggesting physicians have received millions of dollars in gifts and payments from opiate manufacturers in order to promote sales of their addictive drugs.
So how many MD's collected remittance from prescription opioid makers? According to estimates in the September 2017 issue of the American Journal of Public Health, one out of every twelve doctors received some type of financial "gift."
Let's dig into the data…
Getting Paid to Push Drugs…Legally?
To obtain these results, researchers examined fees "Big Pharma" paid to doctors between August 2013 and December 2015. Their discoveries were alarming, finding nearly 400,000 opioid-related payments were made to more than 68,000 doctors, totaling more than $46 million.
Payments included money for various things, such as:
Speaking fees
Consultant fees
Travel and meals
Food and beverages, which made up a stunning 94 percent of the total sum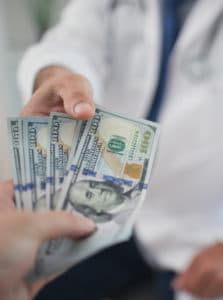 Researchers also examined the doctor's compensation in relation to the type of opioid product. The study found abuse deterrent formulations made up 20 percent of payments, while buprenorphine, an opioid medication used to combat opiate dependency, constituted only 10 percent.
In addition, this study revealed the vast amounts of time and money drug companies are willing to spend marketing their dangerous drugs. And apparently their tactics are effective. Experts noted when a doctor accepts a meal from a pharmaceutical company, he or she is more likely to prescribe that name brand drug.
Certain doctors are targeted, too. Research has indicated physicians from top medical schools wrote significantly fewer opioid prescriptions (180 on average), while those from lower ranked schools wrote approximately 550 per year on average – making the latter a more desirable target group for opioid manufacturers.
Take Our "Am I a Drug Addict?" Self-Assessment
Take our free, 5-minute "Am I A Drug Addict?" self-assessment below if you think you or someone you love might be struggling with drug addiction. The evaluation consists of 11 yes or no questions that are intended to be used as an informational tool to assess the severity and probability of a substance use disorder. The test is free, confidential, and no personal information is needed to receive the result.
Putting These Results to Good Use
The importance of these findings shouldn't be overlooked. They've uncovered the important role doctors play in the opioid abuse epidemic and highlighted the need for physicians to receive further substance abuse education and guidance.
If the appropriate guidelines were implemented, doctors could be monitored and required to justify every prescription written, leading to a reduction in the overprescribing of opioids. More people would be warned about the risks of dependence and overdose, as well.
How do you feel about doctors receiving gifts and payments from pharmaceutical manufacturers in exchange for prescribing their drugs? Do you think it's ethical? Let us know your opinions in the comments section below!
Additional Reading:   Are Doctors to Blame for Prescription Drug Abuse?
Image Source: iStock