Plan B: When Interventions Fail…Miserably
An intervention is one of the many tools used by family and friends to encourage an addicted loved one to seek treatment for a substance abuse problem. But for all the times we see them seamlessly come together on TV, the reality is they don't work for everyone.
Now What?
You no doubt spent weeks planning the intervention; you were so sure she'd be receptive to the help…but nothing turned out the way you'd hoped. Now you're feeling confused and defeated, but the big question is: 'What's next?'
Here's a few tips you'll want to keep in mind as you go forward post-intervention.
Tip #1   Stick to Your Guns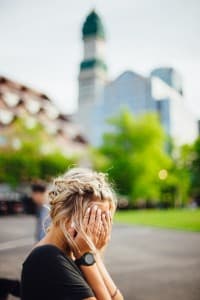 Whether or not the intervention was a success, it's crucial for you to follow through on each of the clearly defined consequences you laid out. She needs to understand that there are repercussions for her actions.
If you promised to stop giving her money, then you turn around and pay her electric bill afterward, you're teaching her that your threats are empty and meaningless.
Stand firm and don't let bullying or emotional manipulation deter you. By taking the driver's seat, you are able to stay focused on helping her get the treatment she so desperately needs.
Tip #2   Seek Help
It's easy to blame yourself when your loved one is battling addiction. Maybe you're beating yourself up for not raising her differently or feeling guilty for not catching the tell-tale warning signs of substance abuse. Either way, it's not your fault that the intervention's end-result didn't go as planned.
Ultimately, it is up to the addict to make the decision to want to get better – not yours. So, stop taking responsibility for her disease and start getting the help you need. Join a support group to vent your frustration or talk it out with a licensed professional. This will not only rebuild your own self-worth, but it will teach you how to lovingly detach from your addicted loved one and begin living your own life again.
Tip #3   Stage Another Intervention
After a certain amount of time passes, a second intervention may be more successful in getting her to accept the treatment she needs.After a certain amount of time passes, a second intervention may be more successful in getting her to accept the treatment she needs.
Hiring a professional interventionist often serves as a good option. Having a professional, unbiased third party to sit down and discuss the intervention process can make an enormous difference. For many families, it can help in trouble-shooting what went wrong the first time and addressing how to incorporate any missed critical issues the second time around.
Tip #4   Don't Lose Hope
Most importantly, if an intervention fails, don't look at it as the end. Instead, think of it as the beginning of a process.
Addiction is a powerful disease; one that can take multiple attempts to overcome. Staying hopeful that your loved one will get help down the road not only strengthens your mental state, it also aids in your perseverance towards this sometimes lengthy process.
Additional Reading: What is an Intervention, How Does it Work?
Image Source: Pixabay
Thank you for your feedback.
American Addiction Centers (AAC) is committed to delivering original, truthful, accurate, unbiased, and medically current information. We strive to create content that is clear, concise, and easy to understand.
While we are unable to respond to your feedback directly, we'll use this information to improve our online help.