Patients Find Quitting Antidepressants…Depressing
Nancy went through a rough time after losing her daughter. To deal with the depression, her doctor prescribed medication.
Nearly two years later, Nancy has a new grasp on life, a mending heart, and a strong support network. She is ready to stop taking her antidepressant medication, but she's finding it nearly impossible. She's battling headaches, insomnia, and nausea. She has no energy and overall feels terrible. In fact, she feels almost as bad as she did before she started taking the medication.
She worries she's addicted and will have to continue the drug use indefinitely. Nancy finds that extremely…depressing.
Why It's So Hard to Get Off Antidepressants
Nancy isn't alone in her depression-related struggle. Every patient who's given an antidepressant medication is warned about the potential side effects. Few, however, are made aware of the side effects of stopping the medication. Common withdrawal symptoms include the unpleasant experiences Nancy's having: fatigue, nausea, headache, and insomnia.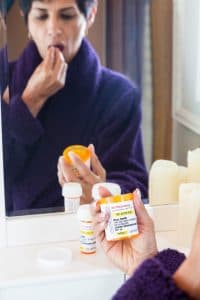 The side effects make it difficult to stop using the medication. Unfortunately, doctors seem unsure about what to do for these patients. Antidepressants were originally designed for short-term use. Patients were expected to take them for six to nine months. However, with a growing number of people on these drugs long-term (nearly 25 million Americans took antidepressants for at least two years, with 15.5 million on them for at least five years), doctors are finally realizing the absence of a safe plan to discontinue antidepressant use is a serious problem.
The difficulty Nancy and others experience when trying to quit antidepressants is often referred to as "discontinuation syndrome." Users don't expect this syndrome, were never warned about this syndrome, and often go back on the drug as a result of this syndrome. Other than a label for their condition, the medical field has offered little to this suffering population. The New York Times reports there are no guidelines, no customized solutions, and no methods for identifying at-risk individuals.
That's not to say researchers haven't looked into the issue; they've polled users suffering from antidepressant withdrawal symptoms. One study found that over half classified their symptoms as severe, and another discovered nearly half of users felt addicted to their prescription medication.
Can You Ever Ween Off?
All hope is not lost. While it can probably feel like the medical profession is unable to help problem, patients can – and do – recover. Many have turned to "microtapering." This involves slowly reducing the amount of medication over a long period of time, in order to slowly lessen and eventually eliminate any withdrawal symptoms.
For those who want a faster fix, it might be tough. Patients should always consult with their doctor before stopping medication. If a cold-turkey approach is approved, the patient may simply need supervision and support to work through the symptoms until withdrawal has ceased. If a dependence has developed, they will need further recovery support to find complete freedom from the medication.
Additional Reading: Depression, Chronic Pain and Taming the Opioid Epidemic
 
Image Source: iStock