Oops, I Did it Again: Problems with Failed Boundaries
A couple of months ago, I took a leap of faith and moved from Texas to California to live with my boyfriend. Everything was going great, except for one thing…his overbearing mother who lived two streets away.
Right off the bat, she began to regularly barge in our place without notice, dole out unsolicited advice and get involved in our personal affairs. She would even make inappropriate comments regarding my appearance, age, future plans – you name it.
No Boundaries, Lots of Problems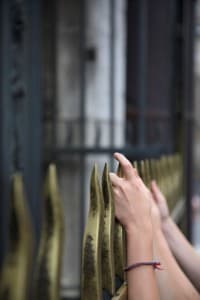 Unsurprisingly, I was fed up with her. I felt angry and resentful, but even more so, I was mad at myself for not putting my foot down in the first place. If I didn't do something now, I knew she'd continue to walk all over me and cause me all sorts of future emotional distress. Which could cause me to start drinking again as a way to cope.
Failure to set boundaries causes two people to become enmeshed, resulting in roles that are interchangeable and blurred. This not only causes you to lose your sense of identity, but it can also cause others to become codependent or feel used.
Why Boundaries are Crucial
Therefore, establishing boundaries in life is important – especially when in recovery. By setting them, communication is improved and healthy boundaries are established, which leads to strong relationships with people who are supportive and have your best interests in mind.
So what did I do to set my own boundaries? Take a look:
I created my personal bill of rights. I knew my feelings, beliefs and values on the matter, so after defining and rehearsing them in my head, I approached his mom and let her know how I wanted to be treated.
I set limits with her, which was helpful in letting her know how far she could go.
I was firm and assertive, so she knew I meant business. This way, we could participate in open and honest communication.
A Doormat No More
Wouldn't you know it; this whole process has benefited me in multiple ways. Not only has it improved our relationship, but it's helped me regain my self-esteem and not feel like a pushover anymore – essential factors in maintaining your sobriety in the long run.
Image Source: iStock