On the Menu: Upscale Restaurants Serving Pot?
The marijuana frenzy is spreading, making its way into the world of fine dining. Yes, believe it or not, sophisticated restaurants and classically trained chefs are now offering up new forms of pot that are far beyond mere edibles.
Colorado is experiencing a mass exodus of line cooks who previously honed their skills at respected eateries around the world. Where are these culinary masters headed off to? Why, they're off to learn the well-paying craft of infusing cannabis into high-priced entrees, of course!
Fine Dining with a Buzz?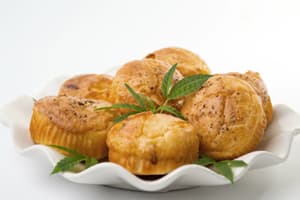 Two initial problems arise when considering cooking with marijuana. First, it's difficult to gauge the effect of the pot when it comes to a high. Second, it just doesn't taste good.
Adventurous culinary connoisseurs aren't letting it stop them, though, as chefs on both coasts take marijuana meal prep underground for taste testing.
"It really won't be long until it becomes part of haute cuisine and part of respectable culinary culture, instead of just an illegal doobie in the backyard," said Ken Albala, director of the food studies program at the University of the Pacific in San Francisco.
Another telltale sign of this "budding" industry is that, despite the social impact of weed, New York publishing houses and cookbook authors are showing interest in projects with marijuana recipes.
It really won't be long until it becomes part of haute cuisine and part of respectable culinary culture…-Ken Albala
Amateur Chefs, Cookbooks and Green Cuisine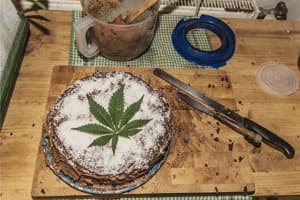 Non-professional cooking types are also getting in on the action. Websites offer up tutorials on how to cook with weed, demonstrate ways to make cannabis butter, do THC extraction and determine appropriate amounts of pot for recipes. If you're a generous reader, you can even help to crowd fund some of the newest cookbook publications.
The marijuana cookbook niche is so monetarily appealing, it has even attracted the attention of guru cookbook author Michael Ruhlman. He's currently lending his expertise to Herb: Mastering the Art of Cooking With Cannabis, a THC cookbook that will be published by Inkshares.
Ruhlman plans to write a chapter in the book about figuring proper ratios when cooking with cannabis, stating that he's interested in "the place where culinary science and heightening pleasure meet."
"Cuisine is a product of people who cook and the ideologies they bring into the kitchen and what they are able to do with the instruments they have on hand," said Adam Gomolin, a lawyer and amateur chef who co-founded Inkshares.
Additional Reading: 5 Celebrity Stoners Who Later Renounced Marijuana
Image Source: Flickr/Brett Levin, pixabay.com