Nursing Homes Turn MAT Patients Away
While medication-assisted-treatment (MAT) is the gold standard for people with opiate addictions, ? This practice is likely illegal under the Americans with Disabilities Act, which recognizes opioid addiction as a medical condition, and moves are underway to take legal action.
As usual, stigma, not science, pervades the medical community, putting the most vulnerable at risk.
Slamming the Door on MAT Patients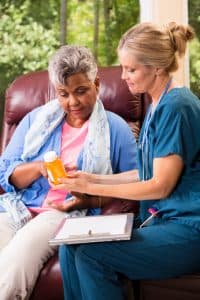 According to an article on Health Stat, a nurse case manager at the Boston Medical Center in charge of finding post-hospitalization care for discharge patients told reporters, "It's so bad – you're just begging and pleading with these places."
She goes on to say there are only two facilities in the Boston area accepting MAT patients, which leads to a bottleneck and long wait times. Additionally, as patients wait to be admitted to one of the post-hospitalization programs, they remain in the hospital, adding further strain on the healthcare system.".
The Americans with Disabilities Act, the law that prevents discrimination against people based on an illness, clearly recognizes opioid addiction as a health condition. Clearly, refusing a patient just because he or she is undergoing MAT would qualify as a form of discrimination. Yet many healthcare providers, like many Americans, continue to discriminate.
According to the Massachusetts Senior Care Association, "Many nursing facilities are committed to caring for patients needing Medication Assistance Therapy, but barriers exist."
What Barriers Exist?
Clearly, the stigma about medication-assisted treatment plays a large role. To many, the idea of using opioids to treat opioid addiction sounds suspicious, despite the medical supervision and scientific literature behind it. This stigma, coincidentally, allows companies to market medications like Vivitrol as "drug free" alternatives to the standard of care.
Another problem could be a lack of knowledge regarding the Americans with Disabilities Act. According to Dr. Sarah Wakeman, an addiction specialist at Massachusetts General Hospital, "There are facilities that do not understand that they are not allowed to do this." Dr. Wakeman also emphasized the difficulties her healthcare team faces in finding post-hospitalization care for patients on MAT.
In 2016, the Massachusetts Department of Public Health issued a policy attempting to remedy this problem, reinforcing that individuals cannot be discriminated against based upon illnesses. However, very little has been done to enforce the law in practice.
On a national level, the issue has become so serious that the U.S. Department of Justice is investigating prison systems that refuse to provide medication-assisted treatment to addicted inmates. Yet, nursing home patients who need MAT seem to have fallen by the wayside.
Confusion About The Law or Stigma?
Whether you believe in the disease model or not, the law clearly states addiction is a chronic medical condition that should be treated like any other. Yet, every day, there are reports discrimination against MAT patients, solely because they've sought help to overcome a disease
Is it right to treat these people any differently than society treats those who are diagnosed with cancer, or a broken leg, or diseases that are often tied to lifestyle, such as diabetes?
Only a shift in the culture of our healthcare can change this perception – and, in doing so, save lives.
Additional Reading: Are All Addicts Selfish? Exploring the Addiction Stigma.
Image Source: iStock