National Substance Abuse Prevention Month
October is so much more than apple picking, pumpkin carving and trick-or-treating; it is also National Substance Abuse Prevention Month.
In 2011, President Obama established this month of awareness, recognition and activity to help our country fight the nationwide epidemic known as substance abuse.
The Power of Community
The theme for 2015 is "Unleashing the Collective Power of Communities." This theme recognizes the need for local community involvement, educating children and preventing them from entering a life of substance abuse.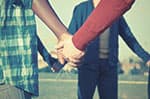 In his proclamation, President Obama encourages "all Americans to engage in appropriate programs and activities to promote comprehensive substance abuse prevention efforts within their communities."
The goal of this month is to call our communities to action. It's a time to recognize our current efforts and to encourage bigger, better efforts for the future.
It's an acknowledgment that drug prevention must involve the entire community – from parents, to teachers, to medical professionals to nonprofit organizations. It's an effort to ensure the youth of today are provided the right resources for a hopeful tomorrow.
Focusing on What Works
The main goal of the President's National Drug Control Strategy is to prevent drug use before it begins. This has proven to be one of the most effective and financially beneficial strategies in the government's war on drugs.
School-based substance use prevention programs, for example, have the potential to save up to $18 in substance use disorder costs for every one dollar invested.
Doing Your Part
Anyone can jump into this month's efforts. Here's how you can celebrate National Substance Abuse Prevention Month in your home and community:
Talking to your kids about drugs and alcohol
Get involved in a local substance abuse prevention program – volunteer your time or make a donation
Bring the message to your workplace with a seminar on substance abuse prevention
Meet with people in your community to discuss local substance abuse issues and develop action plans
Spread the word and encourage others to get involved
Additional Reading: CARA Act: Tackling the Health Crisis of Addiction
Image Source: Pixabay