Mysterious Illness Linked to Smoking Weed
As more and more states are legalizing cannabis, a mysterious marijuana-related illness is popping up with increasing frequency in hospital emergency rooms across the country.
It's called cannabinoid hyperemesis syndrome (CHS), and it's caused by heavy, long-term use of various forms of marijuana. Symptoms include severe abdominal pain and violent vomiting, which strangely enough, can be relieved by hot showers or baths.
Nobody knows exactly how many people suffer from it, but emergency rooms in other areas where cannabis is legal, such as the Georgetown University Hospital in Washington, D.C. and the University of Washington Medical Center in Seattle, have reported a noticeable increase in patients with this condition.
What is Cannabinoid Hyperemesis Syndrome?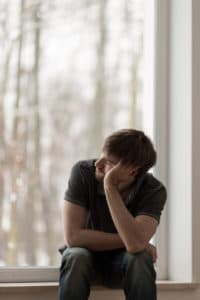 CHS was first described in 2004 by scientists in Australia who published a small study about a group of 19 long-term marijuana users complaining of nausea, vomiting and chills. The scientists found some interesting results: Those who stopped using cannabis were able to stop the vomiting, those who kept using continued to have vomiting episodes, and those who stopped using for a short time began vomiting again once they resumed using marijuana. In essence, stopping marijuana use altogether was the only way to stop the debilitating side effects.
The researchers also noticed one other peculiar thing – the patients took an abnormal amount of hot showers or baths, sometimes even waking up in the night to do it. This wasn't due to the fact that they liked bathing themselves, but because they had discovered on their own that the hot water was the only way to alleviate their pain and suffering.
Cause and Treatment for CHS
CHS, in its most severe form, can lead to dehydration and kidney failure, but thankfully, symptoms stop within days of ending marijuana use. However, much of the illness remains shrouded in mystery. Scientists are still unable to pinpoint the exact cause of the syndrome, and no research exists on how common CHS is among people to smoke pot or what the risk factors are for developing it. It's also unknown whether marijuana for medical use leads to excessive marijuana use. But don't panic – there is good news…
Experts believe that, despite higher use of legalized pot in certain states, the number of cases still remain very low, emphasizing that CHS is still a relatively uncommon condition. Plus, there is one form of treatment known to have a 100 percent success rate: abstaining from cannabis altogether.
Take Our "Am I a Drug Addict?" Self-Assessment
Take our free, 5-minute "Am I A Drug Addict?" self-assessment below if you think you or someone you love might be struggling with drug addiction. The evaluation consists of 11 yes or no questions that are intended to be used as an informational tool to assess the severity and probability of a substance use disorder. The test is free, confidential, and no personal information is needed to receive the result.
Additional Reading:   Warning – Marijuana Allergies a Growing Problem
Image Source: iStock