Mail Call: RSVP Those Sober Wedding Invitations!
Summer's here, which means it's wedding season. I'm attending seven weddings this year, which for some might sound terrible, but I'm a hopeless romantic.
Weddings used to mean an open bar and dancing all night. At least that's why I went; I usually got blackout drunk before it was time to go home. However, now weddings are a completely different experience. I was beyond nervous before my first sober wedding I went to sober, but it ended up being so much fun…and now I'm a pro.
I Now Pronounce You…Sober
Over time, I picked up a few tips that can help you get through matrimonial merriment with your sobriety intact. Here they are: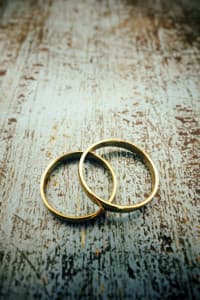 Weddings are more than just an open bar.

Open bars used to be my favorite part about weddings, but now I focus on what actually matters. Two people making an extremely important commitment – and they consider me special enough to witness their special moment!
The reception's just as fun without drinking.

You can dance like nobody's watching, because they aren't! I only danced when I was drunk because that's the only time I didn't care what people thought about me. I finally feel comfortable enough to go out there and have fun, even if I am making a fool of myself.
I actually enjoy the whole night.

Now, I remember each and every moment of the couple's special night. Also, when I leave the wedding, I look just as good as when I walked in. I'm not a hot mess, with one shoe in my hand, my hair out of control and makeup smeared all over my face. Plus I don't wake up with a hangover!
Who cares what other people think?

At every wedding I attended after getting sober, there were people looking at me like I was an alien. Who was this non-drinking person? At the last wedding I attended, a girl said, "You probably wish you were wasted right now, don't you?" It's hard to be offended, because I probably would've said the same thing to someone else before I got sober. But for every reason above – and so many more – no, I don't wish I was wasted and I never wish to be wasted again.
Additional Reading:   Get Motivated – 5 Tools for Building a Sober Life
Image Source: iStock