Living With Addiction and Mental Illness: Ellen's Story
Ellen tried to get out of bed, but she couldn't.
The doctor's dual diagnoses didn't help her figure out what to do. They kept giving her meds, but all of them made her sick. So she drank. And smoked weed. And a few other things.
It was hard to think about the last time she did coke. A guy who once told her he loved her had brought cocaine to her house. While he used with her, he also told her she was a worthless crack whore. Her mind kept filling up with memories. All the pain. She wanted to be angry, but she was mostly sad. Crying didn't help though. It just seemed to make things worse.
Ellen wanted so much more out of life and was finally able to track down a good doctor who took Medicaid. "Please help me," she said.
"We will do the best we can," the doctor said, and there began a journey to safety.
Starting a New Chapter
The first medication made her sick. The second one made her sicker. The third, though, started to work.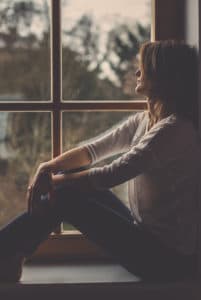 What was it like to see the world through the eyes of a normal person? In some ways, it was boring. But compared to the pain she'd been through before, it felt good.
The things that came to the surface were scary, though. She started to remember – for the first time in a long time – what the abuse felt like. She tried to turn away, but she knew alcohol and other drugs were her only coping mechanism. She couldn't go back.
One day, a warm spring day, Ellen decided to face it – all of it. The birds were chirping. She recalled what happened, in all its painful glory.
She sat down and plucked a piece of grass from the park ground. She could feel this…the feeling of a real live object. She could do this.
Dual Diagnosis and Recovery
Ellen felt better, but it was still up and down. Though she had always been a loner, she started to make friends with other sober women.
It took her doctor several tries to find the right medicine combination. She also had to fight back against those in AA who believed medication is a bad thing – she needed this medication to live. Life was starting to get better.
It would never be easy. She had a chemical imbalance; she was living with mental illness and addiction. These were issues that would always need attention. But with professional help, determination, and hard work, she found a way to manage them.
I asked Ellen what kind of advice she'd give to anyone struggling with dual diagnosis. Here's what she said: "Be honest with your doctor. Tell them about your drug use. Trust and transparency are the key. Tell your doctor everything."
Additional Reading:   5 Things to Know About Dual Diagnosis Treatment
Image Source: iStock