Leaving My Double Life in the Rear View Mirror
By day, I'm a licensed mental health professional with a specialty in marriage and family therapy and addictions. I confidently walk beside patients who have bottomed out and are working hard on the way to their very best selves.
But a few years ago, by night, I was a guilt-ridden lush. That "glass of white wine while I cooked" turned into a nightly bottle…and then some.
Night and Day Collide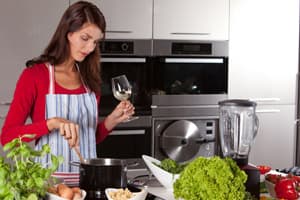 As my tolerance increased, the excuses I'd give myself were plentiful, nuanced and powerful: I'm a professional; I know too much to get addicted. I deserve my civilized drinks while I make gourmet meals for my family. I work hard. I don't drive drunk. I show up for my husband and girls. Right?
This line of thinking went on for a decade until I had a blackout so severe that my usual caring husband had had enough and threatened to leave. "Get your shit together or I'm out," he said.
Terrified, I had no idea where to turn. Like a thirsty person drowning in a sea of saltwater, I was the provider who found myself on the front lines of addiction – but this time, I was the addict.
Confused, I called a sober girlfriend, also a psychotherapist. That friend said four words that would change my life: "Get to a meeting!"
Stripped of My Power
November 2, 2013, tired of saying one thing by day and then, hours later, lying to myself and doing another, I slipped into my first AA meeting.
"Welcome to your first white chip," said a woman, my age, referring to the 24-hour chip given to AA newcomers. I found comfort in the fact that I was not the expert here. Just like everyone else in the rooms, I was powerless.
…I had depleted my soul at work – always being in charge, all-knowing – and then used alcohol to find freedom in a bottomless bottle.Long, long before I recognized it, I had crossed into the abyss of alcoholism and was truly powerless.  Eventually, AA slogans started to seep into my thinking. "We are only as sick as our secrets" was the first to penetrate.
Desperate to unburden myself, meetings were my free group therapy where I could drop the ego and the professional persona. I found freedom in being part of the group and was able to open up and share.
I also joined an online sobriety support group, available 24/7 for community and friendship, no matter where in the world I was.
Intellectually I knew better, but wine is a sneaky bitch. Like many high functioning alcoholics, I had depleted my soul at work – always being in charge, all-knowing – and then used alcohol to find freedom in a bottomless bottle. But in the end, there was never enough wine.
Comfort in Healing and Hearing
On the path to sobriety, I took comfort in hearing from other alcoholics at meetings, online and through books. Alcohol's spellbinding effects lead me into a despair so deep that I knew that I was the only one who could save myself.
I started to have mercy and gave myself an overall break.
I got very picky about who I'd spend my time with. If people couldn't support my sobriety, I crossed them off the list.
I ate when I was hungry, slept when I was tired.
I structured my day for success so at the end of it, I'd feel accomplished even if the one accomplishment was that I had stayed sober.
Spirituality first came in the form of good luck and angels. Eventually, God found the way back to me in the form of other human beings reaching out. And when I was able to take a hold of outstretched arms, that's when I started to heal.
Learn more about the treatment options for alcohol abuse and addiction available in your area.
Image Source: iStock