It's Just Marijuana – Who Needs Rehab?
More than 25 states have passed laws legalizing marijuana in some form; several have passed laws making marijuana legal for recreational use.
With this drug becoming more and more "mainstream," it might be tempting to think it's harmless. It might seem like smoking weed is no big deal, or that no one ever gets hooked on the stuff. Across the nation, however, that's not what we're seeing.
People do struggle with marijuana addiction. They do suffer from physical, mental, and emotional side effects. And they do get rehab treatment.
Spotlight on Treating Marijuana Addiction
Looking at national averages:
The "typical" patient receiving treatment for marijuana addiction is 25-years-old, white, and male.
Recently, that "average" gender gap has been shrinking, but there are still nearly three times as many males receiving marijuana treatment as females.
Of those who seek treatment, 44 percent are non-Hispanic White, 31 percent are non-Hispanic Blacks and 18 percent are of Hispanic origin.
A total of 78 percent of patients are between the ages of 18 and 25.
Marijuana treatment usually involves behavioral methods of therapy – cognitive-behavioral therapy (CBT) is one of the most commonly used techniques. CBT focuses on a person's thoughts, beliefs and actions, and how they interact with the world. The goal is to change unhealthy thinking and behavior patterns, then develop healthy ones (that don't involve using marijuana to cope with stress).
Additionally, long-term and chronic marijuana users may need medical supervision to undergo marijuana detox. When they enter treatment (and abruptly stop using), they experience withdrawal. Medical supervision ensures healthcare professionals are available 24/7 in case symptoms become severe or life-threatening. They can also prescribe certain medications that help to make the withdrawal process more comfortable.
What are the Dangers of Marijuana?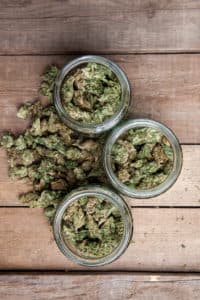 Marijuana users experience both short- and long-term effects. Short-term problems include severe anxiety, psychosis, panic, short-term memory issues, hallucinations, loss of identity, lowered reaction time, increased heart rate, increased risk of stroke, coordination problems, and sexual dysfunction. Long-term effects include decline in IQ and impaired thinking. And recent research indicates that marijuana use causes blood-flow reduction in the brain that may increase susceptibility to Alzheimer's disease.
Marijuana users can also become physically dependent on marijuana, so withdrawal symptoms kick in when marijuana use decreases or ceases. Common withdrawal symptoms include anxiety, depression, decreased appetite, drug craving, insomnia, irritability, headaches, restlessness, chills, and stomach pain.
In addition to these physical effects, marijuana users often suffer from the following issues:
Relationship problems
Antisocial behavior
Financial difficulties
Lower life satisfaction
Greater chance of being unemployed
Cross-addiction (dependency on other drugs/substances)
Do You Need Treatment?
The CDC estimates we're seeing nearly 7,000 people become new marijuana users each day in the US. If you or your loved one is struggling with marijuana use, you're certainly not alone. Find the right resources for treatment here.
Additional Reading:   Warning – Marijuana Allergies a Growing Problem
Image Source: iStock