Is There a Place for Medical Marijuana in Schools?
Now that medical marijuana has been approved in multiple states, a growing number of schools are left wondering how to handle use of the drug on school grounds. To say this is uncharted territory is a gross understatement.
For children who suffer from disorders that meet the grounds for legal medical marijuana use, including chronic seizures and muscle spasms, the drug can provide relief from often painful and debilitating symptoms.
Adolescent Patients
Although national statistics related to teens using medical marijuana aren't yet available, Colorado alone has over 500 kids who are medical marijuana patients.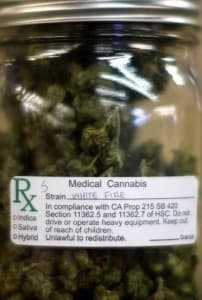 Since almost all school areas are classified as "drug-free" zones, this poses a serious issue – especially because kids aren't able to go to school if they're under the influence of drugs.
The possibilities for "what could go wrong" are pretty overwhelming. Kids could get into a classmate's pot or steal it altogether. Curious adolescents could potentially find themselves in big trouble for using someone else's medical marijuana and, for the schools themselves, any negative results could conceivably result in lawsuits that would effectively shut the institution's doors.
It should come as no surprise, therefore, to learn that most schools say the potential marijuana trouble just isn't worth it.
The Jersey Turmoil
Genny Barbour is a perfect example of this "pot at school" problem. The 16-year-old medical marijuana patient from New Jersey suffers from epilepsy, but officials in her Maple Shade school district say it's illegal for her to use or possess the drug on school grounds.
My daughter could have Valium or oxycodone, but not medical marijuana. Other children can take their medicine. My daughter cannot.– Roger BarbourBecause it's labeled as a Schedule I drug by the Federal government, meaning it's classified as a dangerous substance with no medicinal value, they've argued that doing so would be violating the law. Her family is now suing for the right for their daughter to use the drug in school.
"My daughter could have Valium or oxycodone, but not medical marijuana. Other children can take their medicine. My daughter cannot," said her father, Roger. "My daughter is a citizen of this state, and this is a violation of her state and federal constitutional rights."
Although New Jersey's medical marijuana law permits minors to participate, there is no language about using the drug on school grounds.
Other Schools Around the Nation
Some parents are reportedly going around the issue by quietly working with more supportive school administrators or even secretly mixing cannabis oil into their child's lunch. However, some states are starting to take action.
Last month, a legislative committee in Colorado approved "Jack's Law," which grants waivers for children to take non-smokeable forms of the drug while at school.
The Maine legislature is also considering a similar bill that would require schools to make "reasonable accommodations" for kids using medical marijuana to consume non-smokeable forms of it during the school day.
With 23 states and the District of Columbia approving medical marijuana, the contradiction between state and federal law was bound to generate controversy. But while medical marijuana should clearly be used as a last resort option, particularly with children, it does have therapeutic effects for severe disorders and experts suggest it can enable children to lead a higher quality of life and excel in school.
Additional Reading: Warning: Marijuana Allergies a Growing Problem
Image Source: en.wikipedia.org, pixabay.com