How to Screw Up an Intervention
You feel the blood pounding in your veins. You've got everyone in place, your loved one's employers know about this, and everyone is counting on you to lead the way. You sweep into your loved one's workplace to start the drug intervention with a dozen supporting people ready to deliver rehearsed gut-wrenching messages, and his seat is empty.
His secretary looks up. "He's just gone out for lunch," she says.
Damn.
Planning an Intervention
Interventions need to be planned carefully, and it can be very easy to screw them up if you don't sit down and think about when and how to confront your loved one. The above scenario is one that occasionally pops up: you have everyone ready, but your loved one has headed out for a few hours.
Perhaps the worst one is when the addict storms out of the room as soon as you say it's an intervention. Certainly it's the hardest, emotionally.
Basically, you need to be sure the person who is going to be the recipient of the intervention is ready to hear the message. This also means that the intervention cannot be a complete surprise. If you were suddenly surrounded by 20 people, you'd feel ambushed and defensive.
So drop hints. Mention that you're worried. You might also even warn your loved one that he or she might be the target of an intervention. This allows time for everyone to prepare.
So, you know your loved one is ready and you've warned him about a forthcoming intervention. You've dropped hints, and you're ready to proceed. You walk in and your loved one looks a little confused. "What's all this?" he says.
"We're here because you need to change!" you cry, determined that he should hear the message.
Oh dear.
Intervention with Love and Care
"…you need to be sure the person who is going to be the recipient of the intervention is ready to hear the message"-Rehabs.com
The worst thing to start with is an accusation of any sort. Accusations will put people on the defensive, and this makes it a lot harder for your message to be heard. Remember that this is personal to the addict. She may have tried to change but was unable to.
An intervention is, in very polite terms, a way of saying to the addict: "Your behavior is unacceptable." The trick is, of course, to persuade and cajole your loved one into accepting the message without being harsh about it.
Remember how the best teachers used to make you feel guilty about not handing in homework? Or when someone said they were disappointed? That sort of language creates a feeling of guilt, and it's something to exploit. Remember that everyone there has to focus on the message. It's a good idea to practice before the intervention, and give everyone an order in which to speak.
So you've got the right message, but your loved one gazes around. "What's he doing here?" she exclaims.
Choosing Intervention Team Members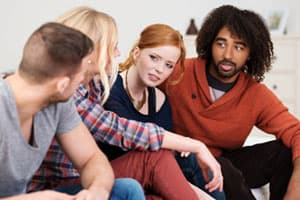 Choose the people for the intervention carefully. The idea is to avoid anger and defensiveness, and you need the addict to focus on the issue at hand, not who is telling her the message. Avoid selecting those who have a turbulent history with your loved one. Depending on the relationship your loved one has with various people, this might include parents and siblings.
Now, you've got the right people saying the right message. Your loved one looks up at you. "I know; I've messed up," he says. "I need help."
"That's great," you say. "Let's go and look at clinics!"
"By offering your loved one a choice and a delay, you give them a chance to back out."-Rehabs.com
Wait a second. You need to look at places before the intervention. You need to decide on your options and financial options for addiction treatment before even getting there. By offering your loved one a choice and a delay, you give them a chance to back out. If your loved one needs help, he needs it now, so have everything set up to go.
Setting up an intervention can be tricky, and it can be a frustrating and time-consuming path. One of the easier options is to talk to a professional interventionist. These experts can help you to decide whether your loved one is ready for an intervention and how to go about it. Ultimately, you want the best for your partner, sibling, parent, or child, so talk to one if you have concerns.