How Kim Kardashian is Influencing the Drug Cartel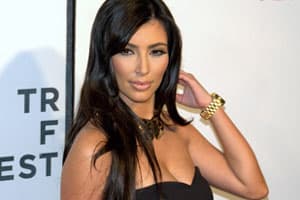 Kim Kardashian has captivated pop culture audiences for the last several years, and now her influence is invading the world of Mexican drug cartels.
Yes, seriously.
Claudia Ochoa Felix, nicknamed The Empress of Antrax, has reportedly become the new leader of the 'Los Antrax' hit squad, regularly used by the notorious Sinaloa Cartel.
Felix has been mimicking the infamous reality star by posting provocative selfies, showing herself in tight outfits and swimsuits, and documenting everything on Twitter for the world to see. She's even exploited her own children for the sake of publicity. Felix has posted several photos of her young children lying in the bath or in bed while surrounded by banknotes.
The Los Antrax contract killer squad was previously led by Felix's boyfriend, 33-year-old Jose Rodrigo Arechiga Gamboa, who was arrested in January. They are responsible for carrying out any of the dirty jobs needed by the Sinaloa Cartel, as well as maintaining the security for the cartel boss, 66-year-old Ismael "El Mayo" Zambada. Felix allegedly assumed the role after Gamboa's arrest, but has been "keeping up" with her Kardashian obsession by brandishing a custom pink AK-47 adorned with a skull and crossbones.
And just like her idol, Felix seems to be thriving on the newfound attention. She continues to party at nightclubs throughout Mexico, but is now accompanied by heavily armed bodyguards. She also denies any involvement with the Sinaloa Cartel and claims that the rumors are "cowardly lies and slander." However, this could lead to a slew of selfies with cartel members and the people they've kidnapped, like this one.
Women in Mexico Drug Cartels
Women have become more involved in drug cartels in recent years. In 2009, police captured Sandra ávila Beltrán, a model-esque beauty who ran the cocaine pipeline between Mexico and Colombia. Beauty pageant winner Laura Zuniga was also arrested in December 2010 for alleged gunrunning. She was subsequently stripped of her Queen of Hispanic America title.

Also Read: Closing a Drug Deal…But First, Let Me Take a Selfie

Image Source:
By David Shankbone (David Shankbone) [CC BY 3.0 (http://creativecommons.org/licenses/by/3.0)], via Wikimedia Commons