How Do Celebrity Drug Arrest Sentences Compare to Regular People's?
Celebrities are always fascinating creatures. We aspire to be them, we love to read about them, yet we revel in their downfalls. Look at the way the media has treated celebrities who fight drug addiction. They are paraded around like prize cattle and treated as either warnings of the dangers of drugs or reviled.
Yet there seems to be a common misconception that celebrities get off easily when it comes to drugs. This is far from the truth.
The first question is this: Why do celebrities take drugs?
Perhaps unsurprisingly, the reasons vary from self-medicating to boredom. Like everyone else, celebrities need time to relax and forget about their busy schedules. With substantial sums of money offered to them, drugs are affordable.
Celebrities are not perfect; they are human and make very human decisions. The only real difference between celebrities and you and me is that a celebrity's issues are much more likely to be plastered across the gutter press the next morning.
And that's where a crucial element of celebrity culture lies. If a celebrity is arrested for drunk driving or possession, that person is going to find the arrest on the pages of the next day's news. The same goes for domestic disputes and fights. We read about them and judge them.
The next thing we do is compare it to other arrests in the news, and we don't often do it objectively. We hear about people being arrested on drug offenses and being locked up for it. What we miss is that those people typically are trafficking the drug and possess thousands and millions of dollars of the drug, rather than a few lines.
Basically, we tend to compare seasoned traffickers to end users. That's not particularly helpful when comparing everyday possession. For that, we have to look at actual sentence lengths for the same offense. However that's a little tricky as different states have different sentencing guidelines. For example: California allows first-time offenders convicted of possession to escape with a $30 fine and no jail time. Kentucky insists on a minimum of two years for the same offense. This is a huge disparity. Therefore we can't even compare equivalent sentences across states.
So, let's take a well-known example of celebrity excess: Lindsay Lohan. She was arrested on drunk driving charges and cocaine possession charges on July 24, 2007. This would be the second time she was arrested on drunk driving charges but the first on possession. She was ordered to complete a rehabilitation program and sentenced to one day in jail with 36 months on probation.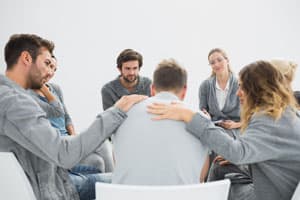 The essential part of the rehab program is the rehab part. Many courts now look to send people to rehab rather than prison as it decreases the person's likelihood of reoffending. It's not a softer sentence; it's a more effective one. After all, the idea is to stop a person from reoffending. This is similar to a number of other cases that were heard in California, none of which really reached the wide public.
Admittedly, some celebrities may have better lawyers than the average public defender that many people can afford. The reason these lawyers are paid significant amounts of money is because they have a very detailed knowledge of the law, including of noncustodial sentences that would allow their well-off clients to work.
Law is partly presentation. The better you can present an argument, the more likely you are to win. It's not entirely down to cold, hard facts, which is, in many cases, a shame. However, it does allow judges to take in the more human aspect of the case.
Celebrities are relatively low-risk offenders. They are unlikely to be involved in dealing, and they don't have a major flight risk. In addition, because they are in the public eye so much, they have less privacy. While some of these factors may persuade a few judges to treat them less harshly than other members of the public, most will sentence them according to the sentencing guidelines.
Drug rehabilitation significantly cuts down on the rate of reoffending. It's not an easy way out, and it's certainly not a holiday. Instead, it helps people recover from drugs, addictions, and alcohol and allows them to regain their lives. It's now a solid part of the legal system, and that helps everyone, not just celebrities.
If you're ready to help someone you love, or yourself, call one of our addiction treatment specialists on our toll-free helpline to discuss what options are available for you. We're here for you 24/7: .