Here's How "Wet" Homeless Shelters Are Changing Lives
According to the National Coalition for the Homeless, approximately 38 percent of the homeless population in this country are physically dependent on alcohol – more than one-third. If they stopped drinking cold turkey – without medical supervision – they would become very, very sick. In fact, alcohol is one of the only substances that produces potentially lethal withdrawals. That's why it can be very difficult for the alcohol-dependent homeless to even think about drinking less or getting sober. Alcohol has become their most basic need, ahead of food, clothing, and shelter.
Traditional homeless shelters typically have very strict rules that include a zero-tolerance policy for drinking alcohol. However, for the chronically dependent, each time they go into alcohol withdrawal, the symptoms get worse and worse. This leaves many people not only homeless, but hopeless.
I know this because I once was homeless and completely physically and mentally dependent on alcohol. I was denied entry to a battered women's shelter, with visible handprints and bruises covering half of my body, due to the severity of my alcoholism. It left me feeling like I was the monster, confirming my own self-hatred, guilt, and shame.
Times Are Changing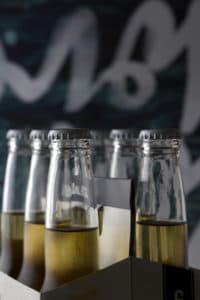 Wet shelters, such as The Oaks in Ottawa or Next Step in Hawaii, understand that the first step in helping this demographic is to get them off of the streets. These facilities adopt a "come as you are" mentality, giving chronic drinkers perhaps their first glimmer of a light at the end of the tunnel.
Since these programs are in such high demand, there are requirements for being granted a bed, such as a minimum of six failed rehab attempts, homelessness lasting for multiple years, and/or multiple alcohol-related arrests and hospital stays.
Once new residents have a roof over their heads, they are finally in a position where they can receive other services they need, like life skills training, computer classes, or help dealing with behavioral issues.
Turning Lives Around
The Downtown Emergency Service Center (DESC) in Seattle not only operates one of the largest wet shelters in the U.S., they also provide a wide variety of services and constantly conduct research to better help their community.
They recently reported that the program not only decreases the amount of alcohol residents drink, but that only 23 percent of program members return to the streets after a two-year span of time.
With wet homeless shelters across the continent reporting similar results, will other large cities be encouraged to follow suit?
Additional Reading:   Homeless Addicts Need Treatment Before Housing
Image Source: iStock