Has Fentanyl Found a Deadly New Friend?
Fentanyl is a potent opioid. It's deadly even in tiny doses. But that certainly hasn't stopped drug dealers from mixing this lethal substance in with their heroin. In spite of the apparent danger, some users are willing to try this combination in search of a "higher" high.
Authorities have frequently discovered this deadly mix in recent heroin stashes and news accounts of officials seizing fentanyl-laced heroin have become fairly common.
Cocaine Joins the Party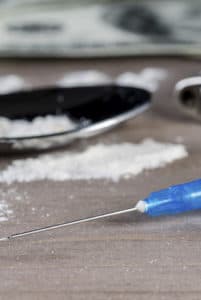 The most recent drug seizures, however, reveal another new trend. Officials are finding fentanyl in samples of cocaine.
Authorities find this new combination baffling, since cocaine is in a different class of drugs than fentanyl. Cocaine is a powerful stimulant, while fentanyl is a depressant. This mixing of the two causes body systems to go haywire, constantly flipping between stimulation and depression.
Any drug abuse is dangerous, but this new combo opens up new areas of threat. People who are used to abusing cocaine may now unknowingly encounter fentanyl. Lacing cocaine with fentanyl and giving it to an unsuspecting cocaine user can prove lethal. Unaware of the added danger, they're more likely to overdose. But let's be honest, dealers aren't concerned about the additional risk to their customers.
As officials investigate recent overdoses, it's unclear whether or not the users knew about – or even wanted – fentanyl added to their cocaine. Raymond Isackila, an addiction specialist at University Hospital Cleveland Medical Center in Ohio, commented on the string of overdoses in his state, "What's so unusual about this situation in New Haven is that it looks as if these people were not opioid users or opioid addicts." With no tolerance for opioids, these cocaine users are particularly vulnerable to the effects of fentanyl.
Why Take the Risk?
Unfortunately, it appears this fentanyl trend is on the rise. In 2013, agents from the Tennessee Bureau of Investigation found fentanyl mixed in with 12 samples of illicit drugs. So far this year, they've already found 320 samples laced with the deadly opioid.
In New York City, cocaine mixed with fentanyl caused 37 percent of overdose deaths last year, prompting the New York City Health Department to issue a press release about the dangers of this lethal opioid.
Wondering why dealers are willing to make drug abuse even riskier? The answer is simple: they make more profit. By using fentanyl as a filler, they're able to add more weight to each baggie sold on the streets and simultaneously increase the power of their product. Sadly, the fentanyl market continues to grow…and so does the death toll.
Additional Reading:   The Polypharmacy Overdose – A Killer Trend
Image Source: iStock