HALT: On Being Hungry and Tired
Addicts and alcoholics tend to be overly hungry and tired, especially in the first year or so after coming into the rooms. This concept was brought up in a recent meeting.
To be hungry and to be tired aren't just defined by the physical sense of the words. You can be hungry for emotional support, love companionship and emotional peace. You can be tired from a lack of these things. The two can, and often do, co-exist. It usually takes an extreme amount of hunger, or extreme tiredness, to trigger problems with addiction.
So, I'm sure, as an alcoholic, I fit into this situation. I'm hungry for emotional peace I'm sure. I should make a list because I'm sure there are other areas to consider as well. I know I am tired from lack of emotional and mental peace. There is a sure bet that whatever is on the first list for hunger, will be on the second list for tiredness too. Those of us in recover must address these issues.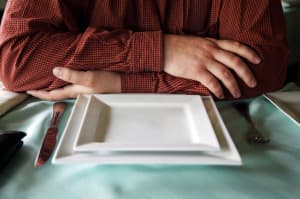 One of the acronyms often mentioned in the rooms of AA and NA is H.A.L.T. — hungry, angry, lonely, tired. HALT is used to remind us to stop and acknowledge the issues at hand when they arise instead of ignoring them as we once did in active addiction.
According to Gudrun Zomerland, Licensed Marriage and Family Therapist in Santa Rosa, California, each part of the big issue has multiple smaller issues that must be addressed to maintain a balance.
Hunger, for instance can mean physical hunger from a lack of proper nutrition; but it can also mean a hunger for emotional support and attention or companionship. Anger in its basic form for addicts, and alcoholics, is a form of resentment. You hold either a grudge against others for what they have done against you; or you resent yourself for your problems in life. Loneliness to an addict/alcoholic is the same as isolation in that you have a hard time reaching out for help or support when needed. You tend to think you could, or rather should, handle life on your own. Then comes the last letter and word, tired. Being tired often comes from an overexertion of yourself. Depression, feeling overwhelmed, large amounts of anger, even hunger can make you tired.
"Simple things can help keep an addict or alcoholic grounded for a brief moment; and often that is all you need to stay alive."
What's the cure? There really is no one cure, but there are many things that you can try. The best one that I know is to get out and see people. Communicate with others like yourself. Find meetings and groups for addicts and alcoholics who can share your concerns. Talk it out with others in recovery; this helps a lot when you can't focus on the problem or solution. Eat something small and healthy. I usually eat something with protein, such as peanut butter or granola bars; don't skimp on meals. Get out of the stale air (like in your house). WI find that walking my dogs keeps me motivated. Which reminds me, find a routine for yourself. Keeping a regimen helps to maintain a sense of balance.
While I don't have all the answers, I can tell you what works for me. I too get tired, drained, and detached. Simple things can help keep an addict or alcoholic grounded for a brief moment; and often that is all you need to stay alive.