Fentanyl: The Latest Lethal Injection Cocktail Ingredient?
Capital punishment in the United States has been thrown into a tailspin recently, as a nationwide shortage of the medications required for lethal injections has forced some states to explore alternative methods of execution.
One of the alternatives being considered? The synthetic opioid, fentanyl.
A Closer Look at Fentanyl
As an implement of execution, fentanyl does have some obvious advantages.
#1 – Fentanyl is extremely potent.

The synthetic opioid is 50 times more powerful than heroin and up to 100 times stronger than morphine, and even one milligram – a grain about the size of a single piece of sea salt – is enough to cause an overdose.

#2 – Fentanyl is readily available.

Doctors frequently use it during surgery or prescribe it to late-stage cancer patients. Illegal fentanyl isn't too difficult to find either. According to data from the National Forensic Laboratory Information System, confiscations, or seizures of fentanyl increased by nearly seven times from 2012 to 2014.
The Capital Punishment Debate
Not everyone's on board with the use of an opioid in lethal injections, however.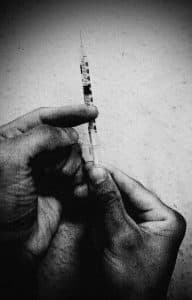 Joel Zigot, a professor of anesthesiology and surgery at Emory University, tells The Washington Post, "There's no medical or scientific basis for any of it. It's just a series of attempts: obtain certain drugs, try them out on prisoners, and see if and how they die."
A total of 31 death penalty states are currently exploring new methods of execution, as well as examining the traditional forms of capital punishment, such as the electric chair or firing squad. Mississippi has even approved the use of even nitrogen gas chambers.
Texas is among the states re-evaluating their options. It's also the first state to carry out a sentence of death by lethal injection. This method uses intravenous delivery of a three-drug cocktail which includes:
An anesthetic or sedative to decrease anxiety
Pancuronium bromide to paralyze muscles used in breathing
Potassium chloride to stop the heart.
Over the past decade executions by lethal injection have significantly decreased due to the refusal of pharmaceutical companies to supply prisons with the necessary medications. Representatives for these businesses explain, they don't want their products to be used to kill people or the negative press associated with this controversial issue. As a result, only 23 inmates were put to death in 2017 – the second-fewest executions in more than a quarter-century. Also, the inadequate supply is the driving force behind the search for alternative methods of execution.
Are Inmates Being Used as Guinea Pigs?
Nevada and Nebraska have already chosen to use fentanyl as their alternative form of lethal injection. These states plan to supply prison executioners with the potent opioid – a move that's drawing criticism from opponents who call it a dangerous human experiment that puts inmates at serious risk.
"The use of fentanyl by states greatly heightens the risk of a botched – and therefore painful – execution in the ways that past execution drugs have demonstrated," states Deborah Denno, an expert on lethal injection at Fordham University.
She goes on to explain, "Each new drug introduces yet another reckless exercise by states in selecting protocols based solely on their accessibility."
Additional Reading:   The Human Rights Model of Drug Use and Drug Problems

Image Source: iStock