Fentanyl Seizures Around the U.S. Skyrocket 
Fentanyl. Two milligrams of this stuff can kill an adult. That's less than a pinch of salt. Fentanyl is a synthetic opioid that's up to 50 times more powerful than heroin.
In recent years, fentanyl has become more prevalent across the nation, adding to the already staggering death toll of the opioid epidemic. Its increasing presence is easily seen in the alarming amounts seized by officials around the nation.
Let's have a look at some of those seizures, shall we?
In the Midwest
Nebraska police recently seized 118 pounds of pure fentanyl. This sets a record for one of the largest seizures in U.S. history. The stash was "enough to kill more than 26 million people."

Before they realized it was fentanyl, officers assumed the white powder substance was cocaine. This traffic-stop seizure, however, turned out to be Nebraska's biggest bust ever – worth about $20M.
In the East
Last summer, New Jersey authorities caught two men in possession of nearly 100 pounds of fentanyl. The shipment, discovered in June 2017, was the largest seizure in the history of New Jersey. The stash "contained more than 18 million lethal doses," making it enough to kill every person in New Jersey and New York City combined.

This record-breaking fentanyl seizure is part of an ongoing increase of fentanyl use in the state. As of 2015, only around two percent of the heroin tested by New Jersey State Police was laced with fentanyl. By the end of 2017, authorities found it in around 33 percent of tested heroin.
In the Ports
The U.S. Customs and Border Protection's Office of Field Operations (CBP) reports similar increases in their seizures. In 2013, the CBP seized 2.4 pounds of fentanyl and other opioids. In 2017, the total was over 71,000 pounds.

In fentanyl alone, the CBP seized 951 pounds througout 2017, which was twice as much as 2016's total. They'd already seized 934 pounds of fentanyl in the first six months of 2018.
Where's it Coming From?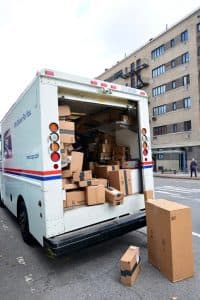 The CDC reports that over half of all opioid overdose deaths in 2016 involved fentanyl.
Most of it reaches our country via the U.S. Postal Service. This entity handles 1.3 million packages from overseas every single day. With this kind of volume, it's easy for illegal shipments to slip through.
The CBP also reports significant increases in shipments they must monitor. Over the past six years, they've seen a five-fold increase in the number of shipments handled by international mail and express facilities. The JFK International Airport in New York alone handles 1 million parcels a day.
According to the DEA, China is a major source country of fentanyl. Thousands of Chinese labs manufacture the substance for shipment to the U.S.
While the drug is legal to use in some cases of severe pain relief, fentanyl is often sold for a high profit margin on the illegal market instead. Once on the streets, it becomes a potent killer, contributing to the 115 opioid-related deaths in the U.S. every day.
Additional Reading: Fentanyl is a Ticking Time Bomb.
Image Source: iStock