Fear Wants to Destroy My Hard-Earned Sobriety
A couple of years ago, I was cleaning out my closet when I came across a box of letters my then-boyfriend and I had written to each other during my incarceration. Curious of my mindset at the time, I skimmed through a few handwritten love notes, shocked by now naive (and delusional) I sounded. In each one, I gushed about how easy life would be when I got out; never once did I mention how I planned to support myself financially or maneuver through all the legal roadblocks that would be set in place upon my release.
At the time, I remember thinking that surviving four years in state prison would be the biggest hurdle I'd ever have to clear. After all, what could possibly require a larger testament of inner strength and fortitude…right?
The Worst is Behind You…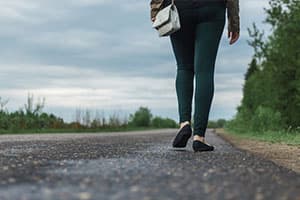 Fast forward to my release day. As I sat in the local probation office signing forms that would control my life for the next six years, I quickly realized that life in the "free world" would be nothing like I'd expected. In fact, in the coming months, things only got worse: I couldn't find a job, I encountered blatant discrimination due to my felony status and my long-term relationship went down the tubes. Was this how it was going to be from now on?
It wasn't until I suffered an unexpected loss that I really considered throwing in the towel. Luckily, the fierce competitor inside me wouldn't allow it. After all, fear is what caused me to drink and drive; fear is what put me in this mess in the first place.
Five years and one prison stint later, I knew I'd come too far to revert back to the self-pitying person I used to be. Instead, I manned up and started making some much-needed changes – in my attitude and my perspective. And little by little, my life got easier.
Getting Past the Stumbling Blocks
Fear is a big part of what drives addictive behaviors and it serves as one of the biggest obstacles to meaningful recovery. Fear paralyzes us and leaves us feeling "stuck" treading water. But, as with everything else in life, we have a choice: We can either allow our fears to run us or we can seek to resolve and overcome them.
I chose the latter. I chose a happy, sober life…and hope you will too.
Additional Reading:   Get Motivated: 5 Tools for Building a Sober Life
Image Source: iStock