Exposing the Restaurant Industry's Deadly Secrets
You're sitting in a busy restaurant, eager to eat a delicious dinner. Servers are bustling about, taking orders, filling drinks, and delivering food. Everything seems normal, but there's something going on behind the scenes…secret activities that have absolutely nothing to do with the food you ordered.
According to research, of the 10 servers on shift, it's likely at least two of them have a substance abuse disorder.
Sadly, that's the norm for workers in the food industry today.
A Trigger-Filled Environment
According to a 2015 study by the Substance Abuse and Mental Health Services Administration (SAMHSA), the hospitality and food services industry is "one of the top industries nationwide for reports of alcohol and drug use and substance abuse."
Nearly one in five full-time adult employees in this industry report using illicit drugs in the past month. And nearly 17 percent say they'd "had a substance abuse disorder within the past year."
So what is it about the nature of this industry that makes it so conducive to substance abuse – and even more difficult for those seeking recovery? SAMHSA identified the following three triggers specific to the restaurant industry:
Restaurants and bars are open late at night
The jobs usually offer fast cash from tips
Employees are constantly exposed to alcohol
Altering the Atmosphere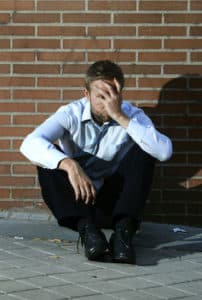 Knowing how tough the industry can be on recovery, some restaurants owners are determined to create safe havens for those struggling with chemical dependency.
In Louisville, KY, Sal and Cindy Rubino made a change in 1996 to create just such a haven. They transformed their typical late-night restaurant flowing with booze into a lunch and breakfast spot that doesn't serve any alcohol. They originally made the change for themselves, but over the past 21 years, they've become known as a source of employment for people in recovery. Currently, about 80 percent of their staff are in recovery, varying from a few months of sobriety to several years.
In 2010, the couple closed the restaurant for a week to take a vacation. While they were gone, one of their hostesses relapsed and died from an overdose. The Rubinos have kept their doors open every day since.
Offering a Side of Recovery
In Ventnor City, NJ, the Enlightened Café offers employment to those in recovery, as well as financial aid for employees who need treatment. All profits from the café fund treatment scholarships. The café shares its address with a recovery center scheduled to open soon.
Once open, the plan is to offer a variety of services, such as:
12-step meetings
Family support groups
Meditation classes
Peer-to-peer recovery support
Both the restaurant and planned recovery center are owned by the Hansen Foundation, a non-profit organization aiding the recovery community. Offering 100 percent natural, non-GMO, organic products, the café is designed to provide healthy nutrition options essential to recovery. Drinks and food are made from local produce grown at the Hansen Foundation's Hope Farm.
Part of the treatment program at Hansen centers includes education about good nutrition, so the café is a good follow up to treatment. Jennifer Hansen of the Hansen Foundation explains, "When they get out of treatment, they don't have many places to go to get that kind of organic food at an affordable price."
Providing a healthy environment that's conducive to sobriety, the café proudly offers jobs to those in recovery. Hansen notes, "When you see someone get out of treatment, they really need to be working immediately for their recovery. We're trying to staff the cafe with people in our sober living homes. When they get here to work, they've really come full circle."
Additional Reading:   A Workforce Drain – The Truth About Drug Abuse on the Job
Image Source: iStock